The images and the entire text used on this and all other USMBOOKS web pages are the copyrighted property of USM Inc. Those images and the text may be used by others ONLY AFTER completion of a formal international licensing agreement and payment of a licensing fee! It is therefore, illegal for anyone to take any of the material found on USMBOOKS.com and use it for their own purposes without our written permission, irrespective of any excuse they may feel they have for doing so.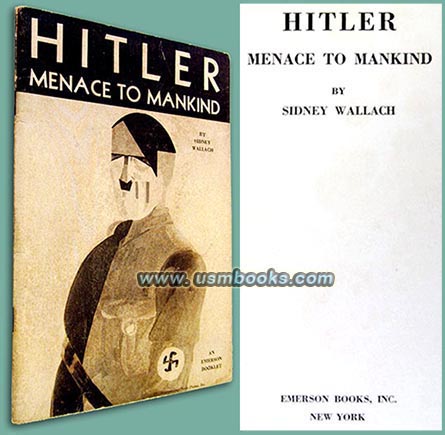 Hitler, Menace to Mankind is a very rare 83 year old, English language book about the extremely anti-Jewish posture of the Nazis in Germany, as published by Emerson Books in New York in 1933.

Author Sidney Wallach was born in Poland in 1905, came to the United States in 1912 and worked as a Polish public affairs consultant, writer and editor. He wrote Hitler, Menace to Mankind in 1933 as his in-depth study of Adolf Hitler, the Nazi Party and its important members (Wilhelm Frick, Hermann Goering, Dr. Joseph Goebbels, Alfred Rosenberg, Gregor Strasser, Ernst Röhm, etc.), their rise to power and their anti-Jewish policies.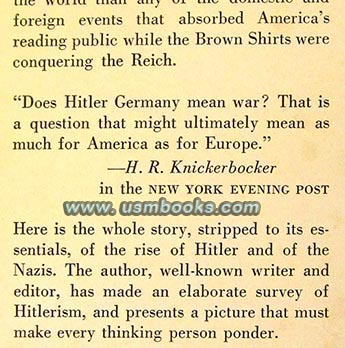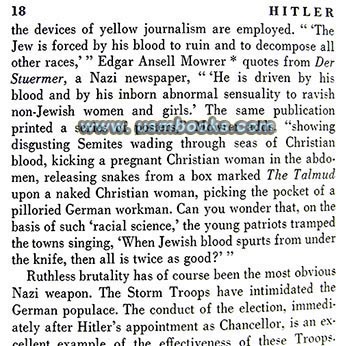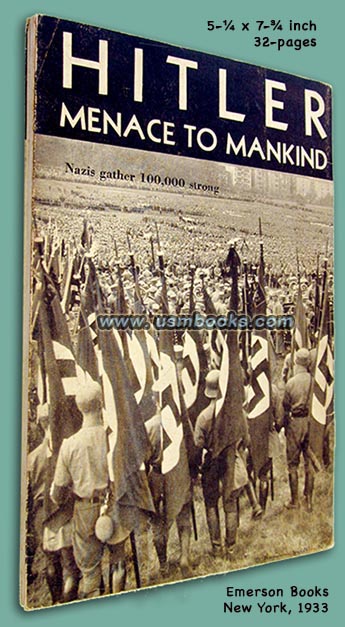 Wallach explains the government system and districts set-up in Germany by the National Socialists, the impact of a Nazi boycott of Jewish-owned businesses in Nazi Germany, and that foreign outrage had no effect on Germans. Wallach writes that the prospect of war in Europe increased immeasurably with the electoral victory of the NSDAP in Germany in 1933.

The 5-¼ x 7-¾ inch, 32-page softcover book contains a very interesting "Calendar of Hitlerism" as well as extremely anti-Jewish quotations from speeches by Hitler, Gottfried Feder, Dr. Joseph Goebbels, Alfred Rosenberg, and popular Nazi marching songs. The book is in very nice, little-used condition.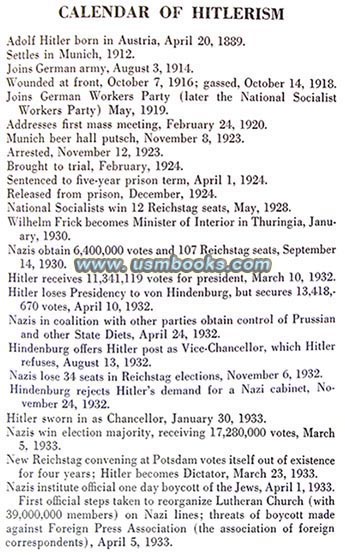 This rare 1933 book HITLER, MENACE TO MANKIND is
**SOLD**


USM book # 816
• IF you prefer faster and safer Priority Mail shipping with USPS Tracking add $6.50.
• IF you wish to purchase highly recommended, but optional insurance, add $3.50.
• We will be happy to ship abroad at additional cost. Please inquire.
RARE ENGLISH LANGUAGE HITLER, MENACE TO MANKIND BOOK 1933
A NICE EXAMPLE
OF THE RARE
1933 BOOK
HITLER, MENACE
TO MANKIND
BY SIDNEY WALLACH,
AN AMERICAN EXPLANATION OF THE NAZI PARTY AND ITS ANTI-JEWISH POLICIES