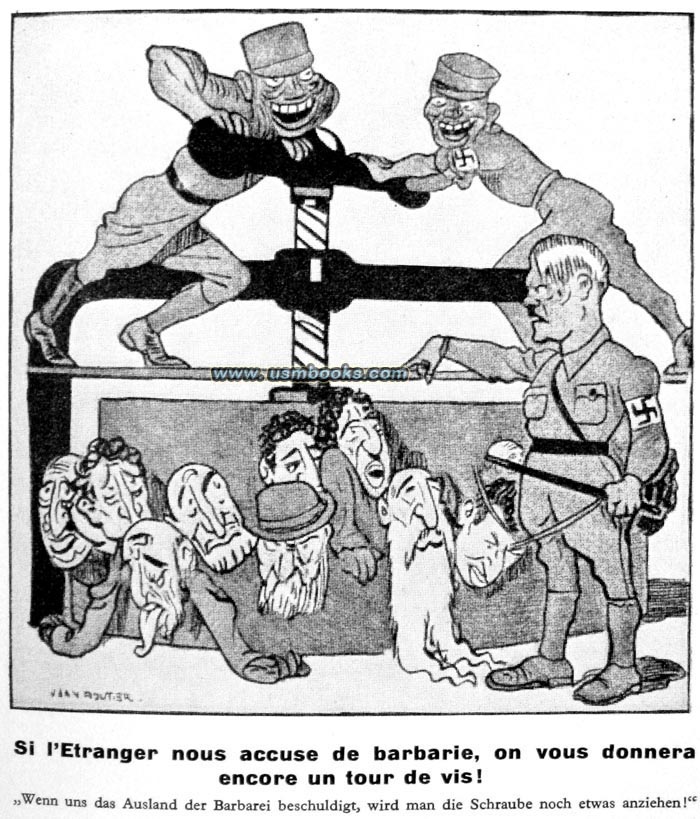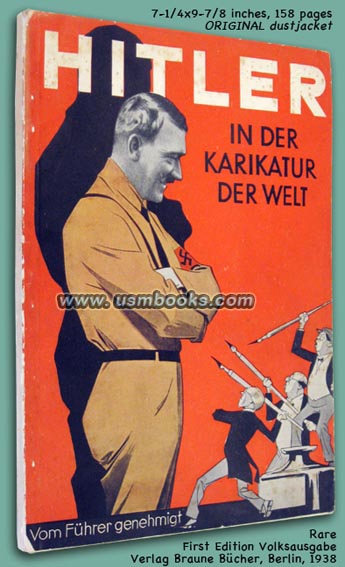 Hitler in der Karikatur der Welt - Tat gegen Tinte (Worldwide Caricatures of Hitler - Action Against Ink) is a rare Third Reich book that according to the cover was approved by the Führer himself. The picture on the front cover shows Hitler with his arms crossed and a smile on his face looking down at the cartoonists who tried to denigrate him.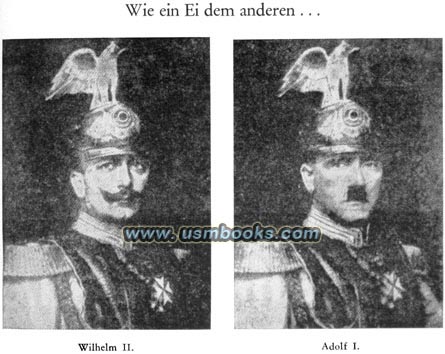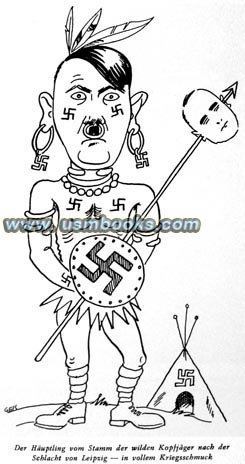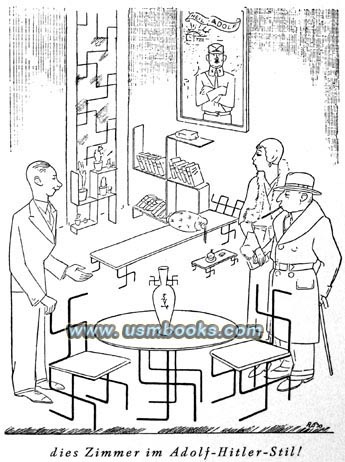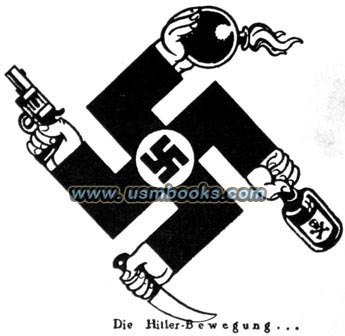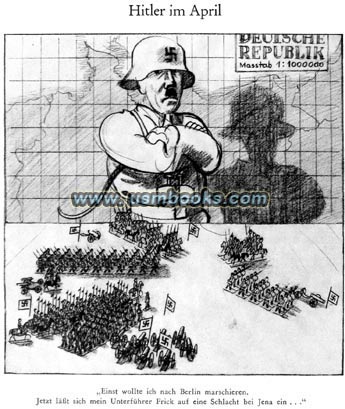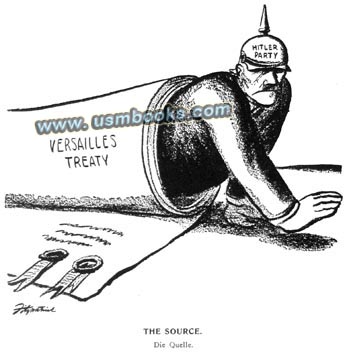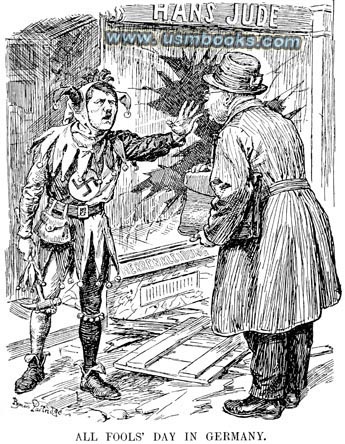 This heavily illustrated Nazi book contains very unflattering cartoons of Adolf Hitler from publications in Britain, the United States, Holland, France, the Soviet Union, Cuba, Egypt, Turkey, Portugal, Spain and other countries inside and outside Europe. There are even anti-Hitler cartoons from the German press, all dating before January 1933 when Hitler and the National Socialists were elected to power.
This is a First Edition Volksausgabe or People's Edition from 1938, a 7-1/4 x 9-7/8 inch softcover with 158 pages published by Verlag Braune Bücher in Berlin. The original copyright date of this book is 1933, but this example is from the 1938 (final) Third Reich printing of only 10,000 copies, which has an additional foreword by the head of the NS-Schrifttum dated 20 May 1938. A Hitler quote is followed by an introduction by the publisher Friedrich Carl Rentsch of Verlag Braune Bücher explaining why the decision was made to put together this 1938 Volksausgabe. It was published as proof of how wrong the world opinion of Hitler had been and how he was judged incorrectly by nearly everybody all over the world. he continued that, in the previous four years since the first publication of Hitler in der Karikatur der Welt, the deeds of the National Socialists had proven all of the cartoons to be wrong.
Every newspaper or magazine in which a specific caricature originally appeared is noted as well as the date of publication. The original foreign language comments on each of the cartoons are translated into German, and all caricatures are accompanied by the National Socialist explanation of the real event.
Every newspaper from which cartoons were published is listed in the alphabetical Index, accompanied by circulation numbers/estimates. If the publisher was Jewish the word Jude or Juden accompanied the name(s).

This 1938 First Edition Volksausgabe of Hitler in der Karikatur der Welt is in very good used condition, complete with its notoriously elusive original dust jacket. The last name of the original owner is handwritten at the top of the front fly leaf and page 126 contains his hand-written - and very unflattering opinion of Jews (in pencil).


The images and the entire text used on this and all other USMBOOKS web pages are the copyrighted property of USM Inc. Those images and the text may be used by others ONLY AFTER completion of a formal international licensing agreement and payment of a licensing fee! It is therefore, illegal for anyone to take any of the material found on USMBOOKS.com and use it for their own purposes without our written permission, irrespective of any excuse they may feel they have for doing so.
This rare 1938 Nazi book with anti-Hitler caricatures is **SOLD**.


USM book #655
• IF you prefer Priority Mail shipping with USPS Tracking add $6.50.
• IF you wish to purchase highly recommended, but optional insurance, add $3.45.
• We will be happy to ship abroad at additional cost. Please inquire.
VERY RARE FIRST EDITION 1938 NAZI BOOK WITH ANTI-HITLER CARICATURES TAKEN FROM NEWSPAPERS AND MAGAZINES ALL OVER THE WORLD
HITLER IN DER KARIKATUR DER WELT, TAT GEGEN TINTE (WORLDWIDE CARICATURES OF HITLER - ACTION AGAINST INK)