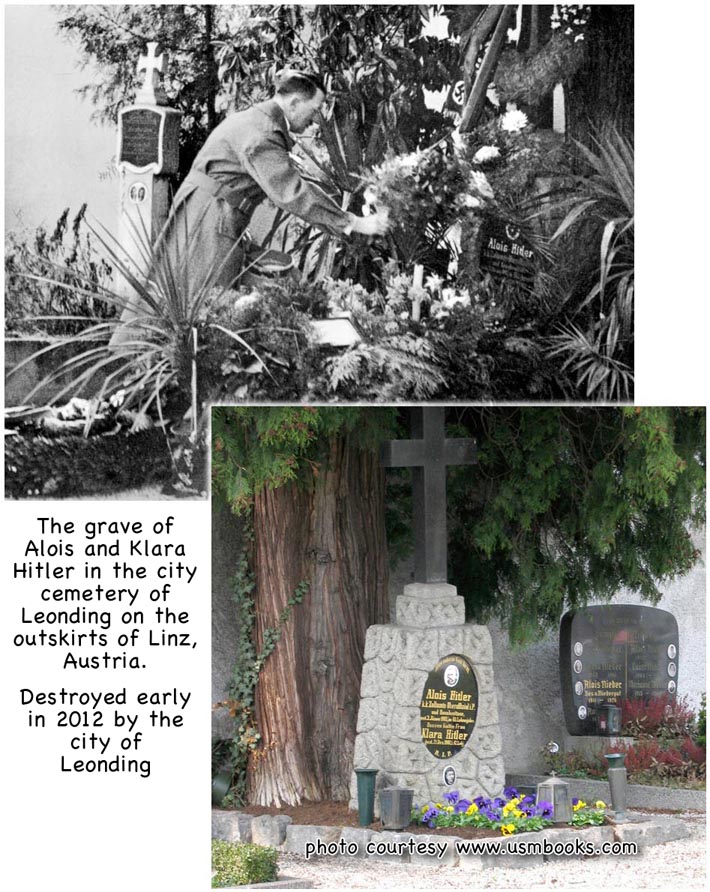 As historians we were saddened to recently learn of the needless destruction of the grave of Adolf Hitler's parents in Leonding, Austria (just outside the city of Linz), by the mayor and city of Leonding. Another chapter in the relentless, ongoing campaign on the part of German and Austrian officials to obliterate anything historical that is in any way connected to European history between the years of 1933 and 1945.

If the same historical criteria were used in the United States, it would probably be necessary to use a bulldozer to obliterate the landscape at the Little Bighorn and Wounded Knee. The arrogance of those who would alter the historical landscape in the hope that they can alter history should never be condoned.

Feel free to forward this web page without alterations, in the interest of history.

The images and the entire text used on this and all other USMBOOKS web pages are the copyrighted property of USM Inc. Those images and the text may be used by others ONLY AFTER completion of a formal international licensing agreement and payment of a licensing fee! It is therefore, illegal for anyone to take any of the material found on USMBOOKS.com and use it for their own purposes without our written permission, irrespective of any excuse they may feel they have for doing so.