The images and text used on this and all other USM web pages are the copyrighted property
of USM Inc. Those images and the text may be used by others ONLY AFTER completion
of a formal international licensing agreement and payment of a licensing fee!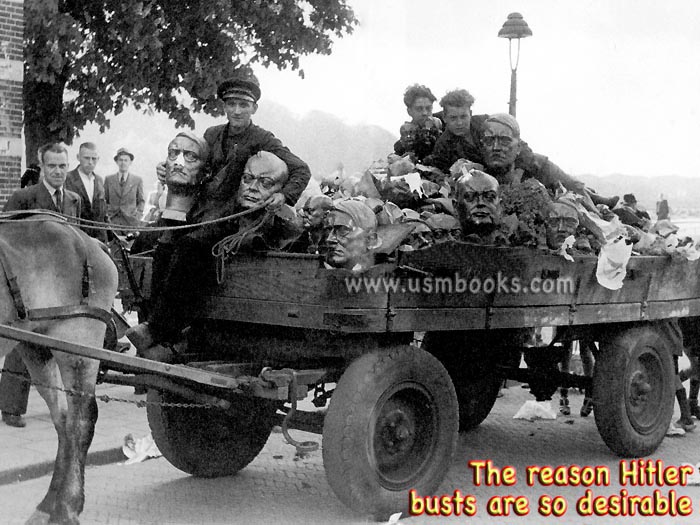 This Nazi desk-size bust of Adolf Hitler on a marble plinth is
**SOLD** plus postage (see below).
• For Priority Mail shipping with USPS Tracking add $17.45.
• IF you wish to purchase highly recommended, but optional insurance, add $12.95.
• We will be happy to ship abroad at additional cost. Please inquire.

This is a superb likeness of Nazi Party Führer and 23rd Chancellor of the country of Germany, Adolf Hitler in the form of a hollow metal bust mounted to a heavy block of greenish marble. We purchased it many years ago out of the bottom drawer of a large cabinet in the town of Mödling, Austria from a woman who acted as if she was in the middle of an opium transaction. She knew she did not want to be caught with a bust of Hitler but on the other hand she knew it was valuable and wanted as much as she could get for it!
The hollow metal bust is 15 centimeter (about 6 inches) tall and about 4-3/8 inches from the nose to the back of the head. Hitler's neck is attached to a heavy marble plinth. The whole thing weighs 2.35 kg (5.2 pounds).

We absolutely guarantee this to be an original Third Reich period bronzed cast metal likeness of a somewhat stern Hitler. The signature cast into the left-back of Hitler's neck is that of well-known German sculptor W. Zoll. It is a particularly well done likeness with nicely detailed hair and realistic facial features.

All Hitler heads and busts are very difficult to find nowadays. We haven't been offered one in many years. If you are looking for an original Third Reich artist-signed bust of Hitler in very good used condition and of a size to set on a desk or bookshelf, this one would be perfect. Our pictures show that there are a few scratches on the face of the sculpture, probably from when it was hidden away in Austria after World War II.
---
NAZI DESK SIZE BRONZED METAL BUST OF ADOLF HITLER
A BEAUTIFUL 6 INCH TALL BRONZED METAL BUST OF
ADOLF HITLER ON A GREENISH MARBLE PLINTH
This USMBOOKS web page is Copyright © 2014 by USM, Inc., and the text and images on it are fully protected by international copyright law. It is therefore, illegal for anyone to take any of the material found here and use it for their own purposes without our written permission, irrespective of any excuse they may feel they have for doing so.