The images and the entire text used on this and all other USMBOOKS web pages are the copyrighted property of USM Inc. Those images and the text may be used by others ONLY AFTER completion of a formal international licensing agreement and payment of a licensing fee! It is therefore, illegal for anyone to take any of the material found on USMBOOKS.com and use it for their own purposes without our written permission, irrespective of any excuse they may feel they have for doing so.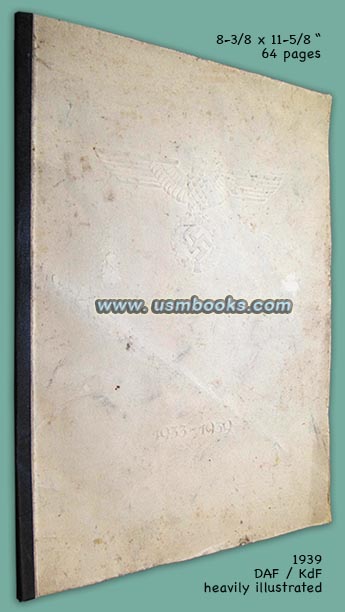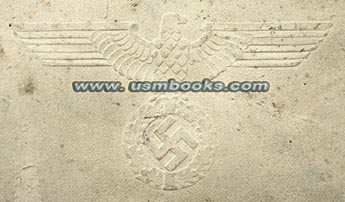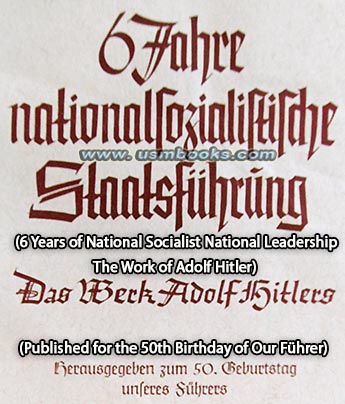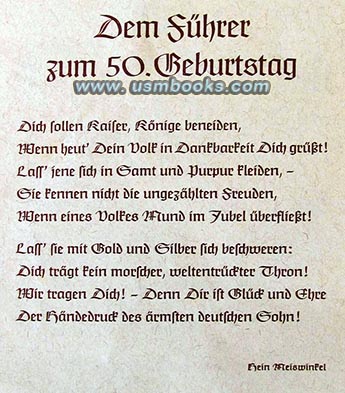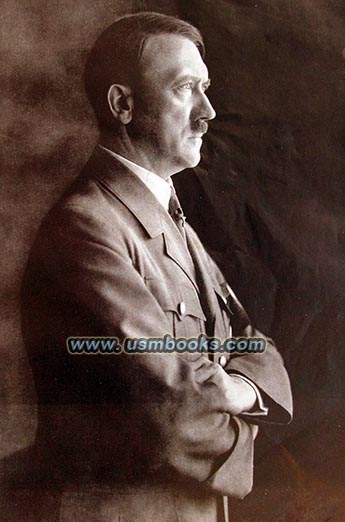 6 Jahre nationalsozialistische Staatsführung: das Werk Adolf Hitlers (Six Years of National Socialist Leadership - The Accomplishments of Adolf Hitler) by Gaustellenleiter Robert Wirtgen, is a rare Third Reich photo book published on the occasion of Adolf Hitler's 50th birthday by Die Deutsche Arbeitsfront, Nationalsozialistische Gemeinschaft "Kraft durch Freude".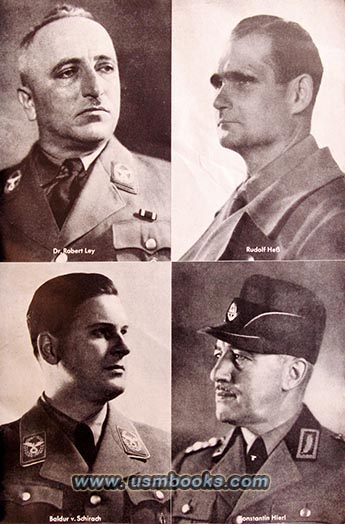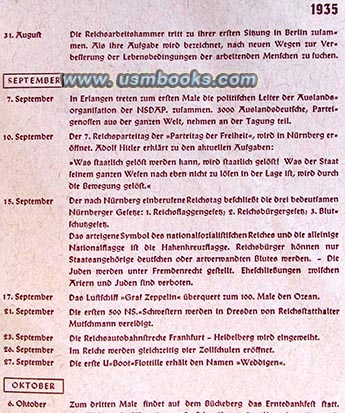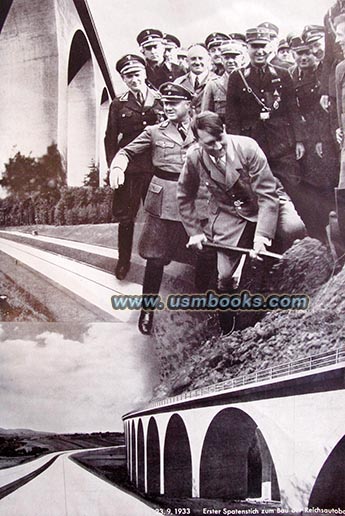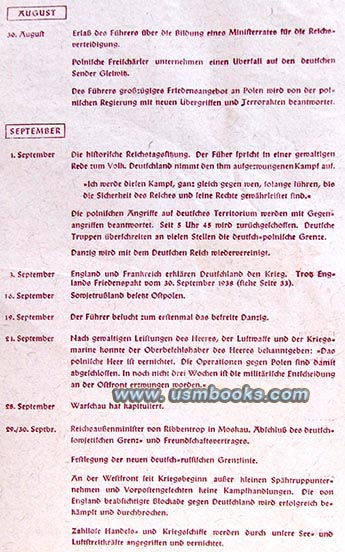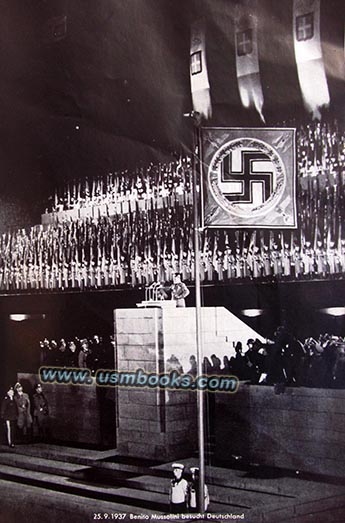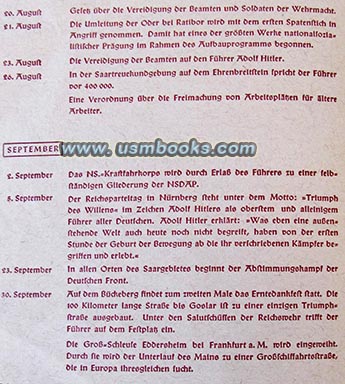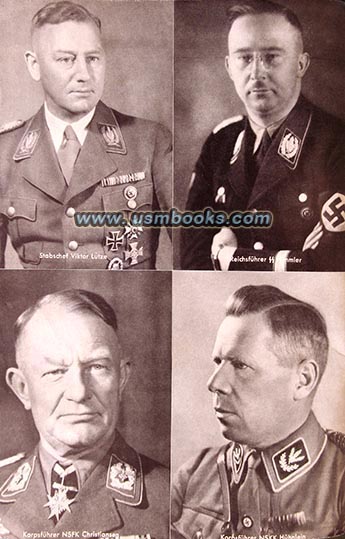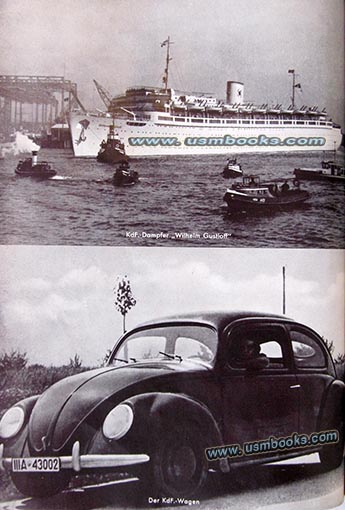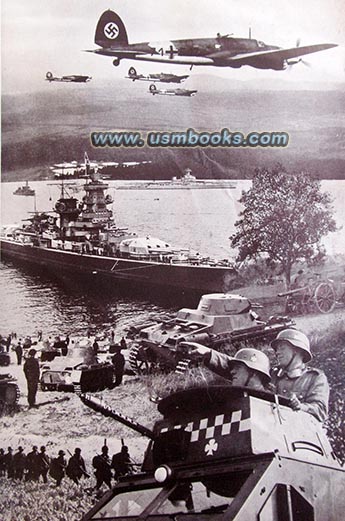 The 64-page, 8-3/8 x 11-5/8 inch soft cover book has a 5 inch embossed eagle and swastika on the cover and the dates 1933-1939. It starts with a full-page portrait of Adolf Hitler and a poem for his 50th birthday by Hein Meiswinkel.
There are 16 pages with black & white photos of Nazi cabinet ministers and major National Socialist accomplishments and events that took place between 1933 and 1939, and 48 pages of month-by-month dates with historical National Socialist events and accomplishments in Germany, all said to be the result of Adolf Hitler's vision and determination.
The photos show Reichsmarschall Hermann Göring, Dr. Robert Ley, Deputy Führer Rudolf Hess, Reichsführer-SS Heinrich Himmler, HJ Leader Baldur von Schirach, RAD leader Konstantin Hierl, SA Stabchef Viktor Lutze, NSFK Leader Friedrich Christiansen, NSKK leader Adolf Hühnlein, Gauleiter Josef Bürckel, the 1933 Reichsparteitag in Nürnberg, the start of the construction of the freeway system, the return of the Saar region to Germany, the 1936 Olympic Stadium, Benito Mussolini's historic state visit to Germany in 1937 and Hitler's state visit to Il Duce in 1938, building projects (the House of German Art and Nazi Honor Temples in Munich, the Reichskanzlei and Aviation Ministry in Berlin, for example), the KdF Wagen, the impressive build-up of Germany's armed forces, KdF cruise ship 'Wilhelm Gustloff', the Anschluss of Austria with Germany and the Sudetenland becoming part of to Nazi Germany.
Many books were published for Hitler's 50th birthday on 20 April 1939, but 6 Jahre nationalsozialistische Staatsführung: das Werk Adolf Hitlers is an excellent though not a very well-known one.

This original 1939 example is complete and while the cover is somewhat dirty, the internal pages are in very good condition. The spine was professionally re-taped by a previous owner. No odor.
This original 1939 Hitler 50th birthday photo publication is offered for
sale for $175.00 delivered by Media Mail in the continental USA.


USM book #903
• IF you prefer faster and safer Priority Mail shipping with USPS Tracking add $6.95.
• IF you wish to purchase highly recommended, but optional insurance, add $3.50.
• We will be happy to ship abroad at additional cost. Please inquire.
ADOLF HITLERs ACCOMPLISHMENTS AFTER THE FIRST SIX YEARS
IN POWER - RARE 1939 NAZI PHOTO BOOK
6 JAHRE NATIONALSOZIALISTISCHE STAATSFÜHRUNG
A RARE NAZI PHOTO BOOK
PUBLISHED ON THE
OCCASION OF HITLER'S
50TH BIRTHDAY IN 1939