The images and the entire text used on this and all other USMBOOKS web pages are the copyrighted property of USM Inc. Those images and the text may be used by others ONLY AFTER completion of a formal international licensing agreement and payment of a licensing fee! It is therefore, illegal for anyone to take any of the material found on USMBOOKS.com and use it for their own purposes without our written permission, irrespective of any excuse they may feel they have for doing so.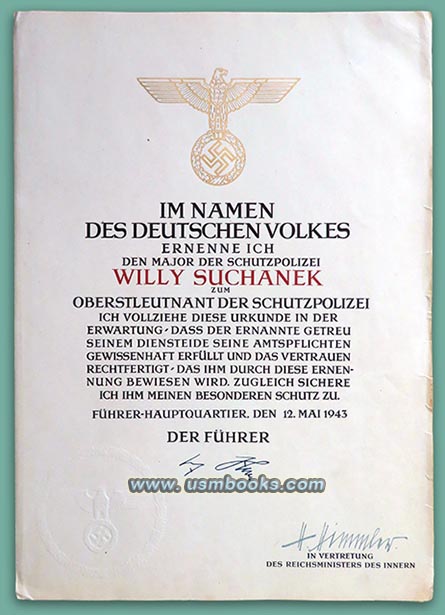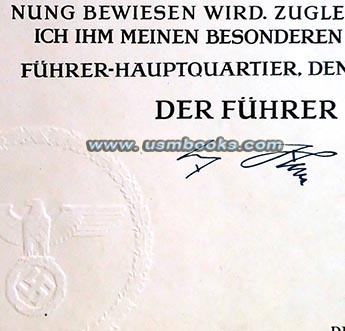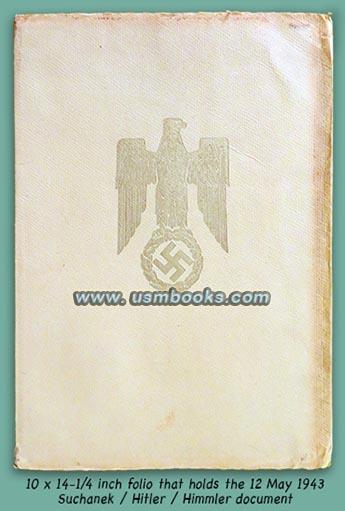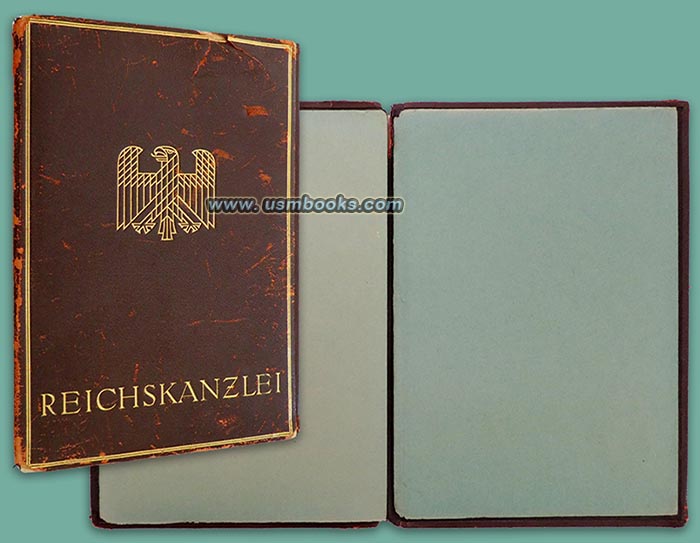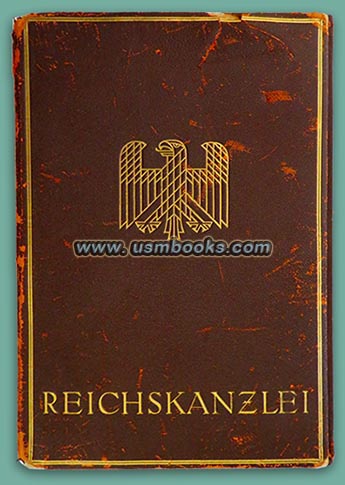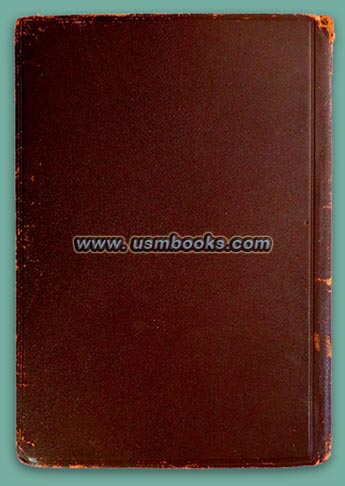 A brief biography of Willy Suchanek, the recipient of this Nazi promotion Urkunde, makes the document far more interesting and historic! Suchanek was born in Berlin on 11 November 1905 and joined the German police in the 1920s. From 1934 - 1936 Willy Suchanek was the personal Adjutant of Reinhard Heydrich at the Gestapo, the Nazi Secret Police. Suchanek's Nazi Party membership number is 4,691,083 and his SS number is 290,461. Suchanek later became the Liaison Officer to Reichsführer-SS Heinrich Himmler at the Main Office of the Ordnungspolizei in Berlin. During World War II, Suchanek became the Police Adjutant of Reichsführer-SS Heinrich Himmler, a position in which he represented and advised Chief of Police Himmler. From 1943 through July of 1944 as an SS-Obersturmbannführer (Lieutentant Colonel), Suchanek was the leader of SS-Polizeiregiment 25 fighting partisans in Poland.

After World War II Suchanek was interviewed in depth about his activities in the SS and police, but he disappeared prior to being tried and/or convicted of any of the crimes for which many in the SS and police were found guilty and sentenced or executed.
Suchanek's very historic 1943 promotion Urkunde is in very nice used condition. The right edge of the front cover of the protective cream-colored folder is lightly discolored where it protruded out of the open side of the brown leather signing folio for many decades. No offensive odor. No offensive odor. The front cover and the spine of the brown leather signing folio is only in fair condition.
This is a very rare Third Reich document on several important levels. It is the formal promotion Urkunde (certificate) of Willy Suchanek, who was promoted from Major der Schutzpolizei to Oberstleutnant (Lieutentant Colonel) der Schutzpolizei.
The document is dated at the Fürherhauptquartier on 12 May 1943 and bears the facsimile signature of Führer und Reichskanzler Adolf Hitler and the genuine pen and ink signature of Nazi Reichsminister of the Interior, Head of the SS and Police, Heinrich Himmler. The Hitler signature is printed on the Urkunde in dark blue ink, but the Himmler signature is an absolutely authentic, hand-signed autograph in blue ink, probably the nicest, cleanest Himmler signature we have ever offered for sale.
This 10 x 14 inch Third Reich police promotion document is printed on heavy cream color paper and is written Im Namen des Deutschen Volkes (In the Name of the German Nation). Below and to the left of Hitler's signature is a big 3-1/4 inch emboss of the Hoheitszeichen or National Emblem (an eagle and swastika) in a wreath of oak leaves. Like other important documents of this sort, the German text below Suchanek's name assures him of the Führer's protection.

This well-preserved and important Nazi promotion document is enclosed in its original 10 x 14-¼ inch heavy cream-colored embossed linen-finish art board folder with a ragged edge and a 5-½ inch tall gold blocked eagle and swastika embossed in the center of the front cover.

This document was no doubt prepared and made ready for the Himmler signature in the usual manner by staff at the Reichschancellery in Berlin. It was placed in a 9-¾ x 14-¼ inch brown leather hardcover Reichskanzlei signing folio with a federal eagle in gold blocking on the front cover. The signing folio also contains two original sheets of blotter paper. On an average day a number of such folios containing promotion and/or other documents would be readied for signature and taken to the desk of the official who would sign them, in this case Reichsführer-SS Heinrich Himmler. We have no way of knowing whether this document was signed and presented to Oberstleutnant der Schutzpolizei Willy Suchanek or not, but we doubt that it was since it was still in the Reichschancellery signing folio when we acquired it.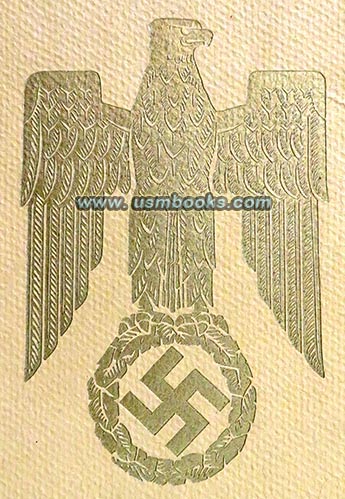 Any document hand-signed by Reichsführer-SS Heinrich Himmler is very rare today, especially those bearing the Hitler counter signature (autopen, printed or otherwise) and especially those like this one, signed at Hitler's eastern front headquarters, the Führerhauptquartier (Wolfsschanze) at Rastenburg. It is still contained in the original brown and gold Reichschancellery signing folio in which it was brought back to America by a returning GI.
Have a look at other Third Reich police items for sale on USMBOOKS.com.
We are happy to combine shipping to save you money!
This 100% original Himmler signed police promotion for Willy Suchanek
is **SOLD**.

• IF you wish to purchase highly recommended, but optional insurance, add $13.50.
• We will be happy to ship abroad at additional cost. Please inquire.
FINE 1943 NAZI POLICE PROMOTION SIGNED BY
HEINRICH HIMMLER & ADOLF HITLER
A SUPERB
HITLER / HIMMLER
SIGNED POLICE
PROMOTION FOR
REINHARD
HEYDRICH'S
FORMER ADJUTANT
WILLY SUCHANEK
DATED AT THE
FÜHRERHAUPT-
QUARTIER
ON 12 MAY 1943