The images and the entire text used on this and all other USMBOOKS web pages are the copyrighted property of USM Inc. Those images and the text may be used by others ONLY AFTER completion of a formal international licensing agreement and payment of a licensing fee! It is therefore, illegal for anyone to take any of the material found on USMBOOKS.com and use it for their own purposes without our written permission, irrespective of any excuse they may feel they have for doing so.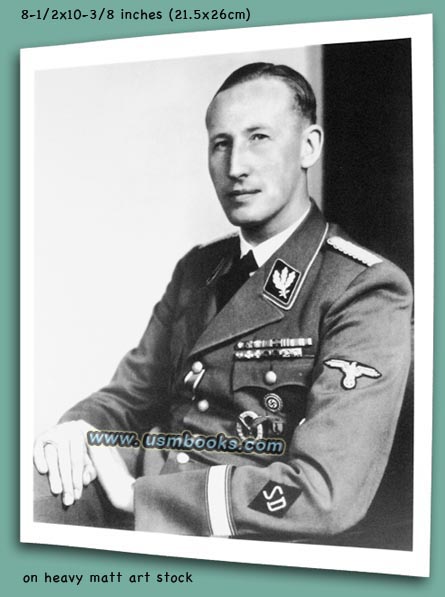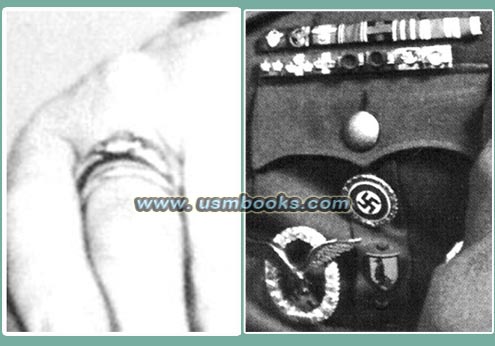 The portrait Heydrich in his SS General's uniform with an Iron Cross ribbon in the top button, full decoration bars above the left pocket, a NSDAP Golden Honor Badge, a Pilot's Badge and a squadron insignia on the ;eft pocket and a SD sleeve diamond below the SS eagle on the left sleeve. Heydrich is shown wearing his wedding ring and an SS Honor Ring on the third finger of his right hand with the top of the skull pointing toward the camera. The detail is excellent.

It is a particularly good portrait of the SS-Obergruppenführer Reinhard Heydrich and is the type that probably would have hung in a frame without a matt in a SS and Nazi Police office anywhere in Germany during the Third Reich. Because Heydrich was assassinated in 1942 and the SS was declared an illegal organization in Germany at the end of World War II, very, very few real portraits of Heydrich survived. We have decided to make copies available at a reasonable price so that they can be used in educational displays, in museums, and along with SS collectibles.
This is a splendid modern 8-½ x 10-3/8 inch (21-½ x 26 cm) black & white reproduction made from the stunning original black & white Third Reich photographic print of SS-Obergruppenführer Reinhard Tristan Eugen Heydrich at the height of his career.
This photo portrait of SS-Obergruppenführer Reinhard Heydrich is for sale for $10.00 or two for $17.50 delivered by 1st Class Mail in the continental USA.

• IF you prefer Priority Mail shipping with USPS Tracking add $6.95.
• IF you wish to purchase highly recommended, but optional insurance, add $2.45.
• We will be happy to ship abroad at additional cost. Please inquire.
NAZI SS OFFICIAL PORTRAIT OF SS-OBERGRUPPENFÜHRER
REINHARD HEYDRICH
A SUPERB COPY OF THE OFFICIAL PHOTOGRAPH OF SS-OBERGRUPPENFÜHRER REINHARD HEYDRICH OF THE SORT MADE
TO HANG IN SS AND POLICE OFFICES DURING THE
THIRD REICH