The images and text used on this and all other USM web pages are the copyrighted property
of USM Inc. Those images and the text may be used by others ONLY AFTER completion
of a formal international licensing agreement and payment of a licensing fee!
This genuine Imperial German helmet decoration is for sale for
$75.00 delivered by 1st Class Mail in the USA.

• IF you prefer Priority Mail shipping with USPS delivery confirmation add $5.75.
• IF you wish to purchase highly recommended, but optional insurance, add $2.50.
• We will be happy to ship abroad at additional cost. Please inquire.
This is a wonderful piece of German military history almost 100 years old. If you know anybody who collects Imperial German material, they will be happy to hear about the discovery of one of these.

During World War I as the Kaiser's troops were called up from towns and villages throughout Germany to be deployed to the front, well-wishers handed out helmet decorations of this sort with the best wishes of those who stayed behind. There are photos of German troops boarding trains for the front with this sort of helmet decoration attached to their caps and/or steel helmets or attached to their overcoat like a corsage.

The item is made up of many small pieces - photos, gold metallic leaves, cloth flags, etc. The white plume at the top sticks up about 2-1/2 inches above the top photo and is fuller and more even on the ends then we were able to depict in our photo. A very rare piece of World War I Imperial German militaria.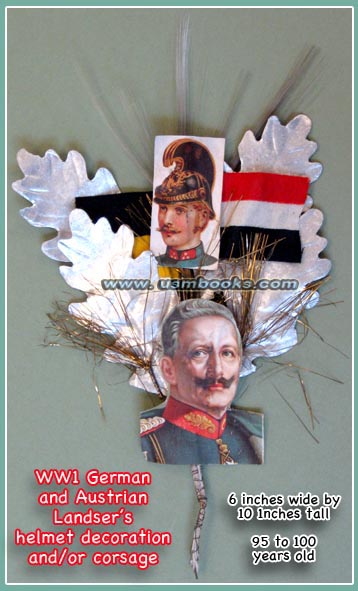 GERMAN HOME FRONT HELMET DECORATION
ANTIQUE HELMET DECORATION GIVEN TO GERMAN LANDSERS HEADED FOR THE FRONT
This USMBOOKS web page is Copyright © 2014 by USM, Inc., and the text and images on it are fully protected by international copyright law. It is therefore, illegal for anyone to take any of the material found here and use it for their own purposes without our written permission, irrespective of any excuse they may feel they have for doing so.