The images and the entire text used on this and all other USMBOOKS web pages are the copyrighted property of USM Inc. Those images and the text may be used by others ONLY AFTER completion of a formal international licensing agreement and payment of a licensing fee! It is therefore, illegal for anyone to take any of the material found on USMBOOKS.com and use it for their own purposes without our written permission, irrespective of any excuse they may feel they have for doing so.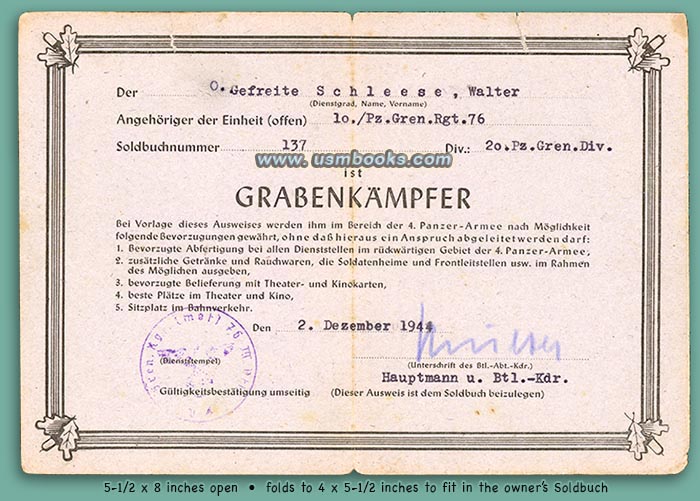 From the time it was used as a sledgehammer to batter the German Wehrmacht's way through the Baltic countries to the very gates of Moscow, until its retreat all the way back to Berlin in 1945, this outfit was in the thick of the toughest battles in Russia. They lost countless men at Minsk, Charkow, Stalingrad, Welish, Shitomir, Wolchow, Dnjepr, Orel and on the Oder. Their courage was legendary and the price the Russians paid for taking them on was enormous.
Since this certificate was presented to Obergefreiter Walter Schleese on 2 December 1944 it must have been printed in the fall of 1944. The 4 x 5-½ inch front cover says Ausweis für Grabenkämpfer (Identity Document for Trench Fighters) above a Nazi Infantry Assault Badge. Inside the document provides a rare glimpse at the dark humor of members of the outfit that were still alive. A tongue-in-cheek list of preferential treatment for owners of this Grabenkämpfer ID in the Theater of Operations of the 4th Panzer Army includes quick delivery of cigarettes and drinks, theater and movie tickets, the best seats in theaters and cinemas and seats on public transportation.
Under the Battalion Commander's signature is the notation is that this document is to be carried as part of the Landser's Soldbuch.

Purchased from one of the oldest and most treasured collections in Germany. Condition exactly as shown.
The text and photos in this listing are copyrighted property of USMBOOKS.com and it is specifically forbidden for others to use them for any purpose on any blog, forum, website or in printed matter without the specific written permission of USMBOOKS.com. Feel free to refer people to this web page if you wish to discuss our property and our copyrights.
This is an absolutely authentic World War II German document of the rarest sort. Few humans that served in the 10th Panzer Grenadier Regiment 76 of the 20th Panzer Grenadier Division in Russia and in the retreat back to Berlin survived and even fewer of these Grabenkämpfer certificates survived.
This ultra rare original 1944 Ausweis für Grabenkämpfer is offered for sale
for $395.00 delivered by Media Mail in the continental USA.

• IF you prefer Priority Mail shipping with USPS Tracking add $6.50.
• IF you wish to purchase highly recommended, but optional insurance, add $6.75.
• We will be happy to ship abroad at additional cost. Please inquire.
EXTREMELY RARE GRABENKÄMPFER OR TRENCH FIGHTER
SOLDBUCH SUPPLEMENT 20.PZ. GREN. DIV.
GRABENKAEMPFER SOLDBUCH SUPPLEMENT FROM THE 10./PZ. GREN.
RGT. 76, 20.PZ. GREN. DIV.
DATED 2 DECEMBER 1944
>> VERY RARE <<