The images and text used on this and all other USM web pages are the copyrighted property
of USM Inc. Those images and the text may be used by others ONLY AFTER completion
of a formal international licensing agreement and payment of a licensing fee!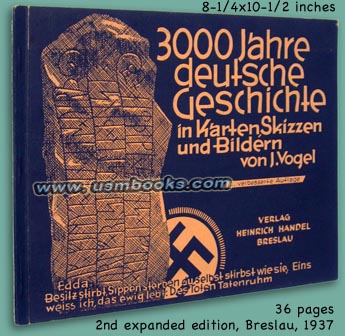 This remarkable book, 3000 Jahre deutsche Geschichte, is the official Nazi version of the history of the country of Germany and the German people. It is especially well done with very accurate illustrations and maps in addition to many photographs.
This 1937 Nazi book about Germanic history is **SOLD**


USM book #208
• IF you prefer Priority Mail shipping with USPS Tracking add $5.95.
• IF you wish to purchase highly recommended, but optional insurance, add $2.95.
• We will be happy to ship abroad at additional cost. Please inquire.

Have a look at the book "The Road to the Reich" that traces the origins of the Nordic Germanic people, published by the Reichsführer-SS - SS-Hauptamt in Berlin.
---
VERY RARE NAZI GERMANIC HISTORY BOOK
3000 JAHRE
DEUTSCHE GESCHICHTE
(3000 YEARS OF GERMAN HISTORY)
IN MAPS, SKETCHES
AND PHOTOGRAPHS
This USMBOOKS web page is Copyright © 2014 by USM, Inc., and the text and images on it are fully protected by international copyright law. It is therefore, illegal for anyone to take any of the material found here and use it for their own purposes without our written permission, irrespective of any excuse they may feel they have for doing so.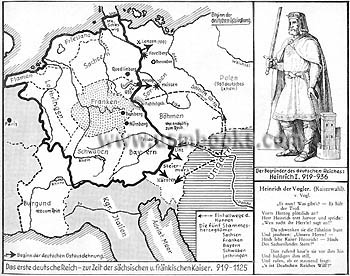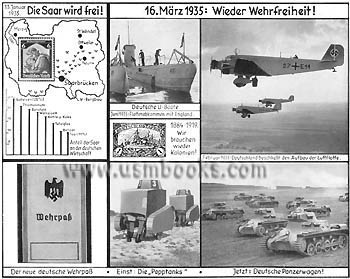 The 8-1/4 x 10-1/2 inch, 38 page, very heavily illustrated hard cover book by Rector J. Vogel was published by Verlag Heinrich Handel in Breslau in 1938 or 1939. This is a second expanded edition.

Beginning 3000 years ago, each page of this book traces epochal developments in Germanic history. There is a page about the Vikings, one on the formation of the "First Reich" by Kaiser Heinrich the Fowler (a favorite historical figure of Reichsführer-SS Heinrich Himmler), the Hanseatic League, German Crusaders, the German East, Friedrich the Great, Napoleon, the "Second Reich", and the First World War.
The Nazis, racial matters and the Third Reich of Adolf Hitler come next, with many photos of the German abrogation of the Treaties of Versailles and St. Germain.

The book ends with a German demand for economic liberation and the return of their colonies of German Southwest Africa, German East Africa, Cameroon and the German islands in the Pacific Ocean.

Rare and in very good used condition.