The images and text used on this and all other USM web pages are the copyrighted property
of USM Inc. Those images and the text may be used by others ONLY AFTER completion
of a formal international licensing agreement and payment of a licensing fee!
This fine original Carl Eickhorn Bavarian Officer's sword
is **SOLD**.

• Add $20.00 for Priority Mail shipping with USPS delivery confirmation.
• IF you wish to purchase highly recommened, but optional insurance, add $4.95.
• We will be happy to ship abroad at additional cost. Please inquire.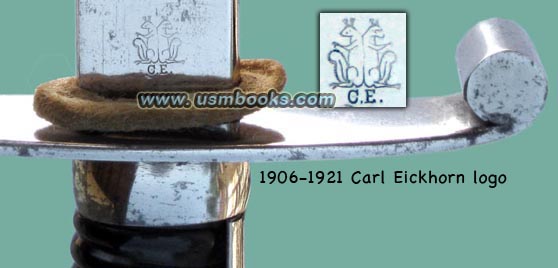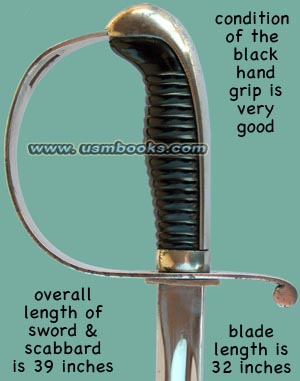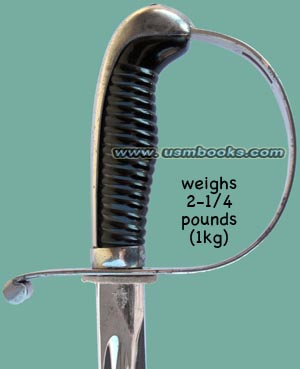 GENUINE BAVARIAN 'IN TREUE FEST'
GERMAN OFFICER SWORD BY
CARL EICKHORN OF SOLINGEN
AND BEARING THE EICKHORN EDGED WEAPON LOGO IN USE DURING
THE PERIOD 1906 - 1921
This is a nice German Bavarian Officer's sword but we are going to spare you all the windbag hyperbole that you would find on the 'big-name' sword and dagger websites. It is an honest 100 year old piece that was doubtless carried by Bavarian artillery during the First World War and ended up in an empty house in Pennsylvania where it was discovered recently. It has never been to a militaria show and has never been in the hands of a militaria dealer. This sword is genuine Eickhorn with the back-to-back squirrels logo, not a logo-less sword attributed to Eickhorn like those found on other 'big-name' websites.
CONDITION:
This beautiful German Eickhorn sword is in very good overall condition with a splendid, 32 inch long nick-free double-etched, nickel plated Solingen steel blade with the Bavarian motto In Treue fest. The original off-white leather washer is still in place.

The scabbard still retains about 80% or more of its original black paint, and has no dents. The black covered wooden hand grip is in very good condition with no pieces missing. The nickel plated handle hardware shows plenty of use in terms of the plating (perfectly obvious in our photos) but is not beat-up or damaged in any way.
Collectors should note that many of these Imperial era German NCO swords were still in use during the Nazi era, and thus they can be as much a relic of the Third Reich as of their era of issue.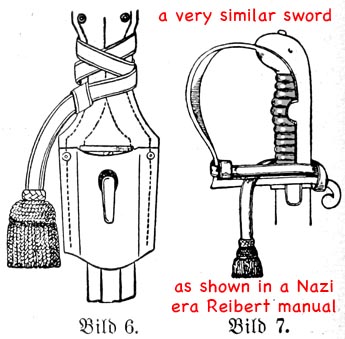 Complete and in far better than average condition. EXACTLY as shown in our photographs.
This USM Books website is Copyright © 2012 by USM, Inc., and the text and images on it are fully protected by international copyright law. It is therefore, illegal for anyone to take any of the material found here and use it for their own purposes without our written permission, irrespective of any excuse they may feel they have for doing so.