The images and text used on this and all other USM web pages are the copyrighted property
of USM Inc. Those images and the text may be used by others ONLY AFTER completion
of a formal international licensing agreement and payment of a licensing fee!
This English language Imperial German uniform book is offered for sale
for $125.00 delivered by Media Mail in the continental USA.


USM book #477
• IF you prefer Priority Mail shipping with USPS delivery confirmation add $5.95.
• IF you wish to purchase highly recommended, but optional insurance, add $2.95.
• We will be happy to ship abroad at additional cost. Please inquire.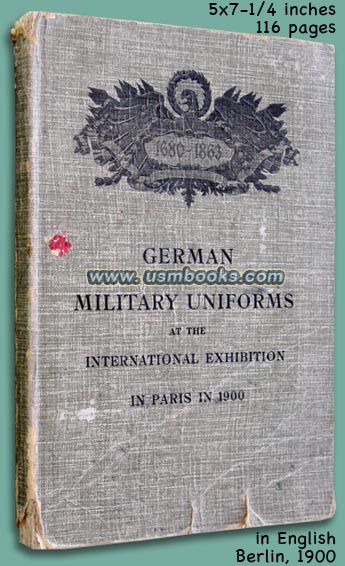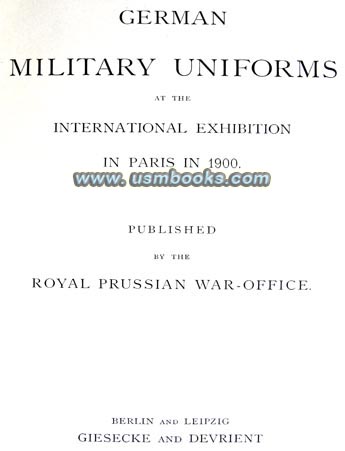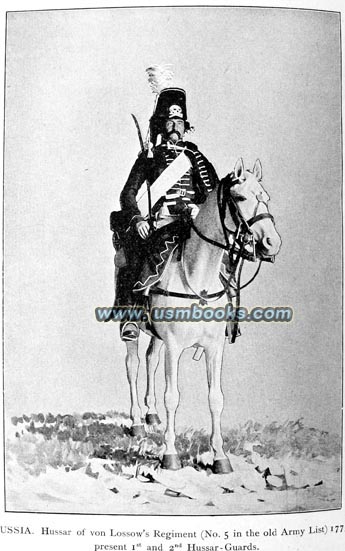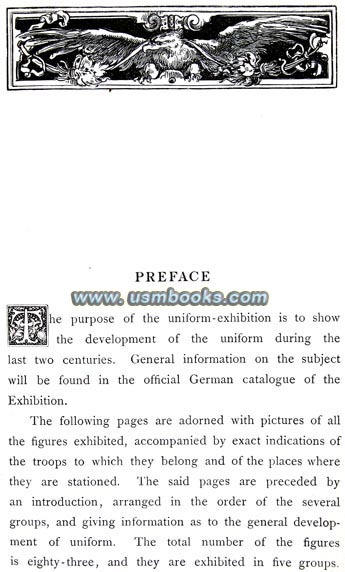 This is an excellent small hard cover book in English that is the supplement to the Official Catalog of the Exhibition of German Military Uniforms at the International Exhibition in Paris in 1900 as published for the Royal Prussian War Office by Giesecke und Devrient of Berlin and Leipzig. This is the photo supplement to the Exhibition Catalog and best of all it is in the English language.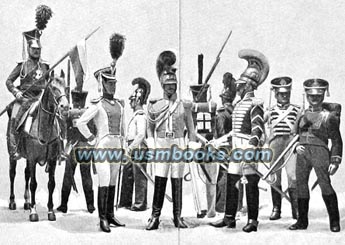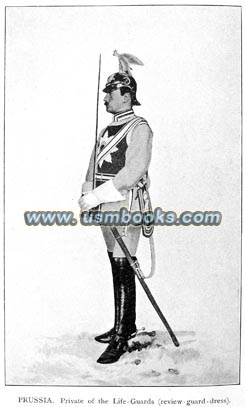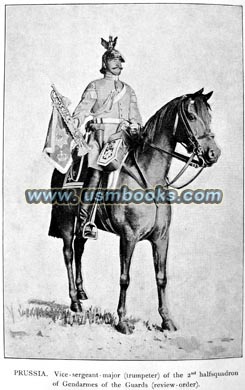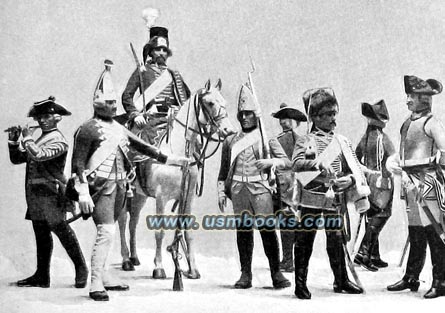 The pictures in this book show all the figures that were exhibited with text that tells exactly which troops wore those uniforms and the places they were stationed.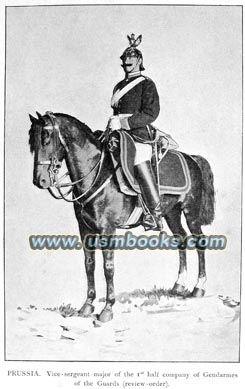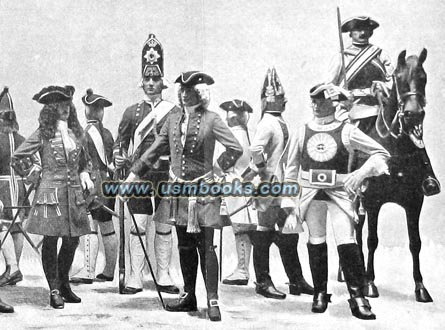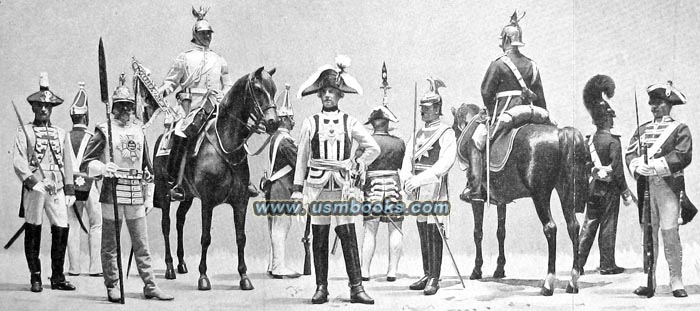 The 83 figures and uniforms exhibited were shown in five groups and there are ten 7-1/4 x 11-3/4 inch fold-out plates showing the front and back of all the soldiers in each of those groups.
The second part of the book German Military Uniforms at the International Exhibition in Paris in 1900 consists of 82 full-page plates depicting individual soldiers in uniform from the displays, some mounted on horseback.
The covers of this 5 x 7-1/4 inch, 116 page book show considerable wear but the content itself is in very nice used condition. There are three single soldier plates in the book on which a previous owner has colored in parts of the uniforms with transparent watercolor paints, perhaps at the exhibition itself. A rare book on a very specific Imperial German subject.
The exhibition was mounted to show the development of the military uniform over the previous two centuries.
EXHIBIT CATALOG OF IMPERIAL GERMAN MILITARY UNIFORMS
THE RARE ENGLISH LANGUAGE EXHIBIT CATALOG OF THE ROYAL PRUSSIAN WAR OFFICE EXHIBIT OF MILITARY UNIFORMS IN PARIS IN 1900
This USM Books website is Copyright © 2012 by USM, Inc., and the text and images on it are fully protected by international copyright law. It is therefore, illegal for anyone to take any of the material found here and use it for their own purposes without our written permission, irrespective of any excuse they may feel they have for doing so.