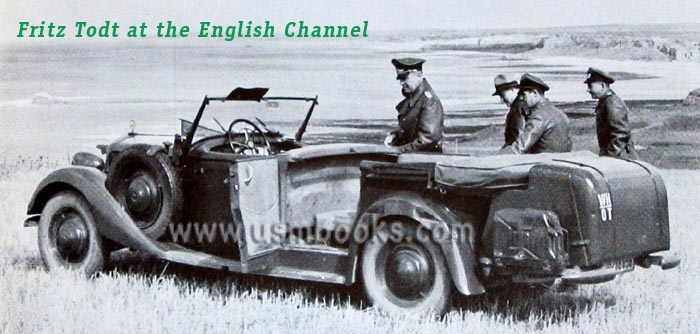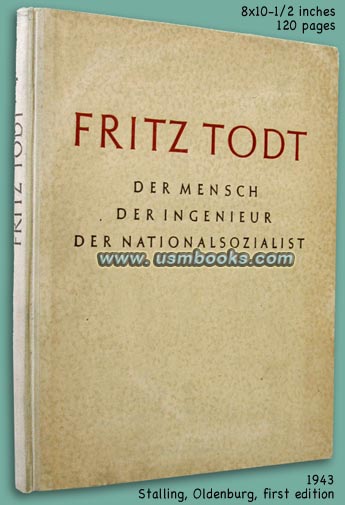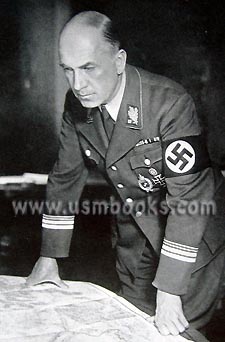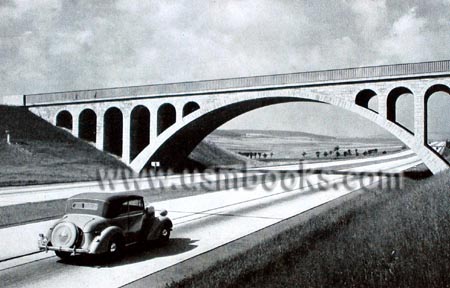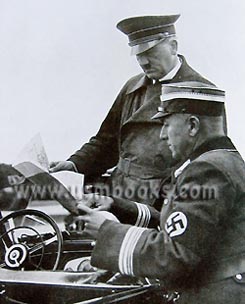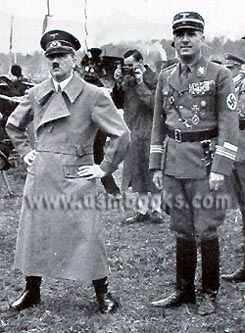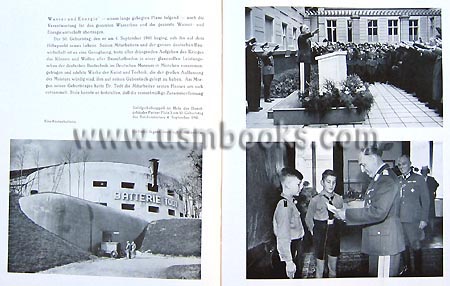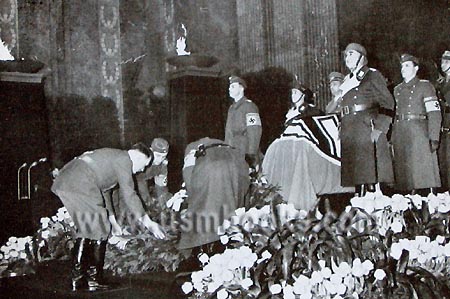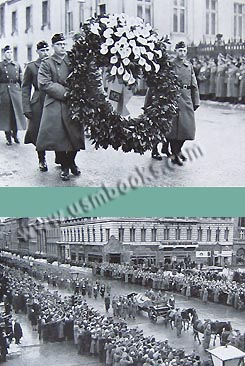 This rare German hardcover book is called FRITZ TODT - der Mensch, der Ingenieur, der Nationalsozialist (Fritz Todt - the Man, the Engineer, the National Socialist).

The book measures 8 x 10-1/2 inches, contains 120 very heavily illustrated pages, was written by Eduard Schönleben and was published by Verlag Gerhard Stalling in Oldenburg, Germany in 1943. It is a FIRST EDITION in very good condition.
Dr. Ing. Fritz Todt was born in Pforzheim, Germany in 1891, studied engineering in München (Munich) and served in the German Air Force as a flying observer in World War I. He gained great experience in civil engineering working for the famous construction firm of Sager & Woerner after that war. Todt was an early National Socialist, and his energy and capacity caught the eye of Nazi Party Führer Adolf Hitler.
In 1933, as Germany's 23rd Chancellor, Hitler put Todt in charge of all highway construction in Germany including that of the Reichsautobahn system, the world's first real freeway system.

The job simply could not have suited Fritz Todt better. A master of organization, he quickly began planning and building a system of thousands of miles of super highways (many miles of which are still in use in their ORIGINAL form) on which all freeway systems in the world are now modeled.
Hitler and Todt liked each other from the start. Todt became an expert in the construction of things like roads, bridges, waterways, airports, etc.
Hitler also called upon Todt to build the Westwall, a concrete defensive line of "dragon's teeth" along the western border of Germany. In 1940, when France surrendered after a "desperate" battle of several days, Todt began the construction of enormous concrete bunkers and gun emplacements along the English Channel.


When Germany invaded the Soviet Union, Todt was given a new career - replacing the thousands of inadequate, destroyed or damaged bridges in the Ukraine and Russia. During the same period Todt also erected huge concrete "pens" for German U-Boots (submarines) near Lorient on the west coast of France.

Holding a general's rank in both he SA and SS, this human dynamo was killed at age 52 in an airplane crash on the Eastern Front on 8 February 1942 while making a return trip to his office in Berlin.
Hitler provided Todt with one of the largest and most impressive funeral services ever held in the New Reichschancellery in Berlin. He was buried with full Nazi honors.
Historians invariably give Todt enormous credit for the engineering and military accomplishments of Third Reich Germany. He was certainly among the top 1% of all the engineers in the world during the Second World War.

This very rare book provides the complete story of Todt's life and untimely death, copiously illustrated with around 150 seldom seen full-page and half-page black & white photographs. The First Edition hard cover edition of FRITZ TODT - der Mensch, der Ingenieur, der Nationalsozialist is complete and in very good condition.


The images and the entire text used on this and all other USMBOOKS web pages are the copyrighted property of USM Inc. Those images and the text may be used by others ONLY AFTER completion of a formal international licensing agreement and payment of a licensing fee! It is therefore, illegal for anyone to take any of the material found on USMBOOKS.com and use it for their own purposes without our written permission, irrespective of any excuse they may feel they have for doing so.
This Nazi photo biography on Dr. Fritz Todt is offered for sale
for $195.00 delivered by Media Mail in the continental USA.


USM book #263
• IF you prefer Priority Mail shipping with USPS Tracking add $6.75.
• IF you wish to purchase highly recommended, but optional insurance, add $3.45.
• We will be happy to ship abroad at additional cost. Please inquire.
FRITZ TODT - THE BEST BOOK ON HIS LIFE
GERMAN CIVIL ENGINEER DR. FRITZ TODT
1943 PHOTO-BIOGRAPHY BOOK - 1st EDITION