The images and the entire text used on this and all other USMBOOKS web pages are the copyrighted property of USM Inc. Those images and the text may be used by others ONLY AFTER completion of a formal international licensing agreement and payment of a licensing fee! It is therefore, illegal for anyone to take any of the material found on USMBOOKS.com and use it for their own purposes without our written permission, irrespective of any excuse they may feel they have for doing so.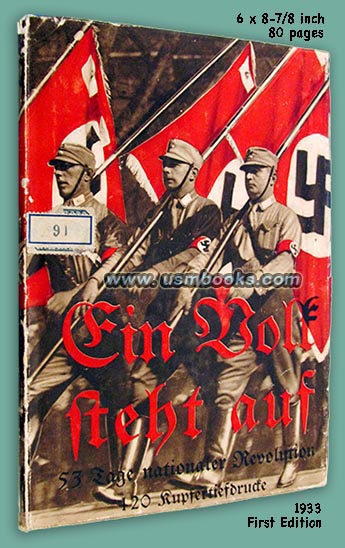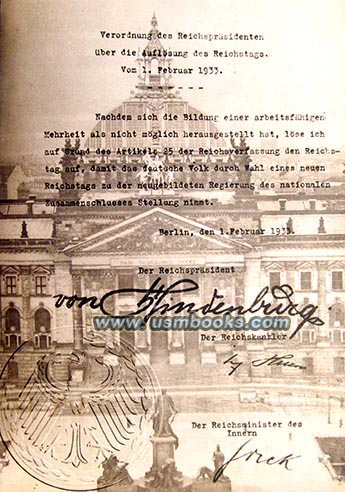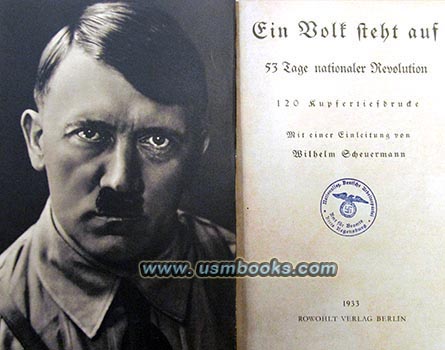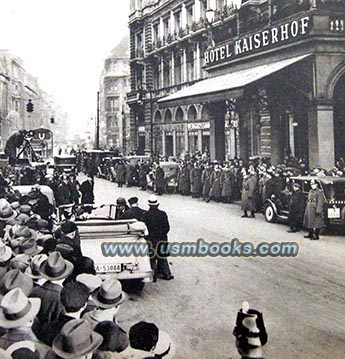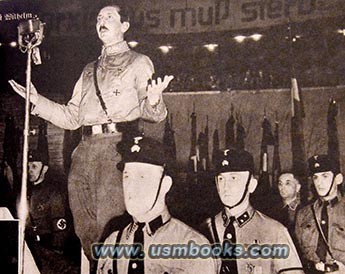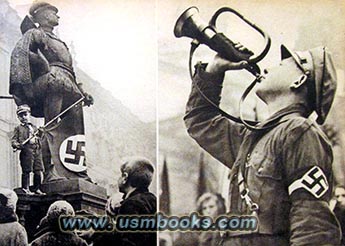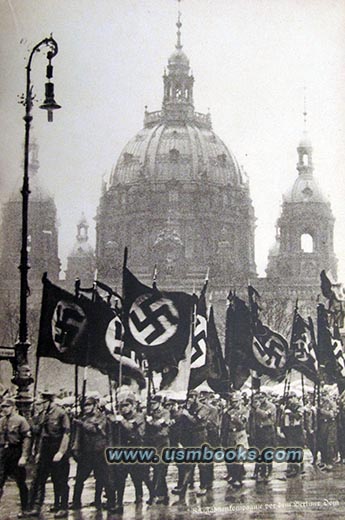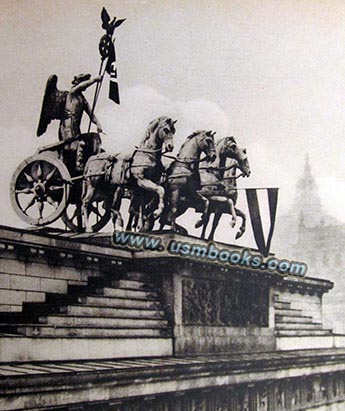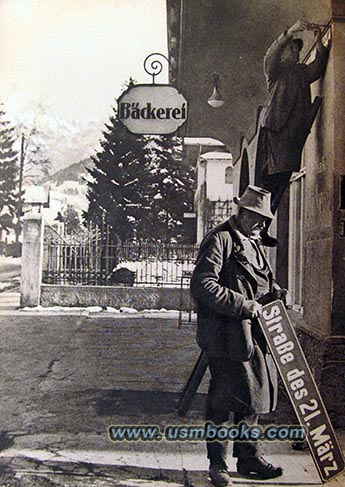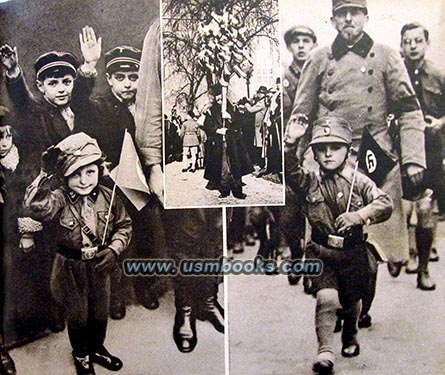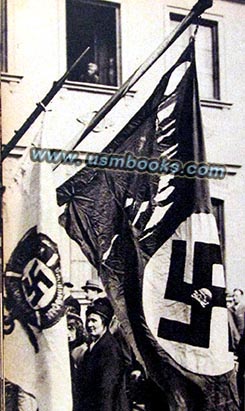 Ein Volk steht auf, 53 Tage nationaler Revolution (A Nation Rises - 53 Days of National Revolution) is an extremely rare Nazi book, a heavily illustrated photo documentary of the 53 days leading up to the day Adolf Hitler was appointed Reichschancellor of Germany by German President Paul von Hindenburg. This First Edition was published in 1933 by Rowohlt Verlag in Berlin .
The 120 photos in this book are not half-toned in the regular way (with a dot pattern), but are printed by a method called rotogravure which produces something that looks somewhat more like a photo.
The book has an introduction by Wilhelm Scheuermann and photos by Heinrich Hoffmann, Keystone, Scherl, Ullstein, Associated Press and others. They show Hitler leaving the Hotel Kaiserhof, in the Reichschancellery in Berlin, with members of his new cabinet, Graf Helldorf, Dr. Joseph Goebbels, Prinz August Wilhelm, Reichsminister Hermann Goering, Minister Seldte, Admiral Raeder, the burned-out Reichstag building, Communist street fighters, election ballots, jubilant Hitler supporters in Berlin and Munich, huge parades, Hitler Youth boys and BdM girls, political prisoners, the Horst Wessel Haus in Berlin, the parliamentary ceremonies in Garnisonkirche in Potsdam on 21 March 1933, the temporary Parliament in the Kroll Opera in Berlin, etc., etc.
This 84 year old 6 x 8-7/8 inch, 80-page softcover Third Reich book with its striking cover is complete and in very nice used condition. It was once a part of the library of the Civil Servant Department of the Nazi Party in Regensburg. Their eagle and swastika stamp is inside the front cover and on the title page.

We were able to find only a couple of examples of this rare Third Reich book online in Europe, and a not-quite-so-good example is offered for sale for over $1400.00!!!!!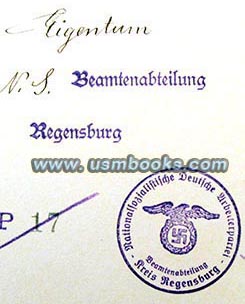 This 1933 First Edition of Ein Volk steht auf is **SOLD**


USM book #882
• IF you prefer faster and safer Priority Mail shipping with USPS Tracking add $6.95.
• IF you wish to purchase highly recommended, but optional insurance, add $9.45.
• We will be happy to ship abroad at additional cost. Please inquire.
EXTREMELY RARE 1933 FIRST EDITION HEAVILY ILLUSTRATED NAZI PHOTO BOOK EIN VOLK STEHT AUF
"A NATION RISES - 53 DAYS OF NATIONAL SOCIALIST REVOLUTION"