Have a look at the rare Nazi photo publication Germanic Community,
also for sale on USMBOOKS.com.
This Nazi ideology book Du und dein Volk is **SOLD**.


USM book #552a
• IF you prefer Priority Mail shipping with USPS delivery confirmation add $5.75.
• IF you wish to purchase highly recommended, but optional insurance, add $2.95.
• We will be happy to ship abroad at additional cost. Please inquire.
The Third Reich book Du und Dein Volk (You and Your Nation) by Kurt Schrey was published by the Reichsleitung der NSDAP, Hauptamt für Erzieher (NSLB - Main Office for Education) and printed by the Deutscher Volksverlag GmbH in Munich in 1939.
There is a patriotic "Heil Hitler!" signed foreword by SS-Obergruppenführer and Gauleiter der Bayerischen Ostmark Fritz Wächtler and the content stresses the importance of education, National Socialism, family and aryan ancestry, racial purity, marriage and children, the German Nation, a high birth rate, etc.
The 6-1/2 x 9 inch, 50 page book with an embossed swastika on the front soft cover was produced to be handed out to high school graduates on the day of their graduation ceremony and contains a special page for student data to be filled in by the school. This example was given to Anna Gruber of Wilhelmsburg on 8 July 1939 and is signed by Principal Franz Binderhofer.
The Jewish Question and racial theories are of course mentioned and there are quotes by Hitler, Goethe, Hindenburg and others. In the back is an Ahnentafel (genealogical table) which was never filled out by Anna Gruber.
Complete with the often missing Heinrich Hoffmann portrait of Adolf Hitler and illustration of the Nazi memorial at the Feldherrnhalle in Munich for the martyrs that died during the 1923 Nazi Putsch. Very good used condition.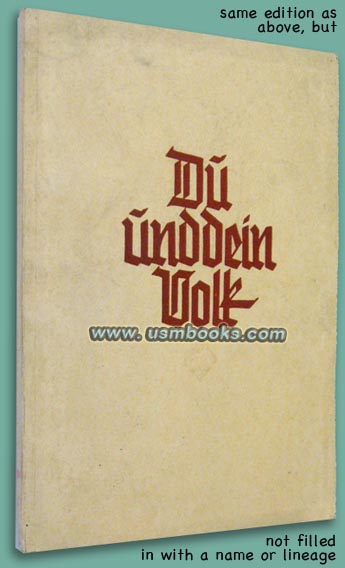 We have another original example of the same edition of Du und Dein Volk that has never been filled in with the name of a student, and a blank Ahnentafel in the back
The Nazi ideology book for
high school graduates
Du und dein Volk
shown left is offered for sale
for $125.00 delivered by Media Mail
in the continental USA.


USM book #552b
NAZI IDEOLOGY BOOK FOR HIGH SCHOOL GRADUATES
ILLUSTRATED NAZI BOOK PUBLISHED BY THE NSLB FOR HIGH SCHOOL GRADUATES REMINDING THEM OF THE IMPORTAN CE OF THEIR ROLE IN THE FUTURE


The images and the entire text used on this and all other USMBOOKS web pages are the copyrighted property of USM Inc. Those images and the text may be used by others ONLY AFTER completion of a formal international licensing agreement and payment of a licensing fee! It is therefore, illegal for anyone to take any of the material found on USMBOOKS.com and use it for their own purposes without our written permission, irrespective of any excuse they may feel they have for doing so.