The images and text used on this and all other USM web pages are the copyrighted property
of USM Inc. Those images and the text may be used by others ONLY AFTER completion
of a formal international licensing agreement and payment of a licensing fee!
This Nazi promotional booklet for future Wehrmacht Pioniere is offered
for sale for $65.00 delivered by Media Mail in the continental USA.


USM book # 462a
• IF you prefer Priority Mail shipping with USPS delivery confirmation add $6.50.
• IF you wish to purchase highly recommended, but optional insurance, add $2.95.
• We will be happy to ship abroad at additional cost. Please inquire.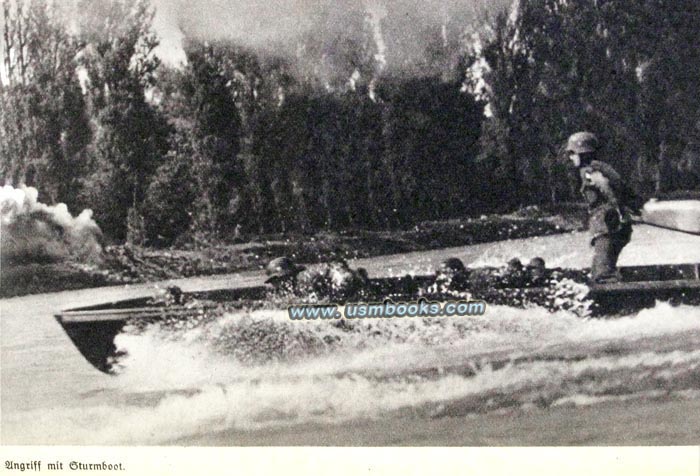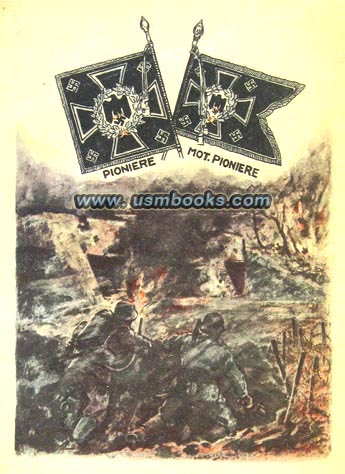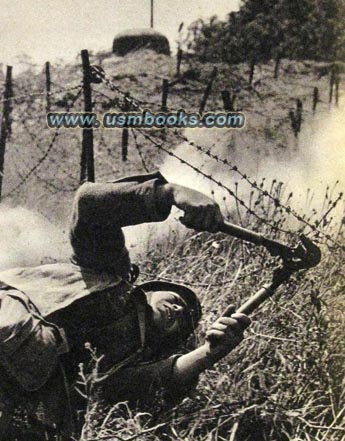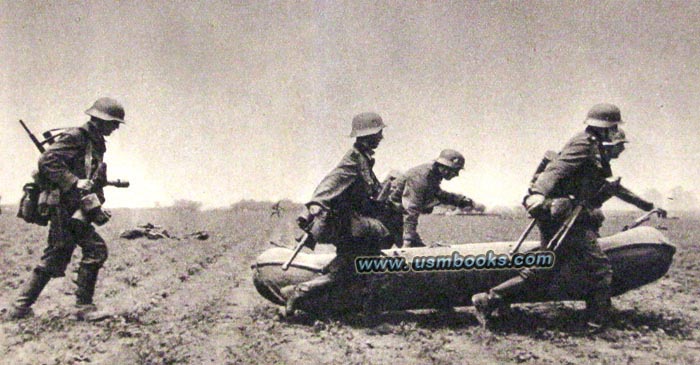 This is a very good used example of the 5-3/4 x 8-inch, 36 page illustrated softcover Weapon Booklet of the Army called Die Pioniere (The Combat Engineers) published by the Oberkommando des Heeres, probably in late 1942 or early 1943 (it is undated).

This practical promotional booklet for future Wehrmacht soldiers starts with a foreword by Oberbefehlhaber des Heeres, Generalfeldmarschall Walther von Brauschitch about the dream of every German boy to become a soldier and serve the Führer und Vaterland. This Waffenhefte des Heeres was one of a series of similar booklets published to show future soldiers how many possibilities there were in the various arms of the Wehrmacht.

There is background information about what Pioniere or combat engineers do in the Wehrmacht and lots of photos of Pioniere in action as part of the Gebirgsjaeger in Norway, bridge construction during the Nazi invasion of the West in 1940, preparing explosives during combat, using flamethrowers on enemy bunkers, etc.


Advancement possibilities for combat engineers are explained as well. On the back cover there is a color illustration of a Pioniere Standarte and a Standard for Motorized Pioniere.

Complete and in very good used condition.
NAZI OKW ILLUSTRATED BOOK ON COMBAT ENGINEERS
A NICE EXAMPLE OF THE RARE ILLUSTRATED OKW BOOK DIE PIONIERE
(THE COMBAT ENGINEERS)
This USMBOOKS web page is Copyright © 2016 by USM, Inc., and the text and images on it are fully protected by international copyright law. It is therefore, illegal for anyone to take any of the material found here and use it for their own purposes without our written permission, irrespective of any excuse they may feel they have for doing so.