The images and the entire text used on this and all other USMBOOKS web pages are the copyrighted property of USM Inc. Those images and the text may be used by others ONLY AFTER completion of a formal international licensing agreement and payment of a licensing fee! It is therefore, illegal for anyone to take any of the material found on USMBOOKS.com and use it for their own purposes without our written permission, irrespective of any excuse they may feel they have for doing so.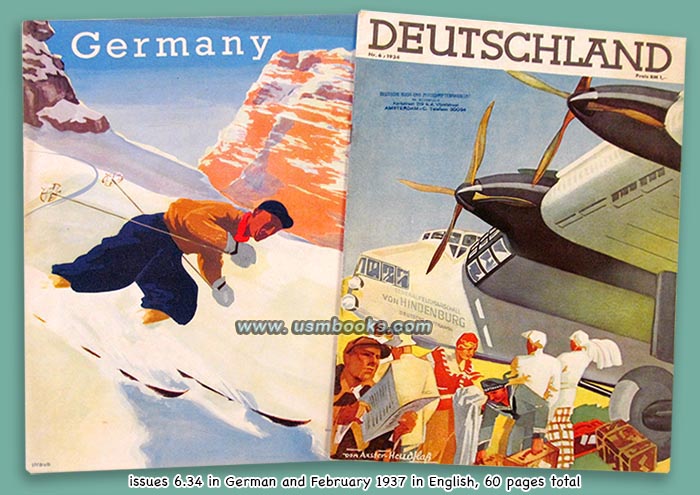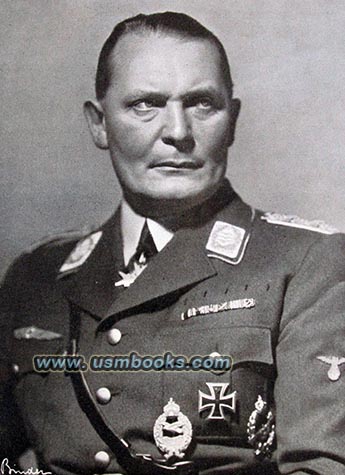 With the construction of the Reichsautobahn of Adolf Hitler under the direction of Dr. Ing. Fritz Todt during the 1930s, the foreign and domestic travel industries in Germany flourished. The oversized monthly travel, traffic and scenery magazine Deutschland (Germany) circulated in the professional travel and hospitality industries. Each German language issue had a gorgeous full-color cover and was absolutely stuffed with in-depth photo feature articles on German travel destinations and German celebrations. Naturally, each issue also contained splendid ads from companies with a product or service to sell to those involved in travel within Germany.

For sale on this USMBOOKS web page are two heavily illustrated, oversized 10 x 14 inch Third Reich magazines promoting tourism in Nazi Germany.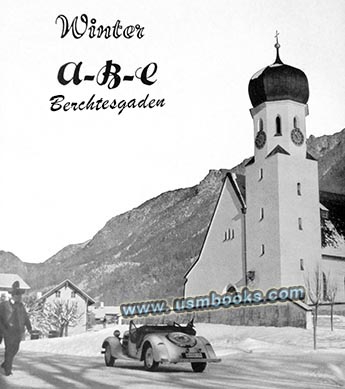 The heavily illustrated German language Deutschland magazine, Nr. 6 from 1934 has an Ax-Heu (Werner von Axster-Heudtlass) illustration of the Deutsche Lufthansa airplane Generalfeldmarschall von Hindenburg and air travelers on the cover. This 32 page magazine was published by the National Committee of Tourism in Berlin in September 1934 in German.

It starts with a list of important happenings taking place in Nazi Germany in the fall of 1934: Reichsparteitag 1934 in Nürnberg, the Passion Plays in Oberammergau, the 1934 Munich Art Exhibition, Golf Championship between Germany and Sweden and Germany and Holland, Oktoberfest in München, the Harvest Festival at the Bückeberg, Exhibition Die Strasse in Munich, the Great Berlin Art Show, the International Hotelier Congress in Berlin and the State Schiller Festival Week in Weimar.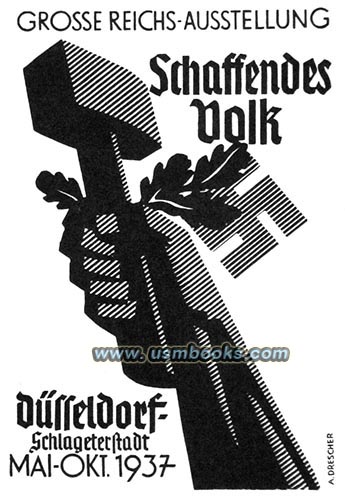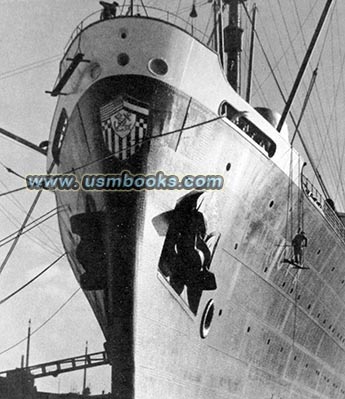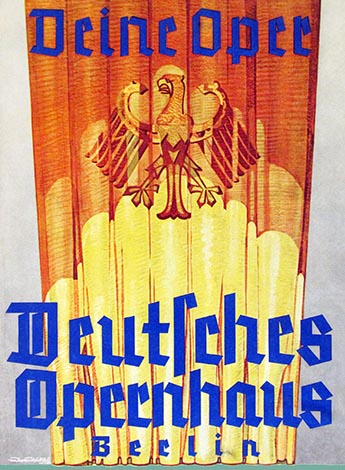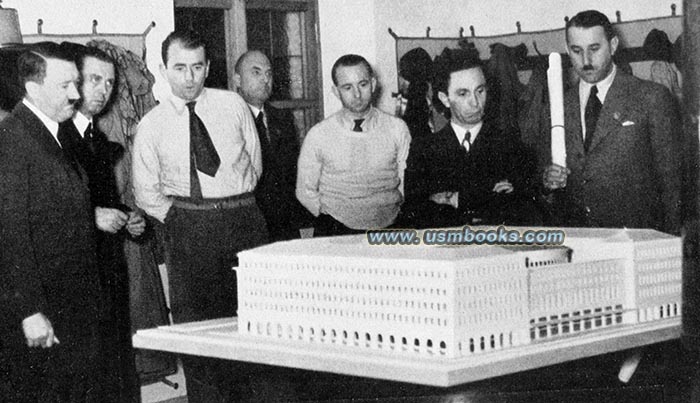 This 1934 Deutschland magazine includes articles about a Flight over the Atlantic Ocean (in a Heinkel He 70) by Captain von Studnitz, the cities Regensburg and Passau, the Lüneburger Heath, the Island of Rügen and others. Photos show der deutsche Reichsminister für Luftfahrt General Hermann Göring, a Lufthansa Ju 52 airplane, Ernst Udet, Gerhard Fieseler and famous female pilot Elli Beinhorn, beautiful scenery of the Lüneburger Heide and Rügen, historic buildings in the cities Regensburg, Passau, and Stettin, etc.

There is advertising by the RDV, Dresdner Bank, Rheingold cruises, the German Opera House in Berlin, many hotels, etc.
The heavily illustrated English language Germany magazine February 1937 has an illustration of a downhill ski run from the Watzmann mountain in the Bavarian Alps south of Berchtesgaden by artist Karl Straub on the cover. Information regarding travel in Germany in this 28 page magazine was supplied by the Inquiry and Publicity Office of the Reich Tourist Association located at the Columbus House on Potsdamer Platz in Berlin.

It starts with a list of principal events taking place in Nazi Germany in February 1937: the Anti-Aircraft Show at Brieg (Silsesia), the extremely Nazi Racial Hygiene Exhibition "Nation and Race" in Frankfurt, German Army Ski Championships at Altenberg, Hygiene Exhibition "Life and Health" in Weissenfels, Brandenburg Ice Yachting Championships, Berlin Philharmonic Orchestra concert conducted by Wilhelm Furtwängler, German Gymnastics Congress Breslau, Hygiene Exhibition "Blood and Race" in Nördlingen, Black Forest Downhill & Slalom Runs and Carnival festivities in cities like Düsseldorf, Cologne, Aachen, Heidelberg, Berlin, Chemnitz, München and Wiesbaden.
This Germany magazine includes articles about Winter in Berchtesgaden, the 80th Anniversary of Norddeutscher Lloyd (be sure to notice the NDL Wappen or shield on the picture (left) of the bow of the "Europa" featuring American and German flags), the Colonial Training of German Women, Messestadt Leipzig, the Reich Exhibition "The Nation at Work" in Düsseldorf, and others.

There are photos of a Hanomag-Sturm car driving through the Alps, Berchtesgaden (including Hitler walking through the snow with a dog), Königssee, carved carnival masks, the NDL cruise ship "Bremen", "Europa" and the "SS Gneisenau", German women performing agricultural work, the Leipzig Trade Fair, as well as a rare photo (shown below) of Adolf Hitler, Albert Speer, Dr. Goebbels, Dr. Todt and others looking at the architectural model of the House of German Tourism!


There is advertising for the Nazi State Exhibition Schaffendes Volk in Düsseldorf, Reichsbahnzentrale für den Deutschen Reiseverkehr, Prussian State Theatres, au pairs, winter sport destinations in Silesia, Berchtesgaden, Southern Bavaria and Saxony.


Both magazines are complete and in very good used condition. The 1934 magazine has the stamp of a German bookstore in Amsterdam, Holland on the front cover.
This lot of 2 rare DEUTSCHLAND/GERMANY magazines is **SOLD**.

• IF you prefer Priority Mail shipping with USPS Tracking add $7.45.
• IF you wish to purchase highly recommended, but optional insurance, add $3.45.
• We will be happy to ship abroad at additional cost. Please inquire.
LOT OF TWO OVERSIZED, HEAVILY ILLUSTRATED THIRD REICH
MAGAZINES PROMOTING TOURISM IN NAZI GERMANY
DEUTSCHLAND AND GERMANY, TWO HEAVILY ILLUSTRATED NAZI GERMAN TOURISM MAGAZINES
FROM 1934 (IN GERMAN) AND 1937 (IN ENGLISH)