The images and text used on this and all other USM web pages are the copyrighted property
of USM Inc. Those images and the text may be used by others ONLY AFTER completion
of a formal international licensing agreement and payment of a licensing fee!
---
NAZI DEUTSCHLAND / EUROPA 1942 CALENDAR
A NICE COMPLETE EXAMPLE
OF THE HUGE 1942 NAZI
DEUTSCHLAND / EUROPA
CALENDAR
This complete 1942 Nazi photo calendar is
**SOLD**.
We will be happy to ship abroad at additional cost. Please inquire.
This USM Books website is Copyright © 2009 by USM, Inc., and the text and images on it are fully protected by international copyright law. It is therefore, illegal for anyone to take any of the material found here and use it for their own purposes without our written permission, irrespective of any excuse they may feel they have for doing so.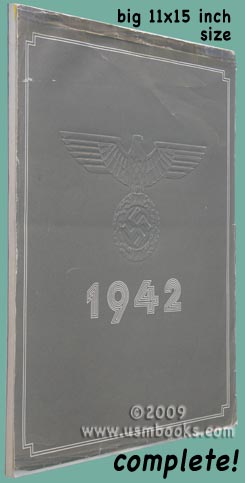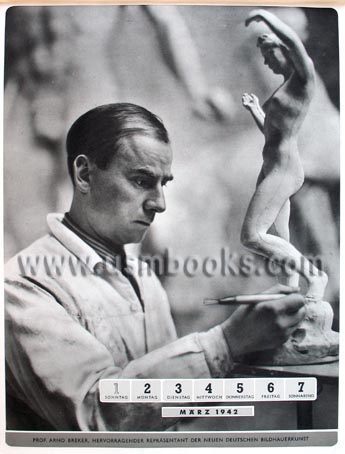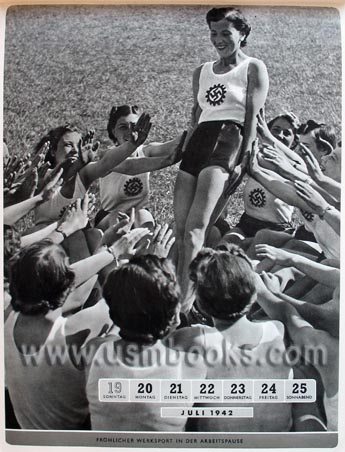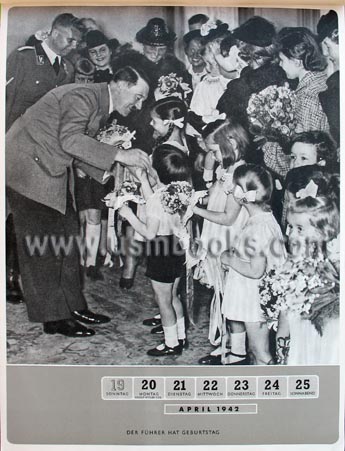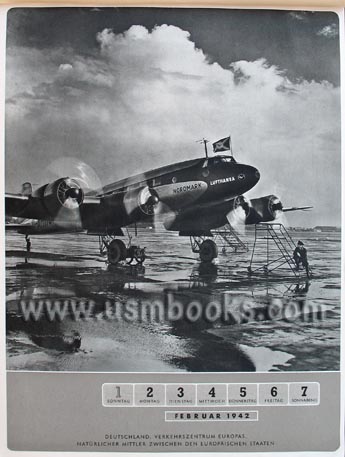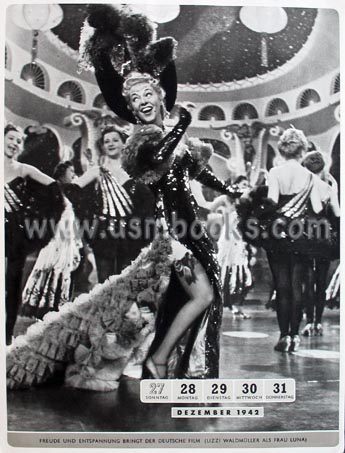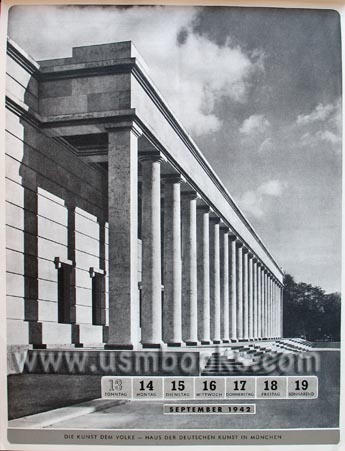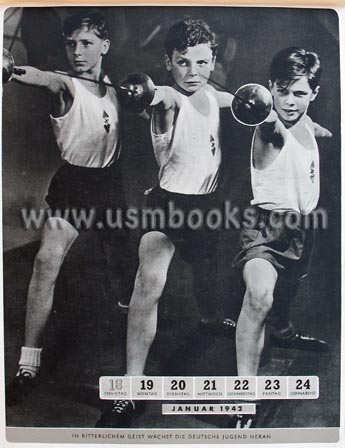 Everyone is aware how difficult it is to find nice complete calendars from the Nazi period in Germany because calendars by their nature are used up and discarded by the people that buy them.
This is a complete example of the big 11 x 15 inch 58 page Gruß aus Deutschland - Neue Europa photographic weekly calendar for 1942. It was intended in part by the Nazi publishers to be carried to foreign countries by Germans serving there as a greeting to German partners throughout "New Europe".
The huge full-page pictures feature Hitler Youth boys fencing, the Lufthansa passenger liner Nordmark preparing for take-off on an airport somewhere, Professor Arno Breker sculpting a female nude, gorgeous young female German film stars, the memorial at Tannenberg, the Knabenchor of the Regensburger Domspatzen, Bavarian and Schwarzwald scenery, children greeting the Führer on his birthday, babies in a children's home, German mothers, KdF boat trips, Arbeitsmaiden, Reichsautobahn, glider pilots in training, the new House of German Art in Munich, Wilhelm Furtwängler conducting, the grape harvest, a Fritz Klimsch nude, Lizzi Waldmüller as Frau Luna dancing in a German movie, etc., etc.
The grey cover is heavily embossed with a large Nazi Hoheitszeichen or eagle and swastika emblem with a wingspan of 7-1/2 inches over the date 1942. The first page contains a greetings paragraph that begins with the words "Greetings from Germany" and mentions that this calendar will give its owner a glimpse of the lifestyle in Germany and the "Hope for Our Victory for New Europe".
The front cover of this 1942 Nazi Bildkalender was apparently detached at one time and has been scotch taped at the top. Other than the scotch tape, this rare New Europe photo calendar is in very good condition.
To see other original Third Reich calendars for sale
on USMBOOKS.com, click HERE.