The images and the entire text used on this and all other USMBOOKS web pages are the copyrighted property of USM Inc. Those images and the text may be used by others ONLY AFTER completion of a formal international licensing agreement and payment of a licensing fee! It is therefore, illegal for anyone to take any of the material found on USMBOOKS.com and use it for their own purposes without our written permission, irrespective of any excuse they may feel they have for doing so.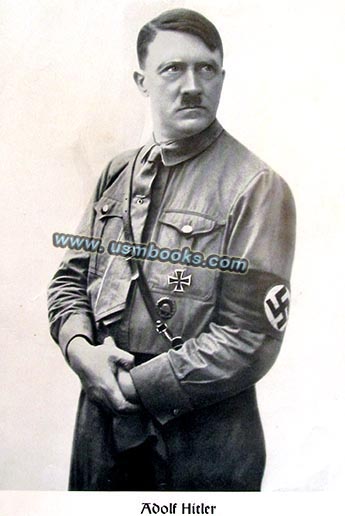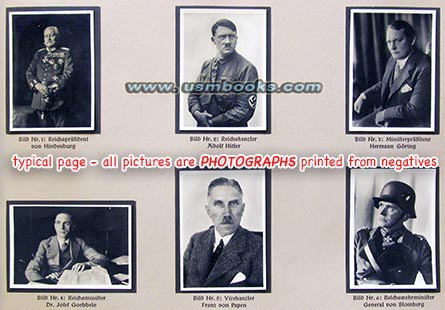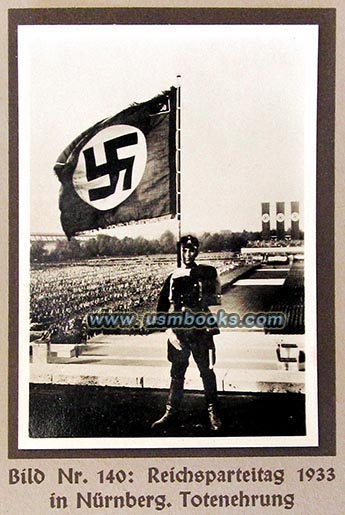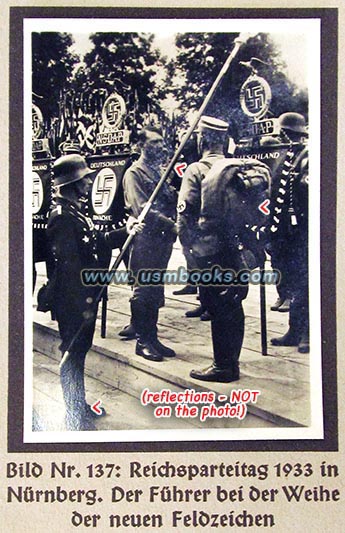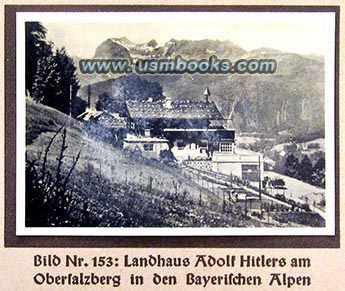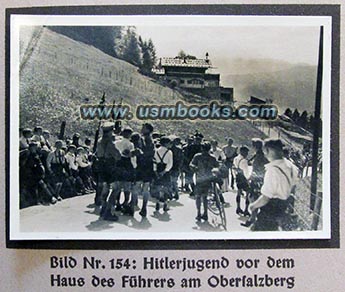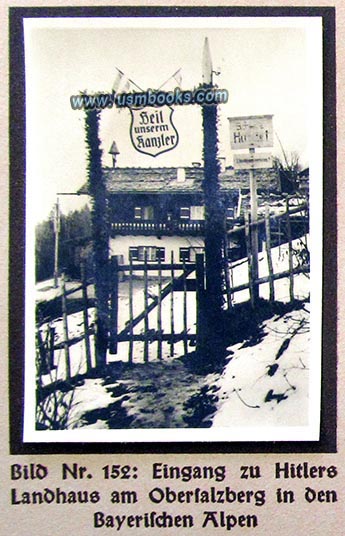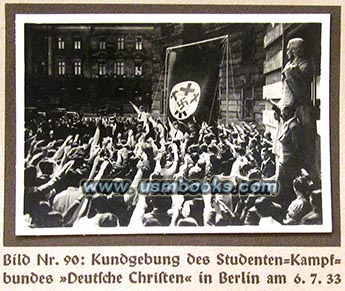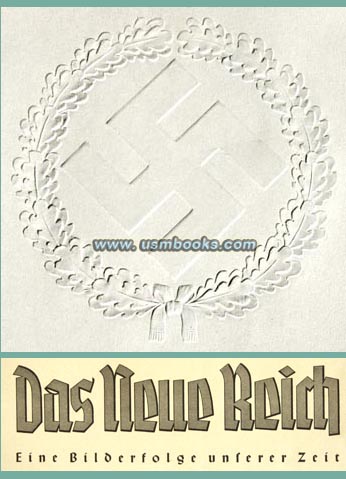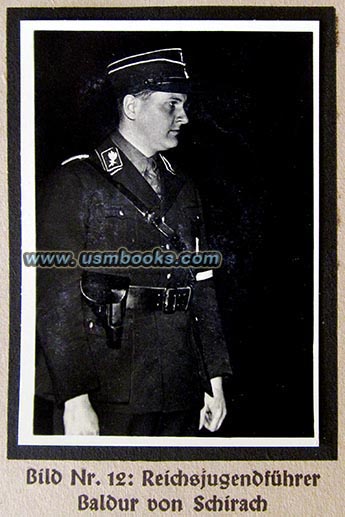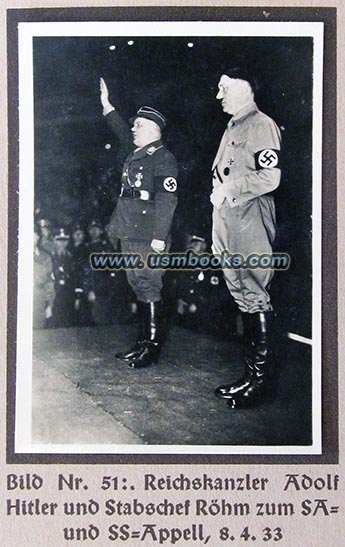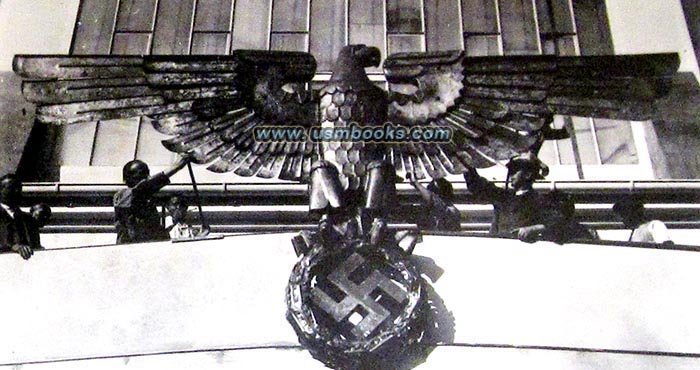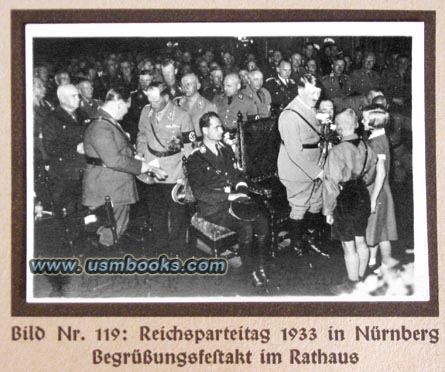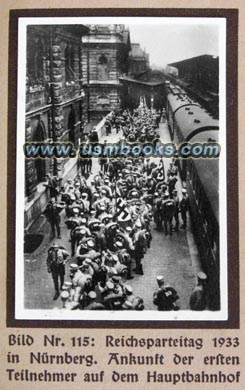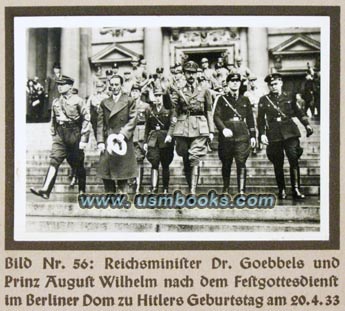 This is a very nice example of the early and rare 9-1/2 x 13-½ inch, 62 page, very heavily illustrated, softcover Third Reich book Das Neue Reich (The New State). The book consists mainly of captioned pages onto which 156 genuine continuous tone black & white photographs (NOT pictures printed by a mechanical process - these are REAL photographs) have been pasted. The photos are in a size of about 2-1/8 x 3 inches and are in very good condition. The front cover is deeply embossed with a bold swastika in a wreath of oak leaves.
Das Neue Reich is one of the earliest Nazi publications distributed after they attained power in Germany early in 1933, and begins with seven words of a Hitler quotation Du bist nichts - dein Volk ist Alles! (You are nothing - your Nation is everything!). That slogan is followed by a full-page portrait of Adolf Hitler layered beneath a translucent sheet, an index to photographs, and then the photographs themselves. All the dated photos are from 1933.
All the principal figures involved in the Nazi Party can be found in the photos in this book. They include Adolf Hitler, Hermann Göring, Reichsführer-SS Heinrich Himmler, Ernst Röhm, Hitler Youth Leader Baldur von Schirach, Rudolf Hess, Dr. Joseph Goebbels, Walter Darré, Dr. Robert Ley, Horst Wessel, rows of SS men, Crown Prince August Wilhelm ("Auwi"), SA General Heines, Benito Mussolini, rows of SA troops, rows of HJ boys, Hitler and the Nazi Blood Flag, Van der Lubbe, etc.
Many of the early venues of NSDAP activity are also pictured in Das Neue Reich including the Reichstag, the Reichschancellery, Brandenburg Gate, the Neue Wache, the State Opera, the Kroll Opera, the Berliner Dom, Tempelhof Air Field, Lustgarten, Air Ship Graf Zeppelin, Düsseldorf Stadium, SA motorcycle park, Reichs Party Day 1933, Hindenburg Memorial at Tannenberg, Haus Wachenfeld, the Landhaus of Adolf Hitler just outside Berchtesgaden (before its transformation into the Berghof, etc.
This rare Nazi cigarette card album is fully indexed. It is in very nice condition, complete with its 156 genuine photographs.

The back cover is not original - it is a professional replacement. We therefor offer this book at a much lower price than normal! However, the same weight card stock as the Third Reich front cover was used for the replacement back cover.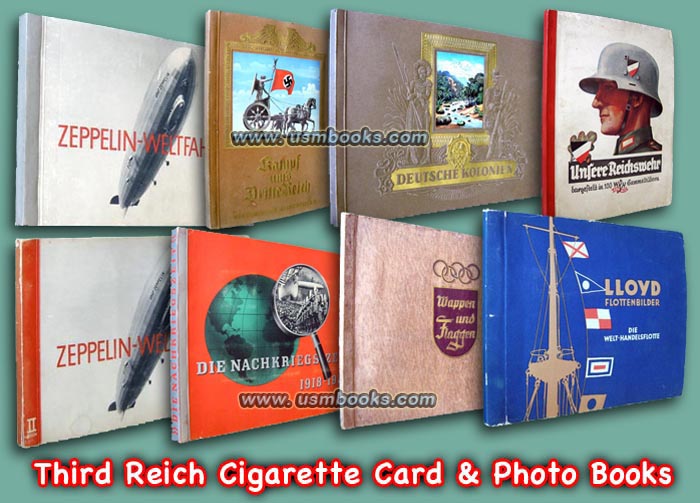 This nice used, complete example of DAS NEUE REICH is **SOLD**.


USM book #842
• IF you prefer faster and safer Priority Mail shipping with USPS Tracking add $7.45.
• IF you wish to purchase highly recommended, but optional insurance, add $3.50.
• We will be happy to ship abroad at additional cost. Please inquire.
RARE NAZI PHOTO BOOK DAS NEUE REICH - COMPLETE
RARE NAZI BOOK
DAS NEUE REICH
(THE NEW STATE)
WITH 156 ACTUAL BLACK
& WHITE PHOTOGRAPHS