The images and the entire text used on this and all other USMBOOKS web pages are the copyrighted property of USM Inc. Those images and the text may be used by others ONLY AFTER completion of a formal international licensing agreement and payment of a licensing fee! It is therefore, illegal for anyone to take any of the material found on USMBOOKS.com and use it for their own purposes without our written permission, irrespective of any excuse they may feel they have for doing so.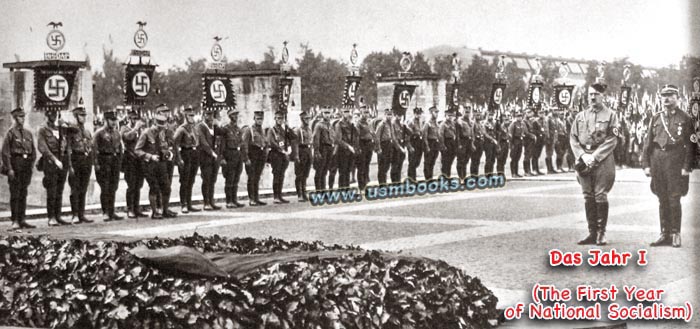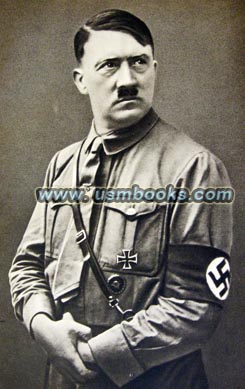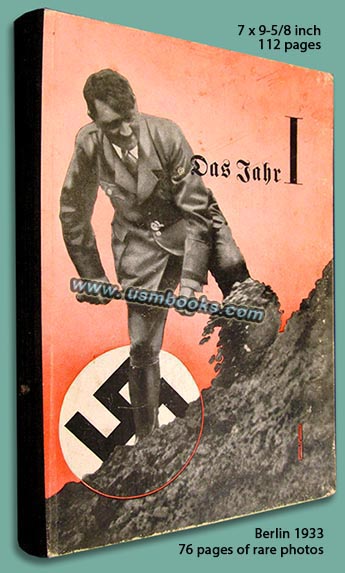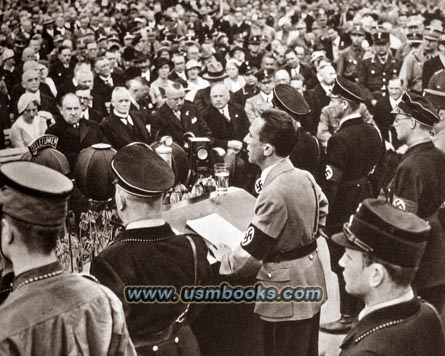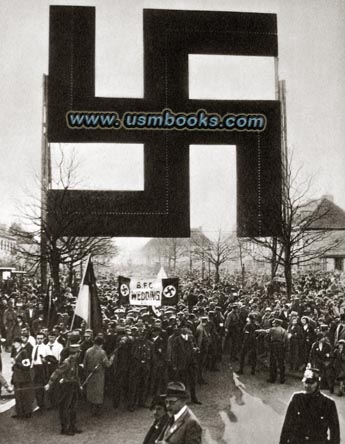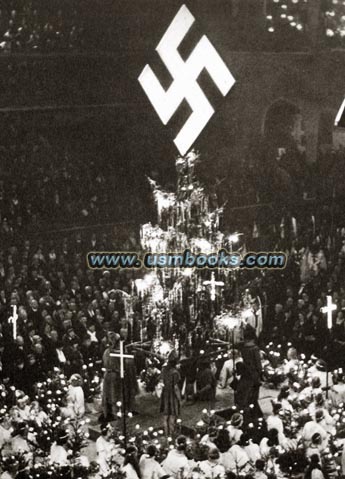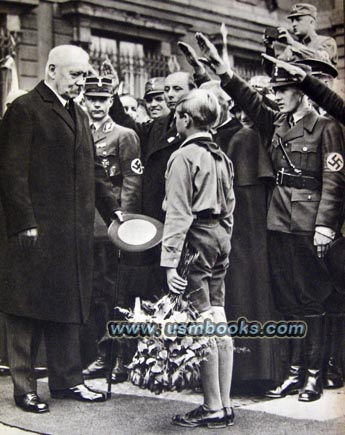 There are full-page portraits photos of Adolf Hitler, Hermann Göring, Joseph Goebbels, the new Nazi cabinet on 30 January 1933, Hitler with Feldmarschall Hindenburg, the Reichstag fire, the Reichstag assembly in the Garnisonkirche in Potsdam on 21 March 1933 as well as Parliament in the Krolloper, May Day and celebrating German workers, Adolf Hitler speaking at various rallies, various Gauleiter and Reichsstatthalter, Goebbels in Rome, Baldur von Schirach during a Hitler Youth review, Dr. Robert Ley, Reichssportkommissar Tschammer und Osten, Tannenberg Memorial in East Prussia, Hitler with a shovel starting the construction of his Reichsautobahn, the Day of German Art and the laying of the foundation stone of the House of German Art in Munich, R. Walter Darré, as well as a rare photo of Stabschef Röhm and SS- Reichsführer Heinrich Himmler at SS-Tag in Döberitz on 13 August 1933.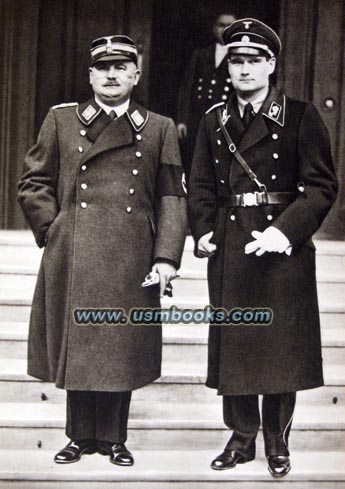 This heavily illustrated hardcover photo book Das Jahr I by Wulf Bley was published in 1934 and looks back on the first year of National Socialist power in Germany - achievements by the NSDAP after they formed the first Nazi government in Germany under 23rd Chancellor Adolf Hitler in January 1933.
The 7 x 9-5/8 inch, 112 page hardcover book has 76 carefully selected photographs that illustrate those achievements and a foreword by Ministerpräsident Hermann Göring. It was published by Verlag der Reimar Hobbing GmbH of Berlin.
Of course there are many images from the huge Reichsparteitag des Sieges (Nazi Party Days of Victory) held in Nürnberg in September 1933, and 9 November 1933, the 10th anniversary of the failed Beer Hall Putsch in Munich. All high-ranking Nazi dignitaries were present, Hitler, Göring, Rudolf Hess, Ernst Röhm and many others.

This original 84 year old Third Reich book recapping the first year of National Socialist power in Germany is complete and in nice used condition.
Also for sale on USMBOOKS.com, Third Reich books from the same series
Jahr II • Jahr III • Jahr VI
We are happy to combine shipping to save you money!
This hardcover book about National Socialist achievements in 1933 is
for sale for $125.00 delivered by Media Mail in the continental USA .


USM book #693
• IF you prefer faster and safer Priority Mail shipping with USPS Tracking add $7.25.
• IF you wish to purchase highly recommended, but optional insurance, add $3.45.
• We will be happy to ship abroad at additional cost. Please inquire.
ORIGINAL THIRD REICH PHOTO BOOK COVERING THE FIRST
YEAR OF NAZI CONTROL OF THE GOVERNMENT OF GERMANY
DAS JAHR I
(THE FIRST YEAR)
NATIONAL SOCIALIST ACHIEVEMENTS IN
THE YEAR 1933