The images and text used on this and all other USM web pages are the copyrighted property
of USM Inc. Those images and the text may be used by others ONLY AFTER completion
of a formal international licensing agreement and payment of a licensing fee!
This rare complete Nazi 3D photo book on DANZIG is offered for sale
for $995.00 delivered by Media Mail in the continental USA.


USM book #497
• IF you prefer Priority Mail shipping with USPS delivery confirmation add $8.95.
• IF you wish to purchase highly recommended, but optional insurance, add $12.95.
• We will be happy to ship abroad at additional cost. Please inquire.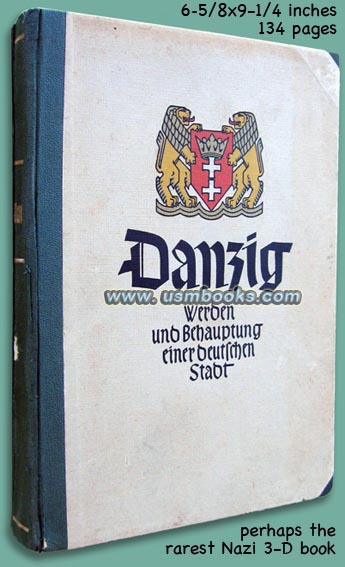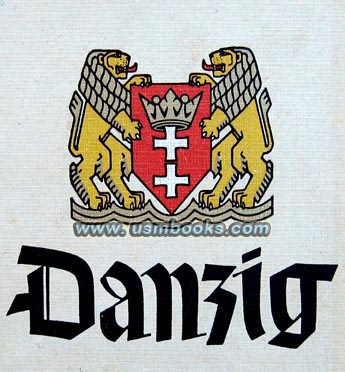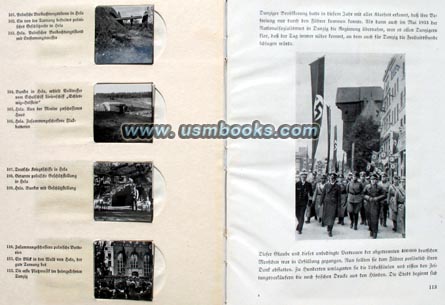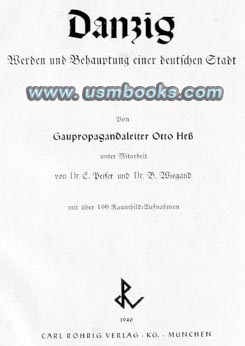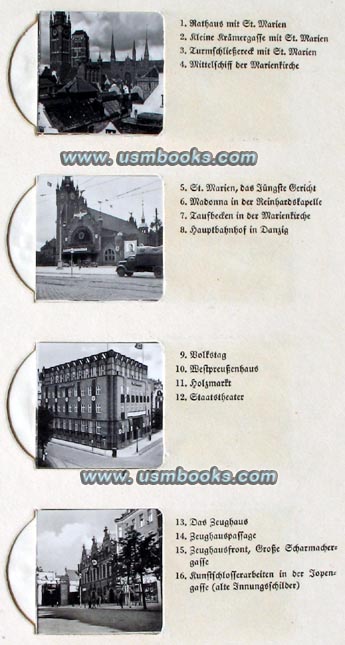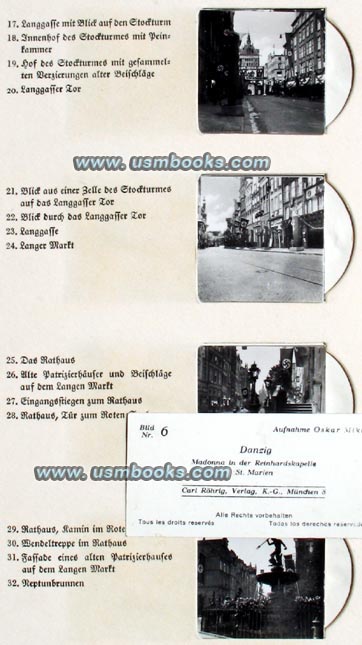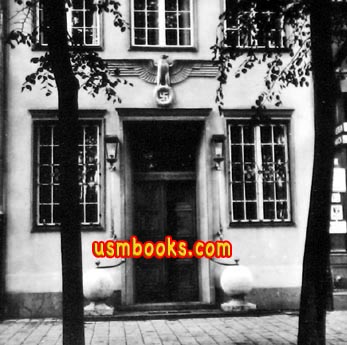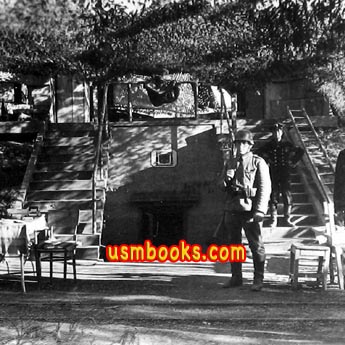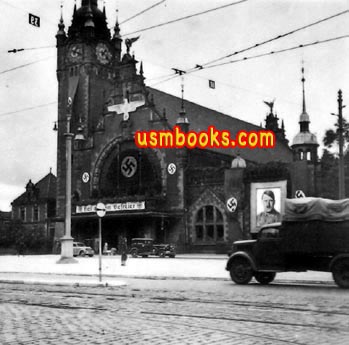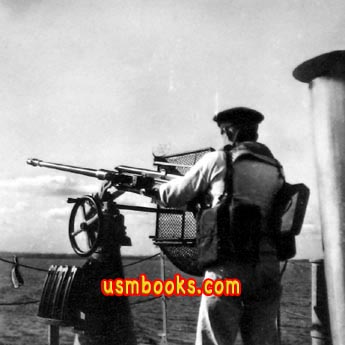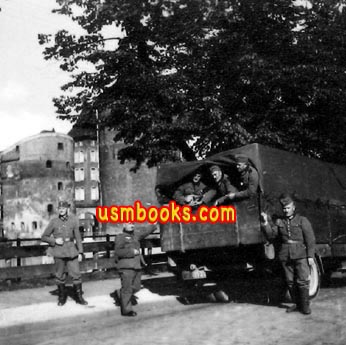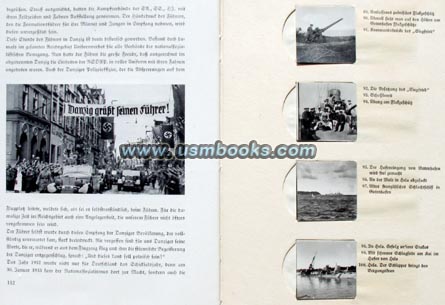 Most people interested in the subject are aware that at the end of World War I Germany lost the ancient Germanic city of Danzig and a corridor from it connecting Poland across Germany to the Baltic Sea. For Germans it was equivalent to America losing Washington DC and a corridor extending across Pensylvania to Montreal to the Canadians. They could not imagine that such a thing could happen.

As Hitler was coming to power he promised Germans that Danzig would once again be German and in September 1939 he kept his word, liberating the city as a first act of the Russian/German conquest and division of Poland. The return of the city of Danzig to Germany was an extremely joyous occasion, cause for many celebrations.
Most people interested in books of the Third Reich period are aware of the many volumes in the Raumbild stereoscopic 3D series. THIS IS NOT ONE OF THAT SERIES. Danzig - Werden und Behauptung einer deutschen Stadt is a special 3D book produced specifically for the liberation of Danzig at the request of Gauleiter Albert Forster, the Reichsstatthalter of Danzig-Westpreußen (West Prussia). The 6-5/8 x 9-1/4 inch, 134 page illustrated hardcover book was written by the Gaupropagandaleiter Otto Heß with the help of Dr. E. Peiser and Dr. B. Wiegand and published by Carl Röhrig Verlag of München (Munich) in an extremely limited edition of only 10,000 copies in 1940. This is one of the few remaining examples.
Following a statement by Gauleiter Forster, the text describes the history of Danzig, its lamentable occupation by Poland and its eventual liberation by SS and Wehrmacht troops in September 1939. Bound into the text are four heavy cardstock panels, each die-cut with four cavities on both sides. The 1-1/2 x 3-3/4 inch photographic view cards (112 of them) are stored in those 32 cavities. The number and description of each view is printed on the back of each card and next to the cavity in which it fits.
We have no viewer for the photographs in this book and there is no cavity in the book into which a viewer would fit. We have viewed all the stereo view cards by standing them in a standard Raumbild viewer and they appear perfectly three dimensional.

The views include buildings and street scenes decorated with Nazi eagle and swastika sculptures, swastika flags and banners, Nazi troops, the port of Danzig, ships in the harbor, damage to ships, bunkers and facilities, Nazi celebrations,etc. On the pages of text there are pictures of Hitler entering Danzig. At the end of the book is a verbatim transcript of Adolf Hitler's address to the assembly of Nazis in Danzig.
Among Third Reich 3-D books this is probably the rarest in terms of numbers in existence. Many collectors of Nazi 3-D books are not even aware of the existence of this Danzig book. They are very rarely offered for sale. This example is complete and in excellent used condition.
ONE OF THE RAREST NAZI 3-D PICTURE BOOK DANZIG
THE EXTREMELY RARE NAZI 3D PICTURE BOOK
DANZIG - WERDEN UND BEHAUPTUNG EINER DEUTSCHEN STADT
(DANZIG - THE EMERGENCE AND AFFIRMATION OF
A GERMAN CITY)
WITH 112 3-DIMENSIONAL PHOTOGRAPHS
This USM Books website is Copyright © 2013 by USM, Inc., and the text and images on it are fully protected by international copyright law. It is therefore, illegal for anyone to take any of the material found here and use it for their own purposes without our written permission, irrespective of any excuse they may feel they have for doing so.