The images and the entire text used on this and all other USMBOOKS web pages are the copyrighted property of USM Inc. Those images and the text may be used by others ONLY AFTER completion of a formal international licensing agreement and payment of a licensing fee! It is therefore, illegal for anyone to take any of the material found on USMBOOKS.com and use it for their own purposes without our written permission, irrespective of any excuse they may feel they have for doing so.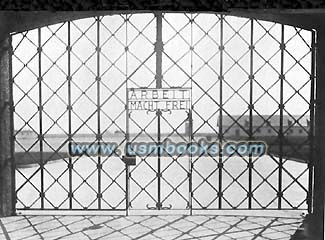 Prisoners at all Nazi concentration camps in German territory were allowed to send and receive mail on a limited basis. The mail inmates sent out from a Konzentrationslager was sent on special preprinted stationary and was always censored by the Postzensurstelle to make sure that the prisoner did not complain or provide outsiders with sensitive information about concentration camp industries, security or conditions in general. Examples of all such mail are very rare today.
This is an absolutely genuine 4-panel piece of Konzentrationslager Dachau stationary with a letter from and mailed by a Dachau Concentration Camp inmate.

On 10 December 1944, Henri Funk, prisoner number 27129 of Block 14/1, wrote this letter in German to his mother in Prague (Prag in German, Praha in Czech) on Konzentrationslager Dachau 3 K inmate stationary. He starts with Christmas wishes for his mother and her family (aunts, uncles, in-laws). He also confirms receipt of two packages. A note at the bottom of the letter mentions that express and certified letters and packages are no longer allowed.

There is a stamp from the censor at Postzensurstelle K.L. Dachau next to Henri Funk's address and prisoner information. Note that while most English speakers use the abbreviation KZ for Nazi concentration camps, Germans use K.L. for Konzentrationslager.

The original red Adolf Hitler postage stamp has a DACHAU 3 cancelation dated 14 December 1944. Very good used condition and 100% original to the Third Reich in Nazi Germany.
This original December 1944 Dachau Concentration Camp inmate
correspondence is for sale for $175.00 delivered by 1st Class Mail in the USA.

• IF you prefer Priority Mail shipping with USPS Tracking add $6.65.
• IF you wish to purchase highly recommended, but optional insurance, add $3.45.
• We will be happy to ship abroad at additional cost. Please inquire.
ORIGINAL KL DACHAU INMATE MAIL FROM 1944
ORIGINAL 1944 CONCENTRATION CAMP INMATE LETTER ON DACHAU 3K STATIONARY WITH HITLER STAMP