Have a look at the genuine 1944 correspondence from inmates at
Auschwitz and Dachau for sale on USMBOOKS.com.
This very graphic book about Nazi concentration camps is
for sale for $95.00 delivered by Media Mail in the continental USA


USM book #454
• IF you prefer faster and safer Priority Mail shipping with USPS Tracking add $6.65.
• IF you wish to purchase highly recommended, but optional insurance, add $3.25.
• We will be happy to ship abroad at additional cost. Please inquire.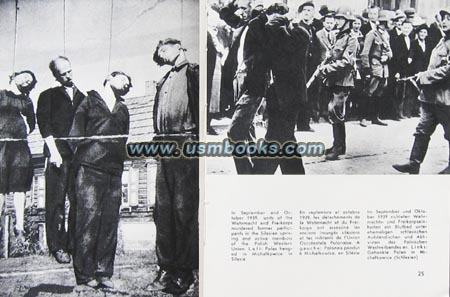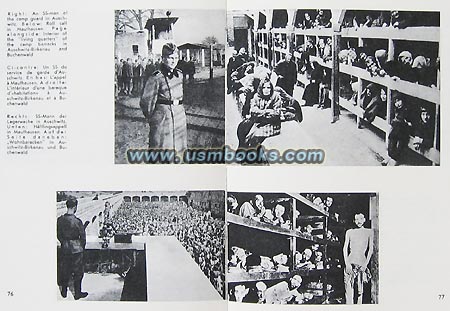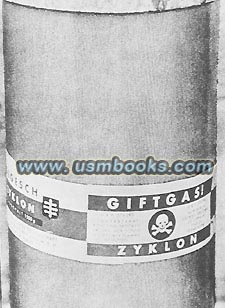 This is a very good used example of the 6 x 8 inch, 160 page very heavily illustrated hardcover book WIR HABEN ES NICHT VERGESSEN (We Have Not Forgotten) as published by Polonia Publishing House in Warsaw, Poland in 1961.
Billed as "Homage to the Dead - a Warning to the Living", this rare book presents an incredible array of mostly full-page and half-page photographs of concentration camps, arrests, executions, ghettos and death and destruction unequaled in any other publication on the subject.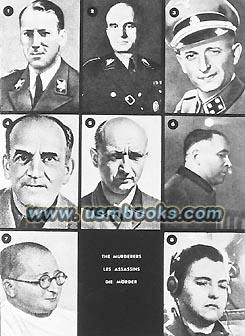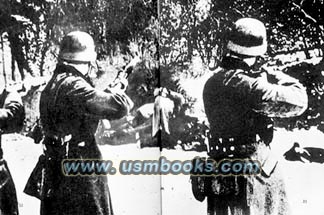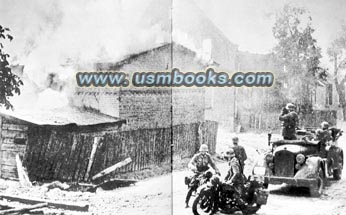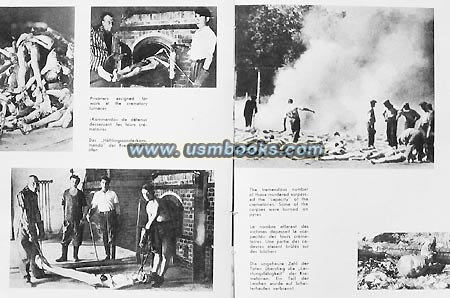 There are photos in this book covering many of the most notorious Nazi Konzentrationslager or concentration camps such as Dachau, Auschwitz - Birkenau, Mauthausen, Stutthof, Majdanek, etc.

There are many photographs taken inside concentration camps during the Third Reich, cans of Zyklon poison gas pellets, corpses, crematoria, medical experiments, the rounding up of Jews and others, personal property collections from eye glasses to shoes, sabotage, burning of villages, the Warsaw Uprising, and portraits and candid photos of many SS Officers.
All the photo captions and the relatively small amount of text in this book appears in the English, French and German languages.
A rare 55 year old softcover book in nice used condition. Complete, no photos cut out, no writing.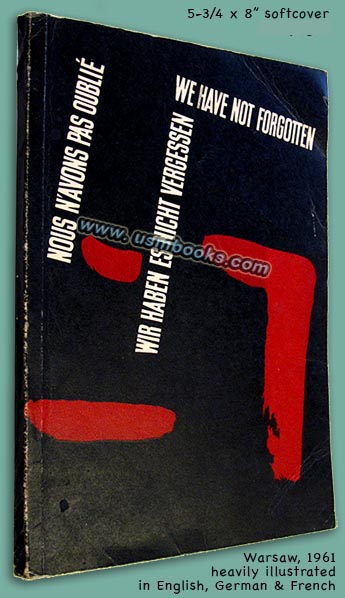 NAZI CONCENTRATION CAMP PHOTO BOOK - VERY GRAPHIC
THE MOST GRAPHIC
OF ALL POST-WAR NAZI CONCENTRATION CAMP BOOKS -
THE VERY HEAVILY ILLUSTRATED
WIR HABEN ES
NICHT VERGESSEN
(WE HAVE NOT FORGOTTEN)


The images and the entire text used on this and all other USMBOOKS web pages are the copyrighted property of USM Inc. Those images and the text may be used by others ONLY AFTER completion of a formal international licensing agreement and payment of a licensing fee! It is therefore, illegal for anyone to take any of the material found on USMBOOKS.com and use it for their own purposes without our written permission, irrespective of any excuse they may feel they have for doing so.