The images and the entire text used on this and all other USMBOOKS web pages are the copyrighted property of USM Inc. Those images and the text may be used by others ONLY AFTER completion of a formal international licensing agreement and payment of a licensing fee! It is therefore, illegal for anyone to take any of the material found on USMBOOKS.com and use it for their own purposes without our written permission, irrespective of any excuse they may feel they have for doing so.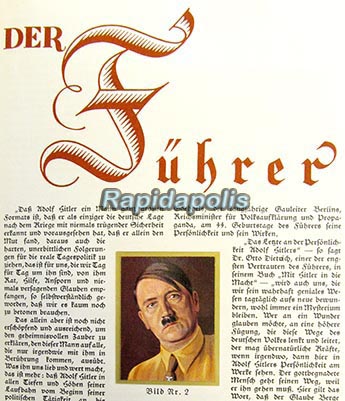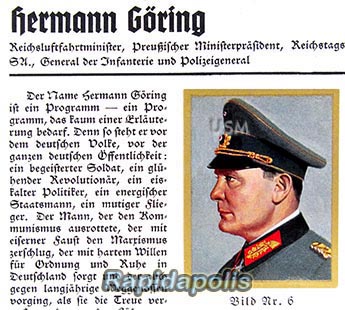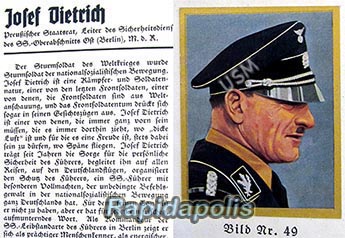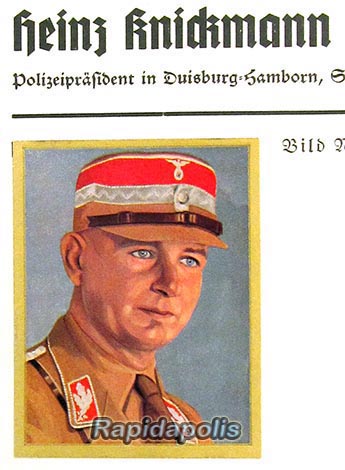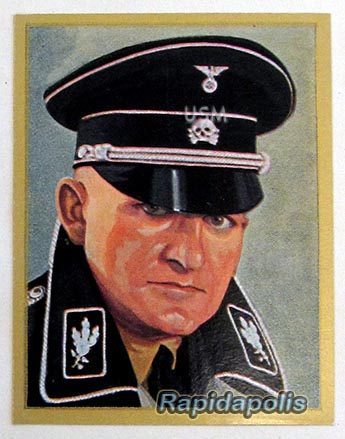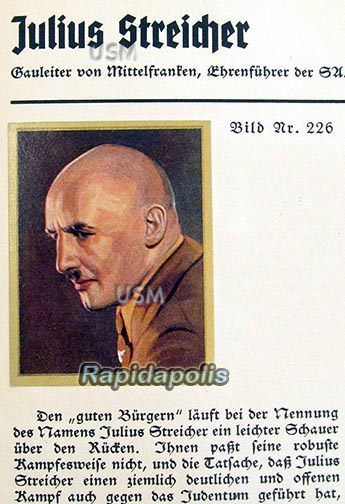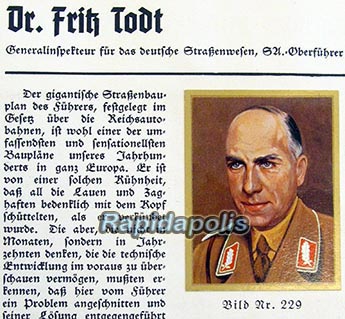 This is a very nice, complete example of the hardcover Nazi cigarette collector card album Männer im Dritten Reich (Men of the Third Reich) with the title embossed in gold letters on the front cover. The 8-½ x 12 inch, 242 page hardcover book was published by Orientalische Cigaretten-Compagnie Rosma of Bremen in the summer of 1934. The 250 beautifully made gold-bordered color pictures are all carefully glued in place. NONE are damaged or missing.

This historic publication shows all the prominent National Socialists of the time. Each page has a color picture which is accompanied by in-depth biographical information of the featured person, their job description and official title.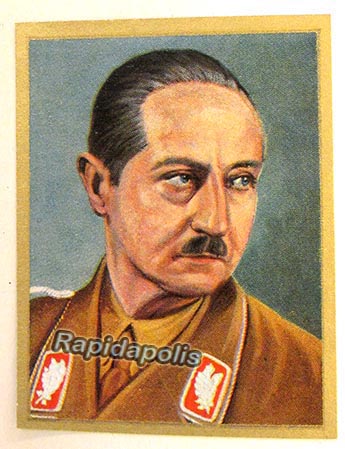 Early Nazi cabinet members appear in the front of the book (Adolf Hitler, Rudolf Heß, Hermann Goering, Joseph Goebbels, Franz von Papen, Bernard Rust, Walter Darré, Werner von Blomberg, Wilhelm Frick, Franz Seldte, Konstantin von Neurath, Gürtner, Kerrl, etc.) and from page 24 onward other leading National Socialist personalities of the time follow in alphabetical order. Included are Max Amann, Arthur Axmann, Ernst Bohle, Martin Bormann, Philipp Bouhler, Joseph Bürckel, Friedrich Christiansen, Dr. Leonardo Conti, Kurt Daluege, Josef 'Sepp' Dietrich, Dr. Otto Dietrich, Hermann Esser, Franz Ritter von Epp, Gottfried Feder, Karl Fiehler, Dr. Hans Franck, Walter Funk, Werner von Fichte, Rüdiger Graf von der Goltz, Dr. Ernst Hanfstaengl, Graf von Helldorf, Konstantin Hierl, Reichsführer-SS Heinrich Himmler, Adolf Hühnlein, Friedrich Jeckeln, Paul Körner, Gustav Krupp von Bohlen und Halbach, Dr. Hans Lammers, Wilhelm Kube, Dr. Robert Ley, Karl Litzmann, Bruno Loerzer, Hanns Ludin, Dr. Carl Lüer, Viktor Lutze, Erhard Milch, Reinhold Muchow, Prinz August Wilhelm von Preußen ('Auwi' - shown left below the RFSS Himmler picture), Erich Raeder, Alfred Rosenberg, Fritz Sauckel, Dr. Hjalmar Schacht, Julius Schaub, Hans Schemm, Baldur von Schirach, Julius Schreck, Franz Schwede, Richard Strauss, Julius Streicher, Josef Terboven, Dr. Fritz Todt, Hans von Tschammer und Osten, Adolf Wagner, Karl Wahl, SS-Gruppenführer Fritz Weitzel, Udo von Woyrsch and many more.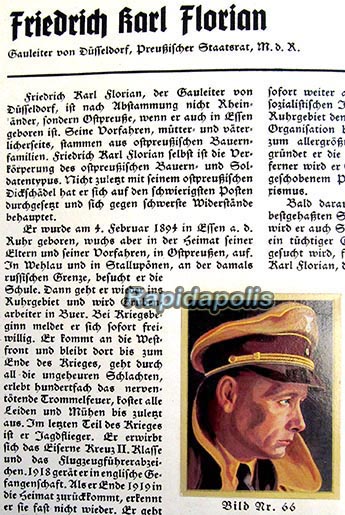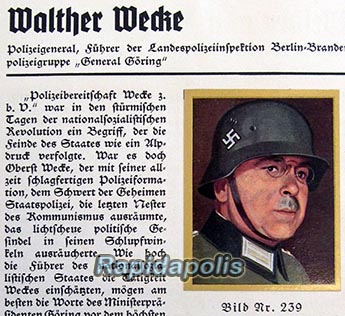 Männer im Dritten Reich starts with an unusual 1933 color portrait of Adolf Hitler and a foreword by the publisher which is dated "Summer 1934". Two pages are dedicated to President Paul von Hindenburg and Adolf Hitler each, and the book is fully indexed. Very historic early Third Reich color material!
This original 83 year old example of Männer im Dritten Reich in complete and in nice used condition. The paper of the interior pages has yellowed slightly with age. Hard covers with gold blocking, linen spine (damaged - see photo at the top of this USMBOOKS web page), no odor, name of the original owner on the front fly leaf. Weighs 3-1/2 pounds.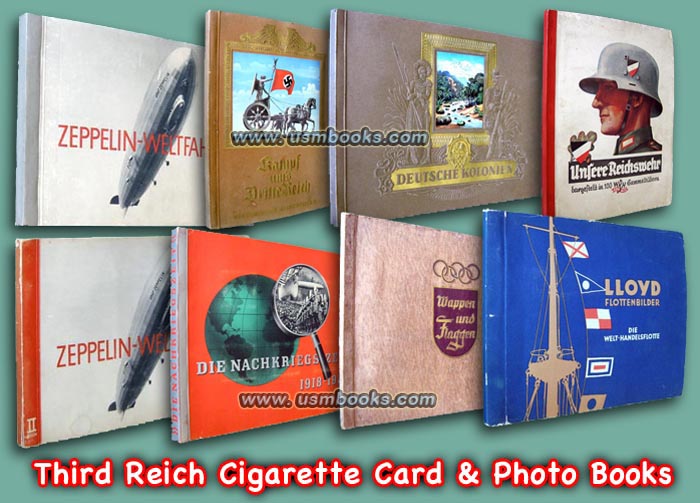 This complete original example of Männer im Dritten Reich is offered for
sale for $225.00 delivered by Media Mail in the continental USA.


USM book #852
• IF you prefer faster and safer Priority Mail shipping with USPS Tracking add $13.60
• IF you wish to purchase highly recommended, but optional insurance, add $4.75.
• We will be happy to ship abroad at additional cost. Please inquire.
BEAUTIFULLY WRITTEN AND ILLUSTRATED NAZI CIGARETTE CARD ALBUM MEN OF THE THIRD REICH - COMPLETE
MÄNNER IM DRITTEN REICH
NAZI CIGARETTE CARD ALBUM - COMPLETE WITH ALL PICTURES