The images and the entire text used on this and all other USMBOOKS web pages are the copyrighted property of USM Inc. Those images and the text may be used by others ONLY AFTER completion of a formal international licensing agreement and payment of a licensing fee! It is therefore, illegal for anyone to take any of the material found on USMBOOKS.com and use it for their own purposes without our written permission, irrespective of any excuse they may feel they have for doing so.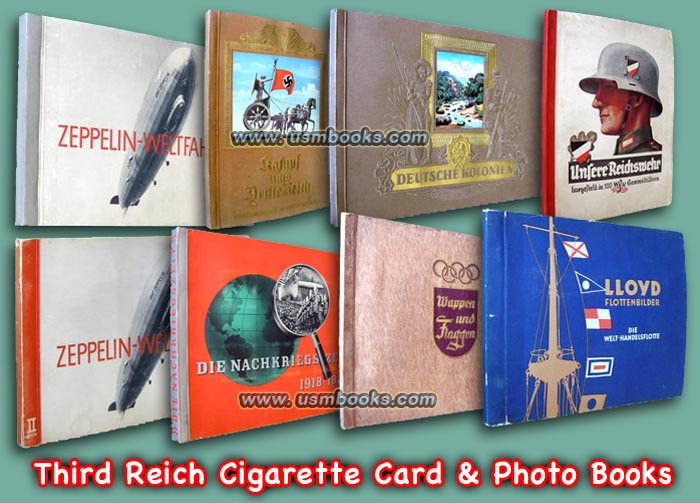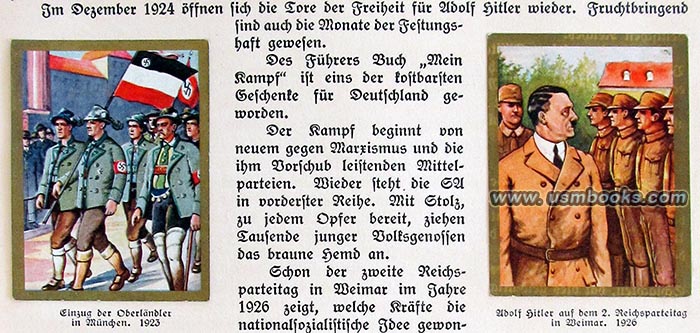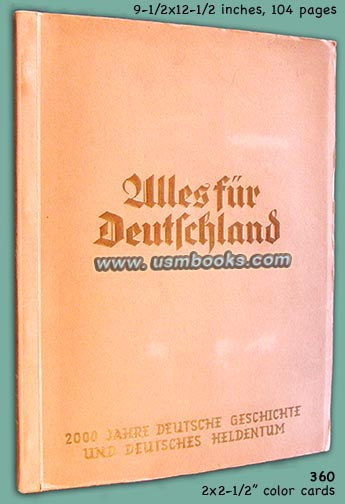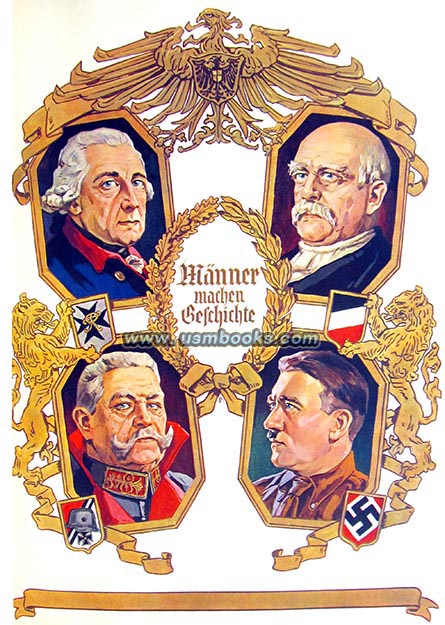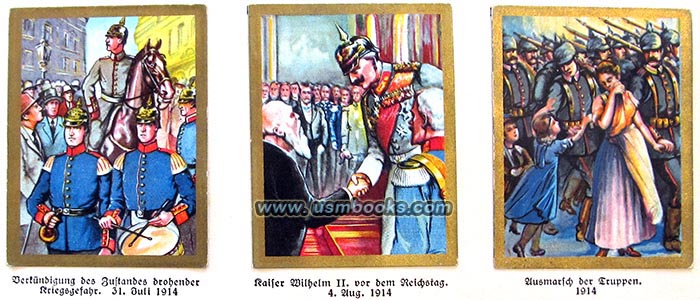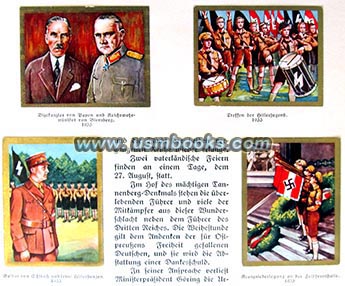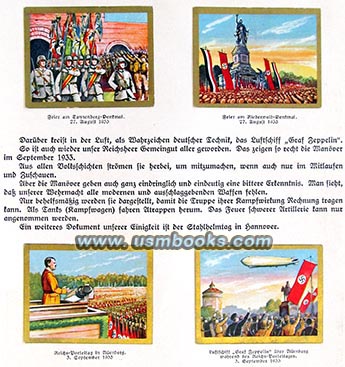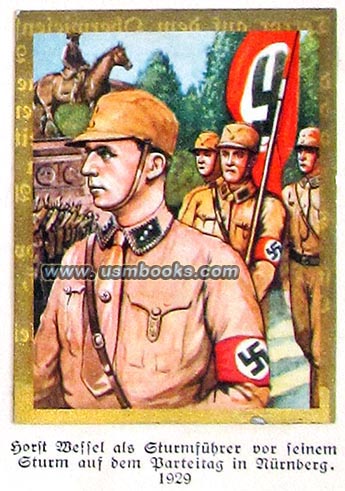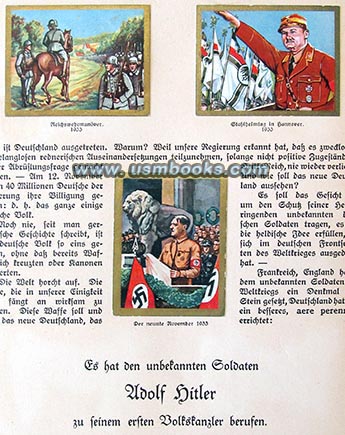 Alles für Deutschland - 2000 Jahre deutsche Geschichte und deutsches Heldentum (Everything for Germany - 2000 Years of German History and German Heroism) is a 9-½ x 12-½ inch, 104-page full-color, stiff softcover cigarette card album highlithing 2000 years of German military history. It was published by Orientalischen Cigaretten Compagnie YOSMA GmbH of Bremen in 1934 or 1935 and has text by M. Gutewort and Oberstleutnant Hänichen of Dresden.
After a short introductory text, the 360 pictures show German military history from the Battle of the Teutoburger Wald, Vikings, through the Middle Ages, the era of the many Kurfürst rulers of Germany, 'Soldier King' Friedrich Wilhelm I, Friedrich the Great, the Battle against Napoleon, Prussian Husars, the Second Reich and Bismarck, German colonies in Africa, Kaiser Wilhelm II, World War I in France and Eastern Europe, WW1 aviators Immelmann and von Richthofen, Field Marshal von Mackensen, Navy Commander Graf Luckner, Hindenburg, and of course Third Reich history and personalities such as Adolf Hitler, Hermann Göring, Horst Wessel, Dr. Joseph Goebbels, Baldur von Schirach and his Hitler Youth, even Benito Mussolini.

This German military history Nazi cigarette card album is complete with all its colorful cigarette cards pasted in and is in good used condition with its original Third Reich cardboard mailer. No odor.
This Nazi cigarette album Alles für Deutschland is
**SOLD**


USM book #844
• IF you prefer faster and safer Priority Mail shipping with USPS Tracking add $7.95.
• IF you wish to purchase highly recommended, but optional insurance, add $3.50.
• We will be happy to ship abroad at additional cost. Please inquire.
NAZI CIGARETTE CARD ALBUM GERMAN MILITARY HISTORY
'EVERYTHING FOR GERMANY'

A COMPLETE EXAMPLE
OF THE EARLY THIRD
REICH COLOR CIGARETTE CARD ALBUM
ALLES FÜR DEUTSCHLAND
(EVERYTHING FOR GERMANY)
WITH 360 COLOR PICTURES