The images and text used on this and all other USM web pages are the copyrighted property
of USM Inc. Those images and the text may be used by others ONLY AFTER completion
of a formal international licensing agreement and payment of a licensing fee!
MISCELLANEOUS NAZI
SUPPLEMENTS /
CORRECTIONS FOR
THE STANDARD 1940
BERLIN PHONE BOOK
This lot consists of three rare original supplements to the 1940 Amtliches Fernsprechbuch Berlin or 1940 Berlin Phone Book published for Berlin during the Third Reich. The three supplements offered here are:

•
Berichtigungsblatt
2 and 3 for the 1940 Berlin phone book published by the
Reichpostdirektion
. These inofrmational updates measure 8 x 11-1/2 inches.


•
Corrections of printing errors of the 1940 Berlin Phone Book.
Some people have seen one or two of the above supplements to the 1941 Berlin Phone Book but 1940 Berlin phone book material is more rare as it was often thrown away after the publication of the big 1941 Berlin phone book. In very good used condition.
It is worth mentioning that one of the reasons that original Third Reich telephone book material is so rare today, is that the entire country of Germany was critically short of fuel for cooking and heating, especially during the winters of 1946 to 1948. During the Berlin Blockade, thousands of Third Reich Berlin phone books went up the chimney as smoke.
These 3 rare original 1940 Nazi Berlin telephone book corrections and
supplements are offered for $95.00 delivered in the continental USA.

We will be happy to ship abroad at additional cost. Please inquire.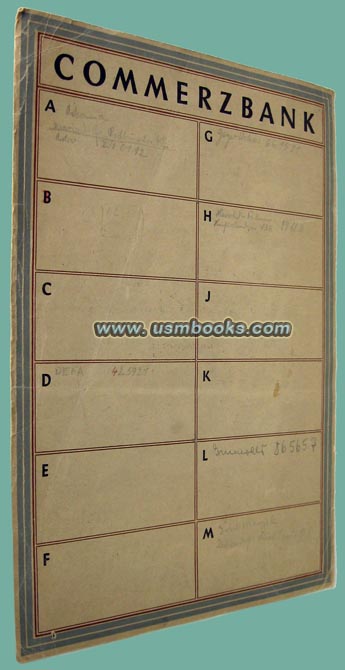 THIRD REICH BERLIN PHONE BOOK PHONE NUMBER INDEX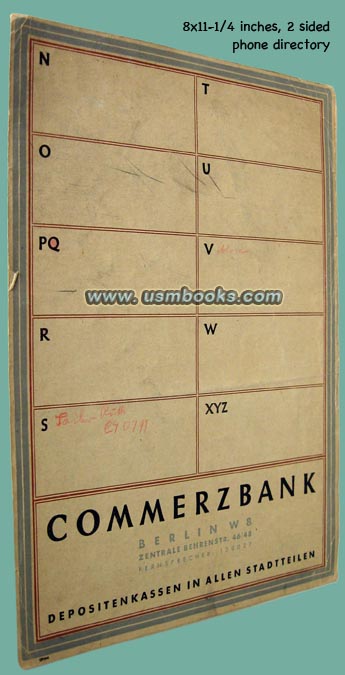 This is a small but genuine Third Reich Berlin phone book accessory. It is an artistically printed 8 x 11-1/8 inch two-sided alphabetical phone number index card that was given out by Commerzbank on Behrenstrasse in Berlin to depositors to be used in conjunction with their phone book. It was made this size so that it would fit inside the phone book.
On each side there is a rectangle, blank except for the letter of the alphabet. The idea was that the user could write in the name and phone number of frequently called numbers, in the appropriate rectangle. That would save them the time of repeatedly looking up the number in the book.

An odd, but authentic little piece of Third Reich ephemera. Condition exactly as shown.
This original Nazi Berlin telephone book accessory is offered
for $19.50 delivered in the continental USA.

We will be happy to ship abroad at additional cost. Please inquire.
1940 SUPPLEMENTS TO THE NAZI TELEPHONE BOOK BERLIN
This USMBOOKS web page is Copyright © 2014 by USM, Inc., and the text and images on it are fully protected by international copyright law. It is therefore, illegal for anyone to take any of the material found here and use it for their own purposes without our written permission, irrespective of any excuse they may feel they have for doing so.