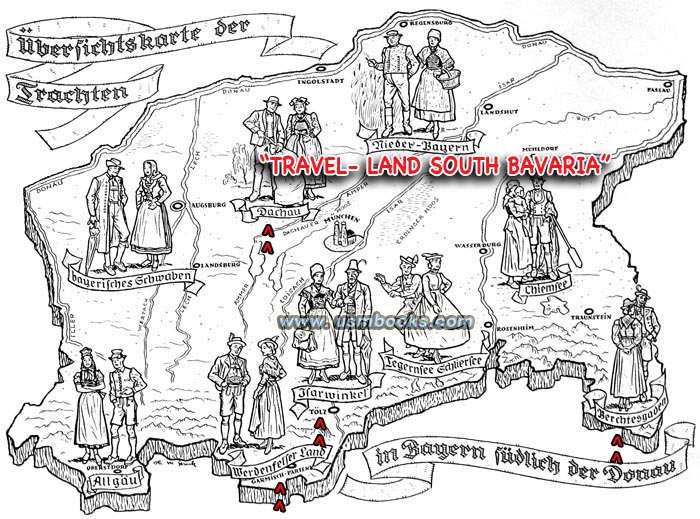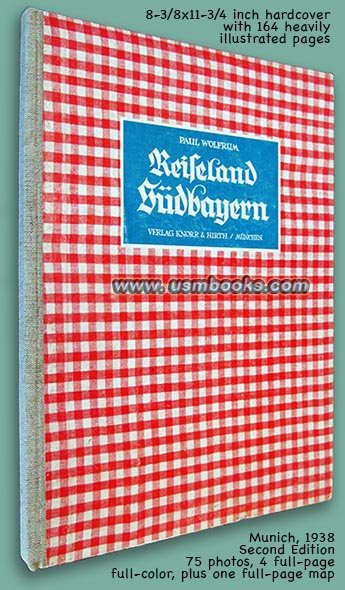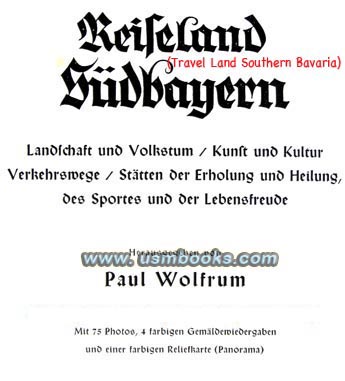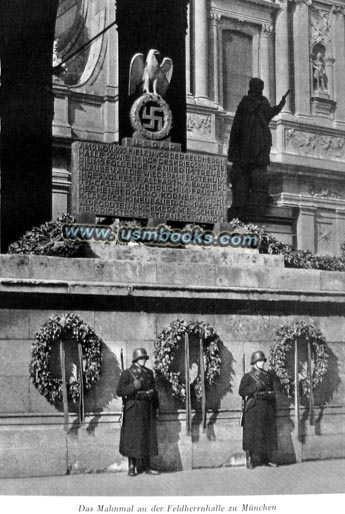 This is an excellent 8-3/8 x 11-3/4 inch, 164 page photo filled hard cover book on that part of Bavaria that lies south of the Danube river. It covers the landscape and the people, art and culture, destinations, special cities, sports and the joy of life found there. Reiseland Südbayern was written by Paul Wolfrum, published by Verlag Knorr & Hirth and contains 75 big, clear black & white photos and four color prints in a traditional Bavarian red and white checkerboard cover.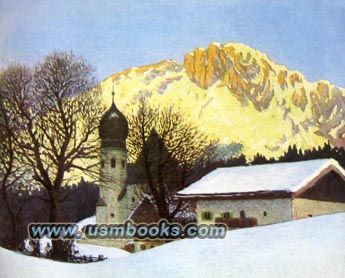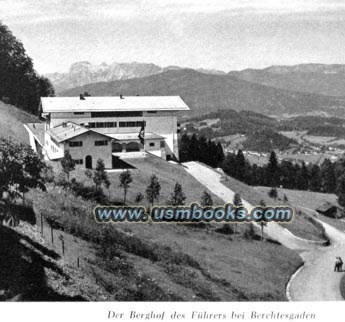 The book also contains a map of the entire area from Switzerland to Ulm, to Regensburg, Passau and Berchtesgaden along the front of the Alps. Note that the map (shown at the top of this web page) includes Dachau, Garmisch-Partenkirchen, Bad Tölz, Munich and Berchtesgaden.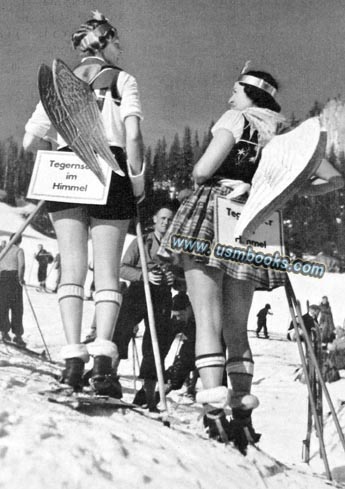 The introduction was written by the Oberbürgermeister of the Capital of the Nazi Movement (Munich) Karl Fiehler. There is an important section of the book devoted to the
buildings of the Third Reich
and the Imprint left on the area by the Nazi Party, including Adolf Hitler's alpine home
Der Berghof
above Berchtesgaden, the
Feldherrnhalle
and
House of German Art
in Munich, the Königsplatz with its
Führerbau
and Honor Temples for the martyrs of the Nazi Movement.
Other sections are devoted to mining and mining towns, the funny and happy people that live in Bavaria, the cities and towns in the area, the most important churches and art, the beautiful landscape, the incredible high mountains, the waterways, etc.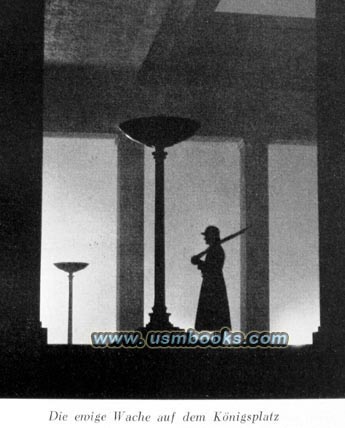 This second edition of Reiseland Südbayern has 34 pages of tourist related advertising in the back that earlier editions did not have: Bavarian health and ski resorts, museums, gardens and zoos, even the famous Trabrennbahn (horse racetrack) at München-Daglfing.

All in all it is beautifully produced book on the area that Hitler adopted as his home and the home of his Nazi Movement when he was discharged from the German army and service in the Bavarian List Regiment at the end of World War I. Fundamental for anyone interested in any of these subjects.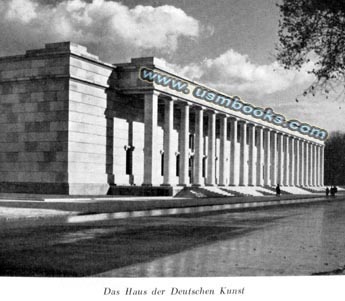 The images and the entire text used on this and all other USMBOOKS web pages are the copyrighted property of USM Inc. Those images and the text may be used by others ONLY AFTER completion of a formal international licensing agreement and payment of a licensing fee! It is therefore, illegal for anyone to take any of the material found on USMBOOKS.com and use it for their own purposes without our written permission, irrespective of any excuse they may feel they have for doing so.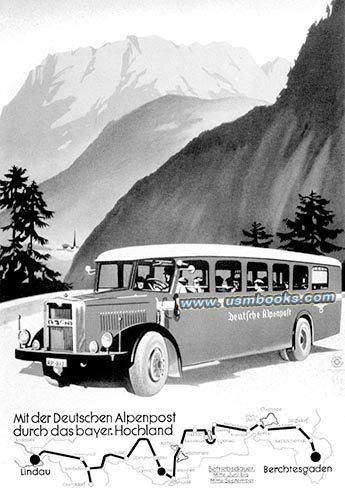 This 1938 Travel Book for Southern Bavaria is for sale for $145.00
delivered by Media Mail in the continental USA.


USM book # 605
• IF you prefer Priority Mail shipping with USPS Tracking add $6.50.
• IF you wish to purchase highly recommended, but optional insurance, add $2.95.
• We will be happy to ship abroad at additional cost. Please inquire.
1938 NAZI TOUR AND TRAVEL BOOK FOR SOUTHERN BAVARIA
REISELAND SÜDBAYERN
OR TRAVEL DESTINATION SOUTH BAVARIA
-
THE BEST PHOTO BOOK ON THE AREA AROUND MUNICH