This superb Nazi architecture book Das Bauen im Neuen Reich is
for sale for $155.00 delivered by Media Mail in the continental USA.


USM book # 151
• IF you prefer Priority Mail shipping with USPS tracking add $7.95.
• IF you wish to purchase optional insurance, add $4.85.
• We will be happy to ship abroad at additional cost. Please inquire.
Published in cooperation with Mrs. Professor Gerdie Troost in two volumes in 1938 and 1943 Das Bauen im Neuen Reich (Construction in the New State) is fundamental to any real examination of architecture, building construction and building decoration as practiced during the Third Reich of Adolf Hitler.
The book offered on this USMBOOKS web page is an original example of the fourth expanded printing (21 - 35,000 copies) of the first volume (Band I) of Das Bauen im Neuen Reich from 1938. It is a splendid big 9-3/8 x 12-3/8 inch, 168 page, very, very heavily illustrated hardcover book as published by Gauverlag Bayerische Ostmark in Bayreuth, Germany.
Following a brief introduction called "The Old Homeland", the concept of the "Art of National Socialist Building" is introduced. From page 11 onward, this book consists of the very best full-page and half-page black & white plates of the very best of Nazi architecture.
It showcases work such as the Ehrentempel and Führer buildings in München (Munich) by Paul Ludwig Troost (8 pages!), the House of German Art, giant eagles and swastikas at the Nazi Party Day Grounds in Nürnberg by Kurt Schmidt-Ehmen, the Party Day Grounds by Albert Speer, the German Stadium; the Ordensburg at Vogelsang, Sonthofen and Crössinsee (Giesler and Klotz), the NSDAP memorial at the Feldherrnhalle; Hermann Göring, Joseph Goebbels, Baldur von Schirach and Adolf Hitler Schools; buildings and military facilities for the SS, Luftwaffe, RAD, Gebirgsjäger, the RZM, the KdF; the Air Ministry by Sagebiel, the New Reichschancellery by Speer, the Olympic Stadium by Werner March, Reichsautobahn facilities, Autobahn bridges and tunnels, dams, airports, schools and even residential property.


DAS BAUEN IM NEUEN REICH
(CONSTRUCTION IN
THE NEW STATE)
>> NOT A CHEAP MODERN REPRINT <<
There is no better period book on this subject. This example of Band I of Das Bauen im Neuen Reich is complete but not in very good condition as the last 30 or so pages were once wet. The book has no odor but the moisture discolored the pages in question. We therefor offer this original 1938 book at a very low price!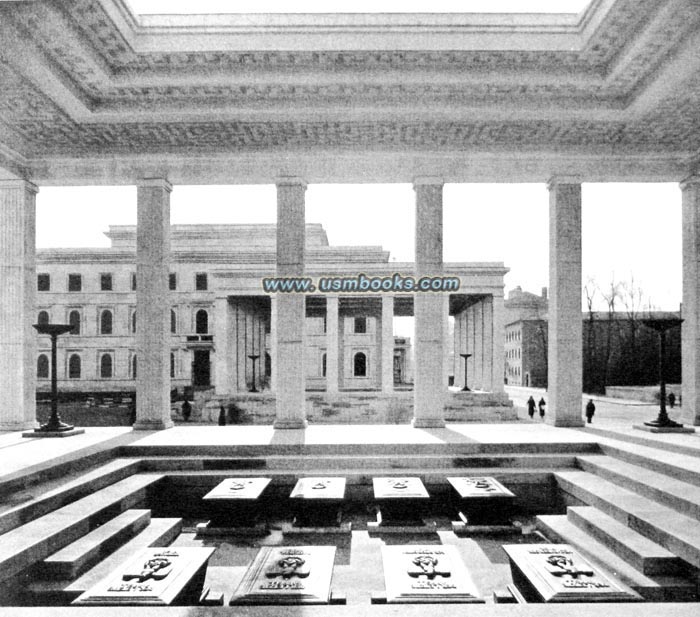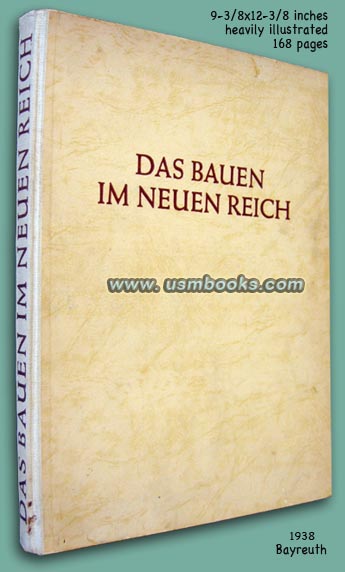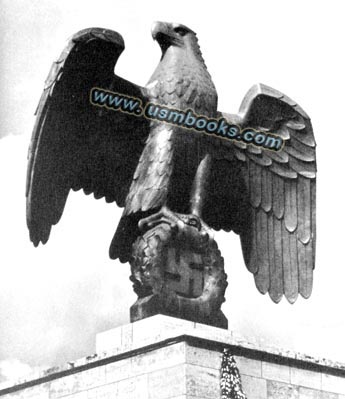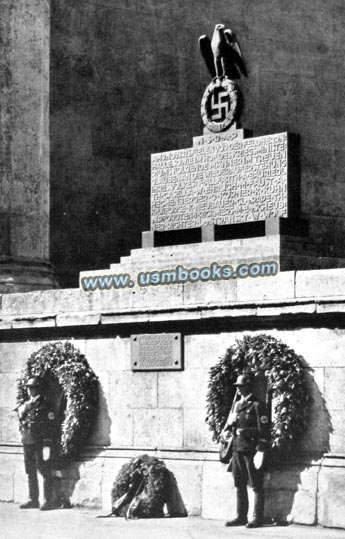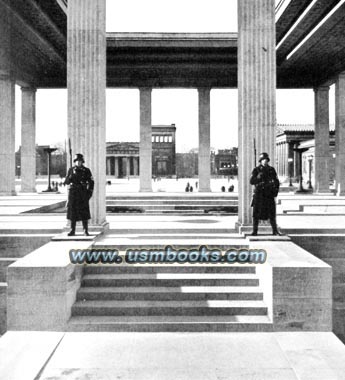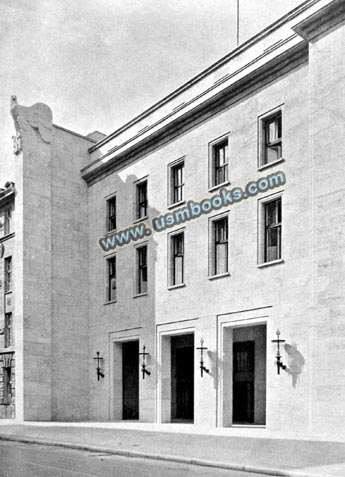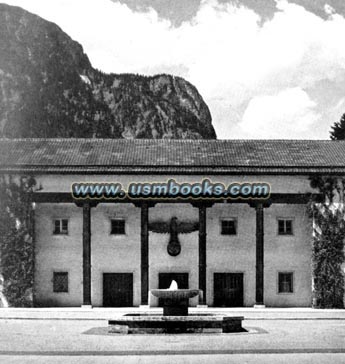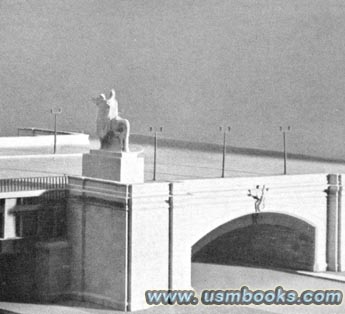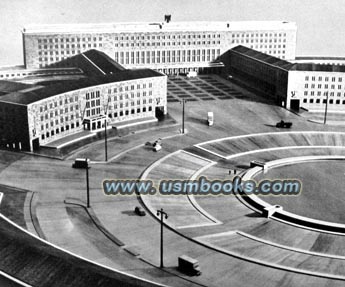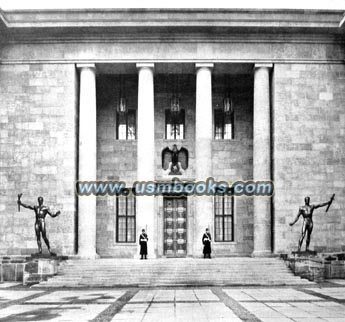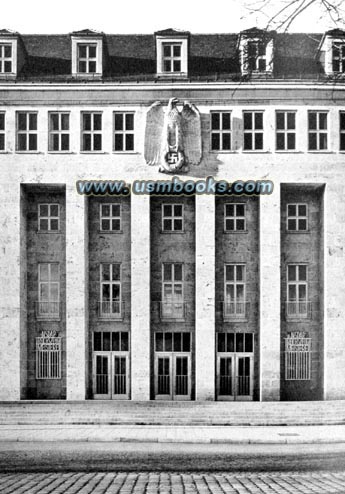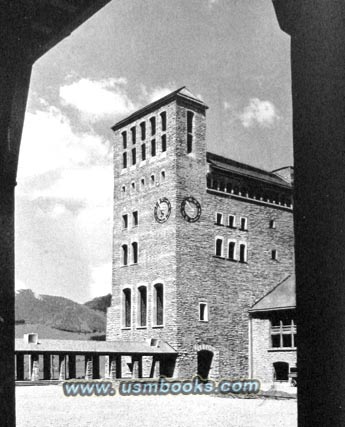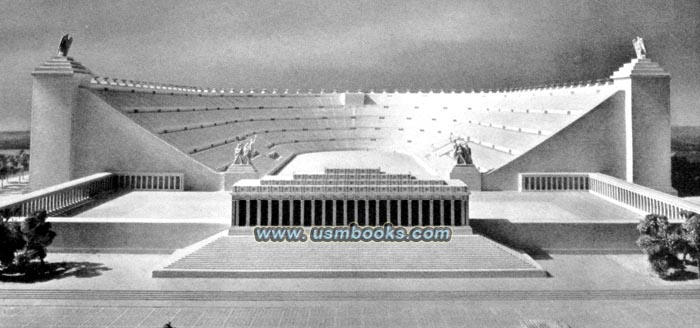 SUPERB 1938 NAZI ARCHITECTURE BOOK


The images and the entire text used on this and all other USMBOOKS web pages are the copyrighted property of USM Inc. Those images and the text may be used by others ONLY AFTER completion of a formal international licensing agreement and payment of a licensing fee! It is therefore, illegal for anyone to take any of the material found on USMBOOKS.com and use it for their own purposes without our written permission, irrespective of any excuse they may feel they have for doing so.