This in-depth Nazi OKW Balkan Campaign book is offered for sale
for $125.00 delivered by Media Mail in the continental USA.


USM book # 527
• IF you prefer faster and safer Priority Mail shipping with USPS Tracking add $6.65.
• IF you wish to purchase highly recommended, but optional insurance, add $3.45.
• We will be happy to ship abroad at additional cost. Please inquire.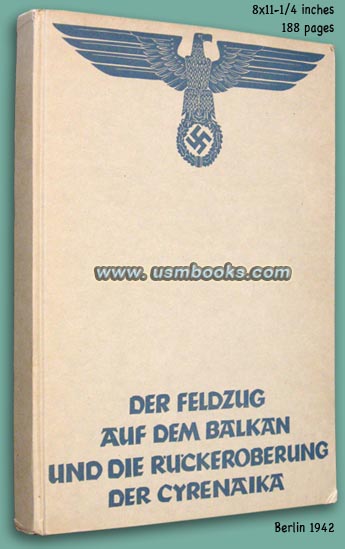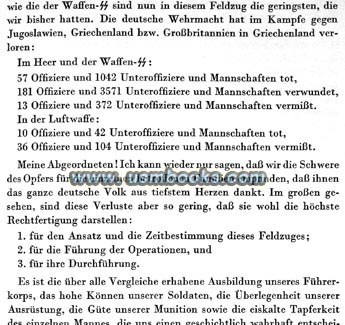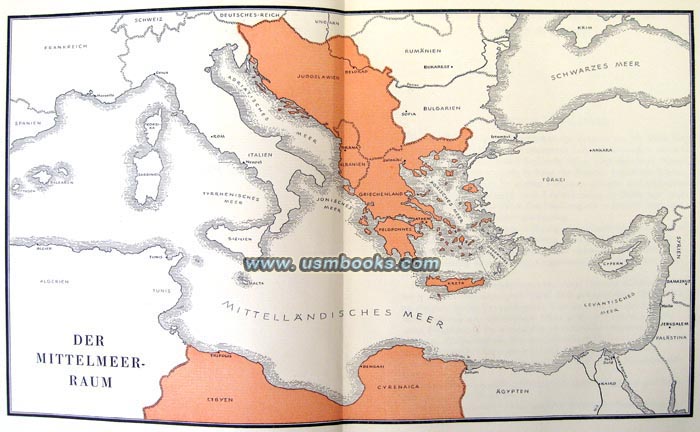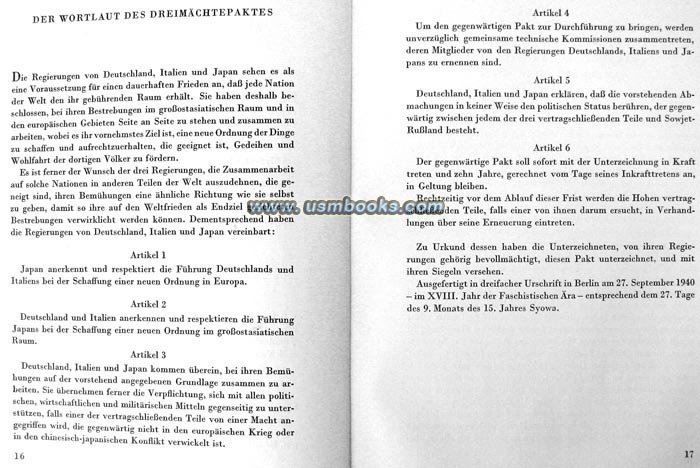 This is an excellent example of the rare 8 x 11-1/4 inch, 188 page book Der Feldzug auf dem Balkan und die Rückeroberung der Cyrenaika (The Balkan Campaign and the Recapture of Cyrenaika) published on the order of the Oberkommando der Wehrmacht and is the perfect companion piece to the many photo studies of the Nazi military campaigns through the Balkans and on to Africa. It consists of wonderful maps and documents very pertinent to the campaign.
Beginning with the Three Power Agreement signed by Italy, Germany and Japan, it explains the German approach to the Balkans, Greece, Crete and North Africa from the perspective of denying those areas to the British who could have used them for staging grounds to attack Hitler's Reich. Other documents cover the planning for German operations in the Balkans as well as day-by-day recaps of the ground lost by the British and taken by the Germans. This is quite in-depth information about the types and quantities of troops involved, including the Armed Forces and the Waffen-SS.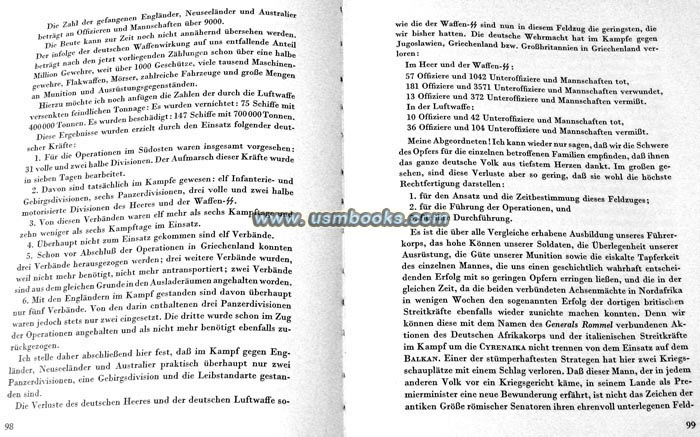 There are full text, orders of the day such as the Order of 2 June 1941 from Reichsmarschall Göring to the Fallschirmjäger troops destined to land on Crete, the specifics of the grounds for awarding the Knights Cross of the Iron Cross during the campaign to people like General of the Infantry Gustav von Wietersheim, SS-Obersturmführer Gerd Pleiß, Major Heinrich Kodre, SS-Sturmbannführer Kurt Meyer (Panzer Meyer), Luftwaffe Oberleutnant Erich Jäger, and about 100 other soldiers. Fascinating information.
OKW IN-DEPTH STUDY OF THE 1941 NAZI BALKAN CAMPAIGN
RARE OKW PUBLICATION ON THE BALKAM CAMPAIGN AND RECAPTURE OF CYRENAIKA IN LIBYA IN 1941


The images and the entire text used on this and all other USMBOOKS web pages are the copyrighted property of USM Inc. Those images and the text may be used by others ONLY AFTER completion of a formal international licensing agreement and payment of a licensing fee! It is therefore, illegal for anyone to take any of the material found on USMBOOKS.com and use it for their own purposes without our written permission, irrespective of any excuse they may feel they have for doing so.