The images and the entire text used on this and all other USMBOOKS web pages are the copyrighted property of USM Inc. Those images and the text may be used by others ONLY AFTER completion of a formal international licensing agreement and payment of a licensing fee! It is therefore, illegal for anyone to take any of the material found on USMBOOKS.com and use it for their own purposes without our written permission, irrespective of any excuse they may feel they have for doing so.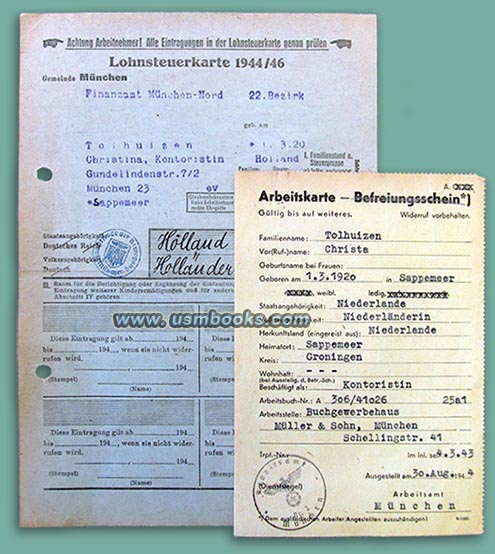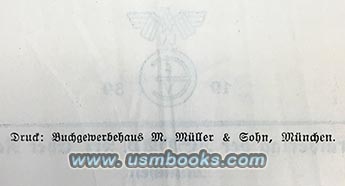 The two documents depicted here look like fairly plain Nazi labor documents, but hidden in them are many interesting historical facets. Both belonged to a young woman from Holland, Christina (Christa) Tolhuizen (born 1 March 1920), and both were issued in Munich, Capital of the Nazi Movement where she was employed as an office clerk at Buchgewerbehaus Müller & Sohn on Schellingstrasse 41, next door to the NSDAP headquarters and the offices of Heinrich Hoffmann, Hitler's personal photographer.
Buchgewerbehaus Müller & Sohn was founded in 1914 and in 1920 started a business relationship, with Franz Eher Verlag, the Central Publishing House of the Nazi Party, the same year Adolf Müller was introduced to Adolf Hitler by Dietrich Eckart. Müller was instrumental in the founding of the Munich chapter of the SA and his company started printing the Völkischer Beobachter, Illustrierte Beobachter and Das Schwarze Korps newspaper of the SS. He had a close personal relationship with Hitler who stayed at Müller's Tegernsee country home after the suicide of Geli Raubal in September 1931.
At the start of the war in 1939, Buchgewerbehaus Müller & Sohn was the most splendid and modern printing house in Nazi Germany which employed 1267 workers, 146 clerical workers and 29 editors. Each day 1,700,000 copies of the Völkischer Beobachter newspaper were printed and between 1924 and 1945, Müller & Sohn produced 11 million copies of Mein Kampf (shown right for reference) and millions of other Nazi books! It made Adolf Müller an extremely wealthy man!
Late in the war one of the clerical workers employed by Adolf Müller's Nazi publishing empire was Christa Tolhuizen. The Arbeitskarte offered for sale on this USMBOOKS web page was issued to her on 30 August 1944, but it notes she had worked at Müller & Sohn on Schellingstrasse 41 in Munich since 4 March 1943. The 4-1/8 x 5-7/8 inch, one-sided document has an eagle and swastika rubber stamp from Labor Office Nr. 2 in Munich.

The second document is Tolhuizen's Munich Lohnsteuerkarte, her income tax card for the years 1944 - 1946. It was issued by the Finance Office and has a blue rubber stamp of München, Hauptstadt der Bewegung. It depicts the famous Munich monk beneath a spread eagle with a swastika in its talons.

Rare and in little used condition, exactly as shown.
This interesting late war Nazi document lot is offered for sale
for $125.00 delivered by 1st Class Mail in the continental USA.

• IF you prefer faster and safer Priority Mail shipping with USPS Tracking add $6.50.
• IF you wish to purchase highly recommended, but optional insurance, add $3.50.
• We will be happy to ship abroad at additional cost. Please inquire.
ORIGINAL 1944 NAZI FOREIGN WORKER ID + TAX CARD
1944 WORKING IDs OF
A DUTCH WOMAN EMPLOYED AT THE
MOST FAMOUS NAZI PUBLISHING HOUSE
IN ALL OF GERMANY!