The images and text used on this and all other USM web pages are the copyrighted property
of USM Inc. Those images and the text may be used by others ONLY AFTER completion
of a formal international licensing agreement and payment of a licensing fee!
NAZI LABOR RECORD BOOKS FOR FOREIGN WORKERS IN NAZI GERMANY
NAZI ARBEITSBUCH (EMPLOYMENT RECORD)
+ DAF DUES CARD OF
A YOUNG OSTARBEITER
The owner of this 4-1/8 x 5-7/8 inch, 38 page Arbeitsbuch für Ausländer (Work Identity Document and Permanent Work Record for a Foreigner), was a young man from Winica in Eastern Poland, Ewocu Wokulow. The number of this green covered Nazi employment record is A 372/C01158 and it was issued to Wokulow in Graz on 9 December 1943. Wokulow was 16 at the time and was listed as an Ostarbeiter (Worker from the East) without a nationality. He lived in a DAF camp called Lager Steinfeld in Graz with other unskilled laborers from the east.
Wokulow was employed by a construction company called Ernst Althaller in Graz from 23 September 1943 until 2 April 1945, according to entries in this late-war Nazi Employment Record which still has its original ID photo. It comes with the DAF dues card which shows that Wokulow paid 6.80 Reichsmarks is DAF dues from 28 August until 31 December 1944.

In very good condition, absolutely original to the Third Reich period.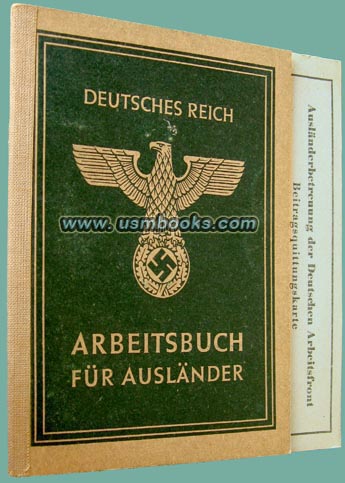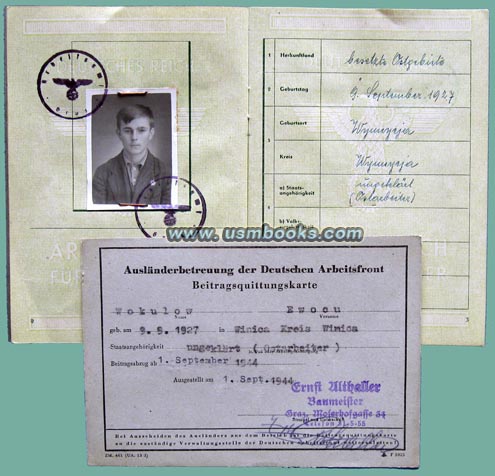 This late-war Nazi Arbeitsbuch für Ausländer + original DAF dues card
for a stateless 16 year old
are **SOLD**.


• IF you prefer Priority Mail shipping with USPS Tracking add $5.25.
• IF you wish to purchase highly recommended, but optional insurance, add $2.95.
• We will be happy to ship abroad at additional cost. Please inquire.
This USMBOOKS web page is Copyright © 2014 by USM, Inc., and the text and images on it are fully protected by international copyright law. It is therefore, illegal for anyone to take any of the material found here and use it for their own purposes without our written permission, irrespective of any excuse they may feel they have for doing so.