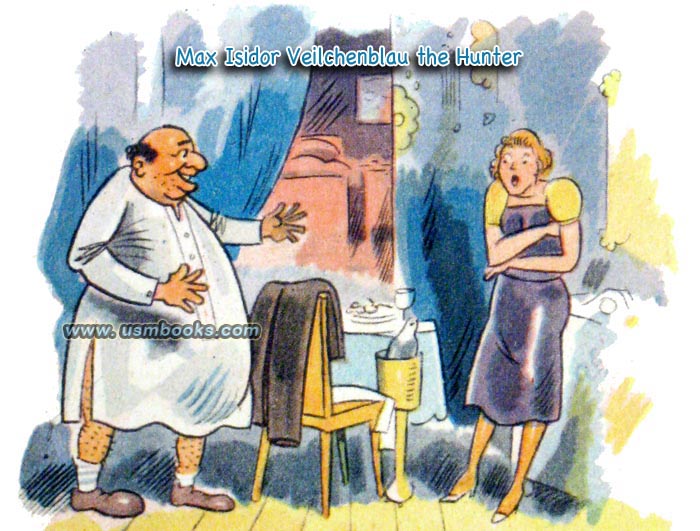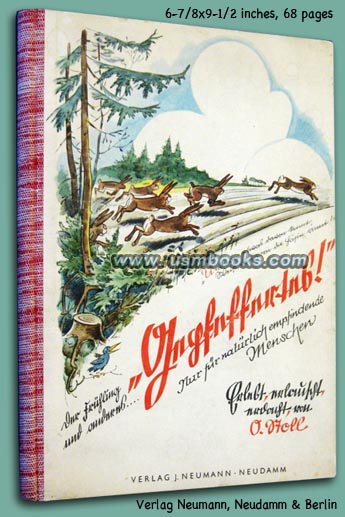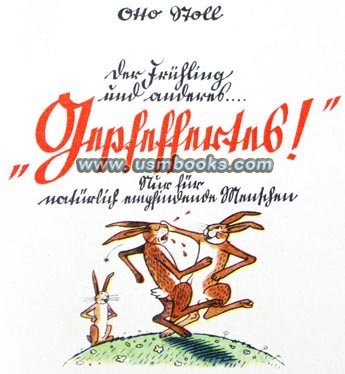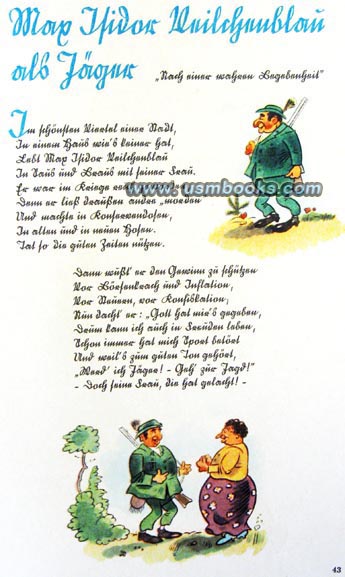 Most Third Reich book collectors are familiar with the very anti-Semitic books Der Giftpilz (The Poison Mushroom) and Trau keinem Fuchs auf grüner Heid und keinem Jud auf seinem Eid! (Don't Trust a Fox in a Green Pasture Or a Jew Upon His Oath!) published by Julius Streicher's Stürmer Verlag. Those Nazi propaganda books were intended for children and were published in large printing runs in Nazi Germany.

Lesser known but at least as politically incorrect illustrated Nazi books for adults by Otto Stoll, such as Der Frühling und anderes Gepfeffertes! Nur für natürlich empfindende Menschen (Spring and Other 'Spicey' Stories! Only for People Sensitive to Nature) were every bit as nasty and anti-Jewish in tone but were published for a mature audience in far smaller press runs.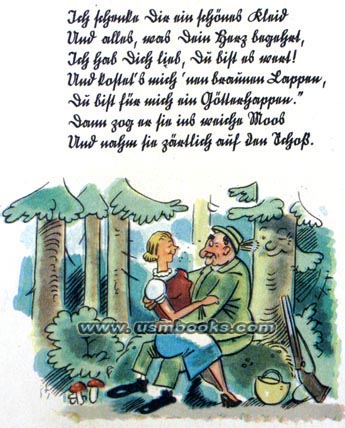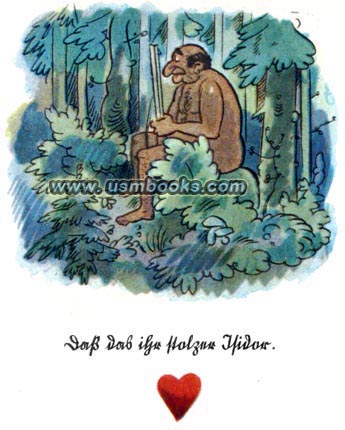 The very rare example of "Spring and Other 'Spicey' Stories!" is a hard cover 6-7/8 x 9-1/2 inch, 68-page book with a reddish cloth spine and has colorful illustrations by well-known artist H. Heyne throughout the Sütterlinschrift text. The book is undated but some of the Heyne illustrations have the date 1938 or 1939 under the artist's signature.
It contains eight stories in chapters, some of which are extremely anti-Jewish. Intended to be humorous, the stories are all related to aspects of hunting and spending time outdoors, and contain typical ribald German hunting humor. As the book is printed in a Sütterlinschrift type face, it is often misunderstood or misrepresented, and incorrectly described by antique book sellers here in the United States, and in Europe.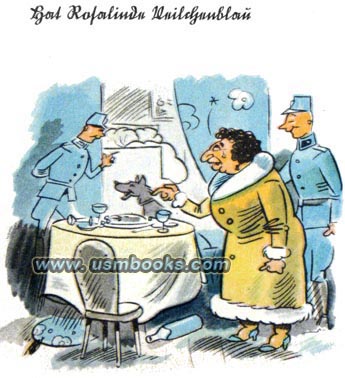 The book contains the extremely anti-Semitic story of Max Isidor Veilchenblau (the name means the color violet in German, not a compliment), a wealthy Jewish business man who wished to be a hunter. Max Isidor owned a big house on the edge of a forest where he lived with his wife Rosalinda. Veilchenblau tells his wife he has hunting plans but instead takes a beautiful, blond Aryan girl out to dinner. A romantic encounter in a secluded cabin in the forest after dinner did not turn out as Mr. Veilchenblau had planned. He had to flee and ended up stark naked in the woods where was found by his wife and a policeman. According to the moral of the rhyming text, the story is that Jews can never be hunters, and that no amount of money can make them hunters as their Jewish race just doesn't have 'hunter blood'.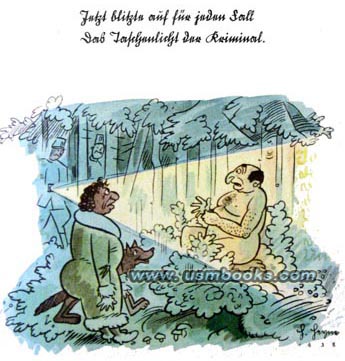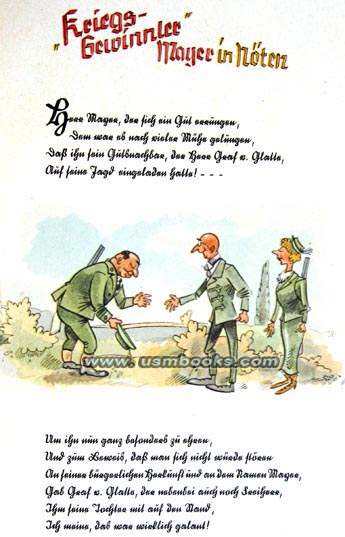 There is another anti-Jewish story about a Jew who made a lot of money during World War I and his difficult experiences during a hunting outing with his neighbor, a count, and the count's lovely blond escort.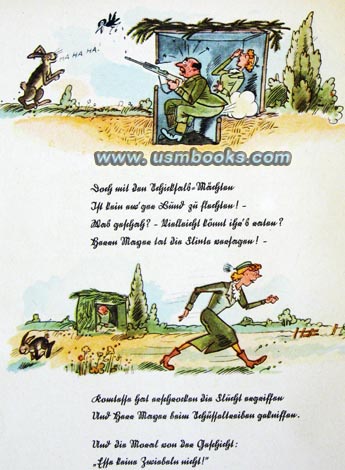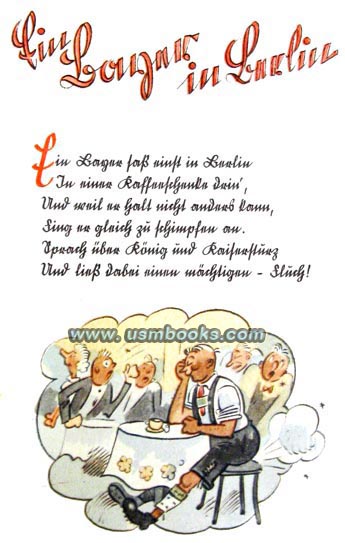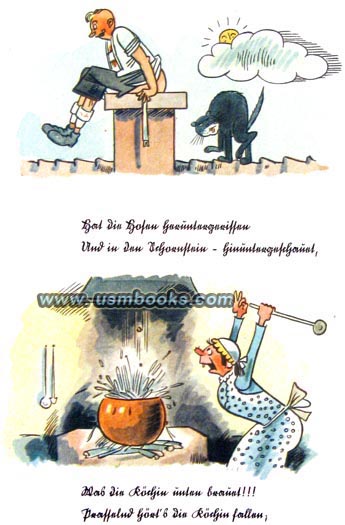 Chapters have titles such as Spring, Hunter Latin, Quiet Retreat, Hunter Hans and his Dog Kosimar, and are accompanied by cartoon-like color illustrations of animals, hunters (drinking, misdeeds with chimneys and fireplaces, getting in trouble while hunting, hunting mishaps, farting, etc.), romantic encounters in the woods, hunters in trouble with the tax authorities, etc. Many of these stories would still be considered extremely funny by the target audience in Germany today!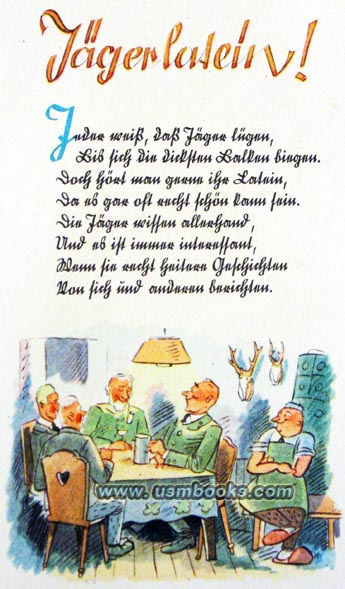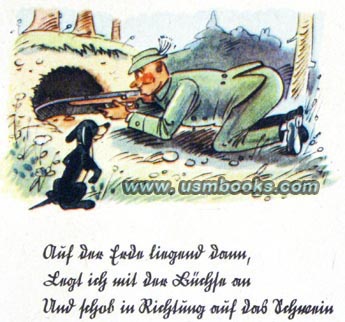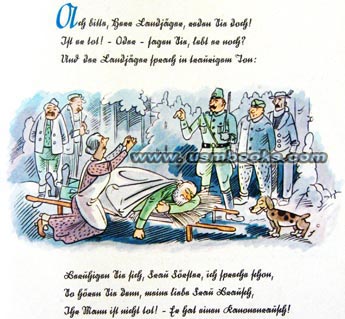 In the back of this rare Third Reich book is advertising for other humorous books published by Neumann Publishing company.

This example of Der Frühling und anderes Gepfeffertes! Nur für natürlich empfindende Menschen is in fine condition, the best example we have ever owned. There is a handwritten name of a previous owner on the front flyleaf.


The images and the entire text used on this and all other USMBOOKS web pages are the copyrighted property of USM Inc. Those images and the text may be used by others ONLY AFTER completion of a formal international licensing agreement and payment of a licensing fee! It is therefore, illegal for anyone to take any of the material found on USMBOOKS.com and use it for their own purposes without our written permission, irrespective of any excuse they may feel they have for doing so.
This rare ribald anti-Semitic illustrated hunting humor book is **SOLD**.


USM book # 604
• IF you prefer Priority Mail shipping with USPS Tracking add $5.95.
• IF you wish to purchase highly recommended, but optional insurance, add $7.05.
• We will be happy to ship abroad at additional cost. Please inquire.
RARE ILLUSTRATED ANTI-JEWISH NAZI BOOK CONTAINING
HUMOROUS, RISQUÉ HUNTING STORIES
VERY RARE NICELY ILLUSTRATED FULL-COLOR ADULT BOOK WITH RIBALD ANTI-SEMITIC STORIES