The images and text used on this and all other USM web pages are the copyrighted property
of USM Inc. Those images and the text may be used by others ONLY AFTER completion
of a formal international licensing agreement and payment of a licensing fee!
This historical plaque Battlefield Commemoratives is offered for
sale for $195.00 delivered by Parcel Post in the continental USA.

• IF you prefer Priority Mail shipping with USPS delivery confirmation add $5.95.
• IF you wish to purchase optional insurance, add $2.95.
• We will be happy to ship abroad at additional cost. Please inquire.
The entire story of the piece is told in much greater detail on the Certificate of Authenticity that is part of the back side of this beautiful plaque, and we've placed a photo at a size where anyone should be able to read the entire story. This Certificate of Authenticity is hand-signed and number 115/1000 by a representative of the company that made and sold it over 20 years ago. Excellent used condition.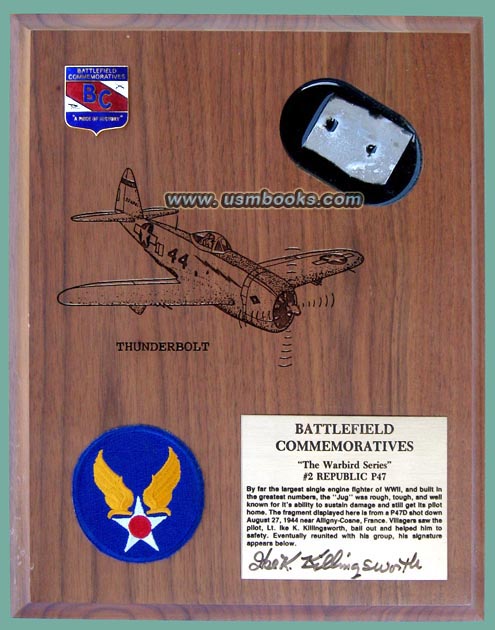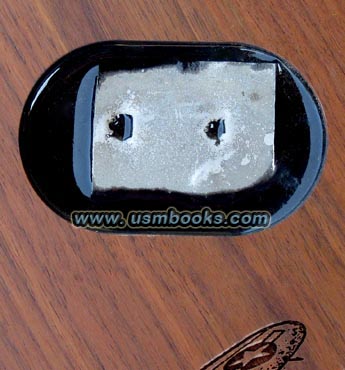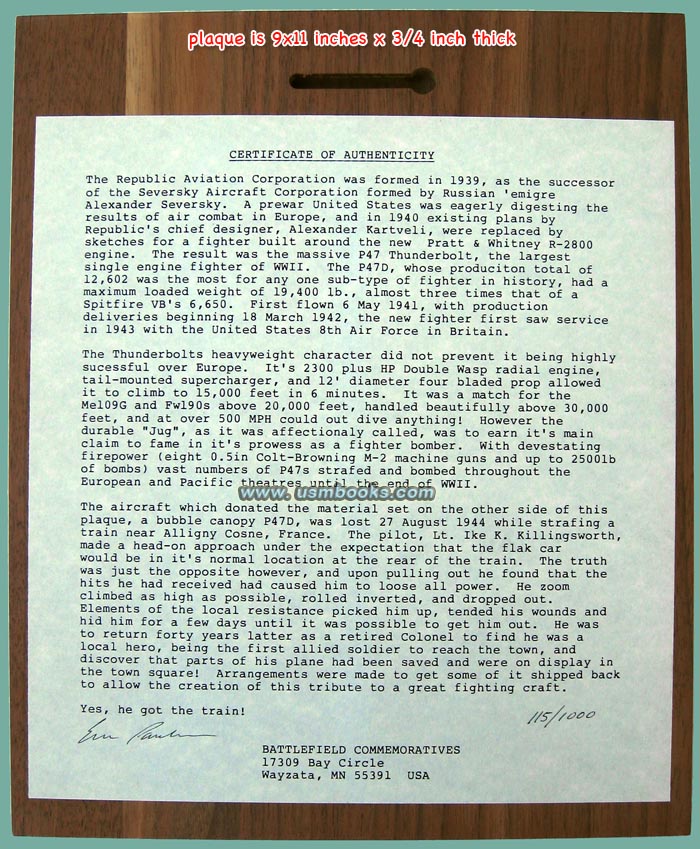 This is an authentic piece of the P-47D Thunderbolt aircraft piloted by USAAF pilot Lieutenant Ike K. Killingsworth from Longview, Texas, when he was shot down near Alligny-Cosne in France on 27 August 1944. The piece of the P-47D is beautifully embedded in black epoxy in a 1-3/4 x 2-3/4 inch hole milled into the surface of a beautiful 9 x 11 inch walnut plaque, 3/4 of an inch thick.

The front of the plaque bears a beautiful laser-cut likeness of a P47 Thunderbolt, as well as an embroidered inisgnia of the United States Army Air Force. The brass plaque bearing the basic information about the piece was hand signed by Lieutenant Ike Killingsworth himself.
A GENUINE PIECE OF A WORLD WAR 2 AMERICAN P47 FIGHTER AIRCRAFT
AN ACTUAL
PIECE OF
THE
AIR FRAME
OF A
HISTORIC WORLD WAR II P-47 THUNDERBOLT FIGHTER MOUNTED
ON A
SOLID
GENUINE
WALNUT PLAQUE
This USM Books website is Copyright © 2013 by USM, Inc., and the text and images on it are fully protected by international copyright law. It is therefore, illegal for anyone to take any of the material found here and use it for their own purposes without our written permission, irrespective of any excuse they may feel they have for doing so.