The images and the entire text used on this and all other USMBOOKS web pages are the copyrighted property of USM Inc. Those images and the text may be used by others ONLY AFTER completion of a formal international licensing agreement and payment of a licensing fee! It is therefore, illegal for anyone to take any of the material found on USMBOOKS.com and use it for their own purposes without our written permission, irrespective of any excuse they may feel they have for doing so.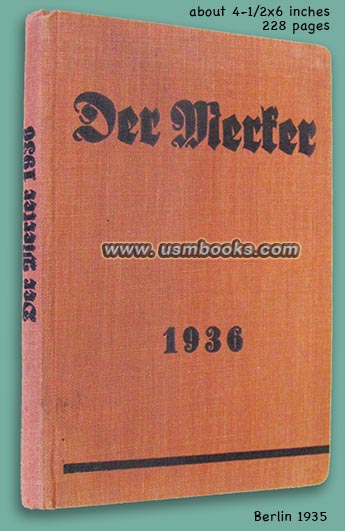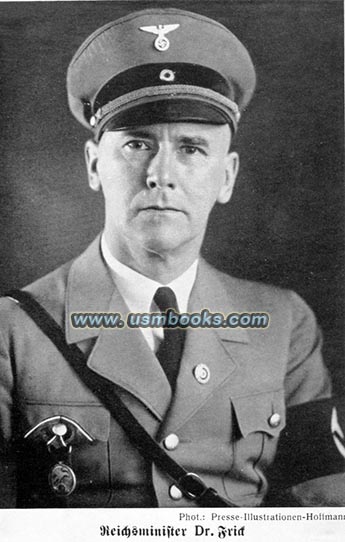 Many collectors of Third Reich books are familiar with Der Mercker yearbooks that were published for Hitler Youth members living outside Nazi Germany by the Volksbund für das Deutschtum im Ausland (VDA or National League for the Promotion of Germanism Abroad).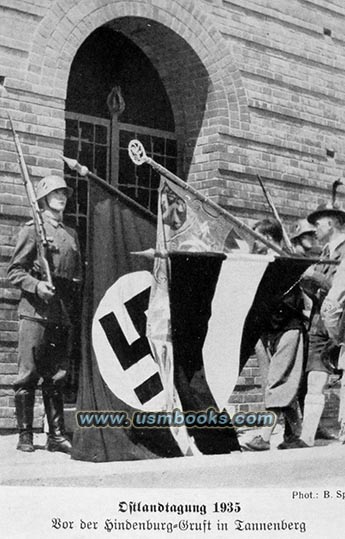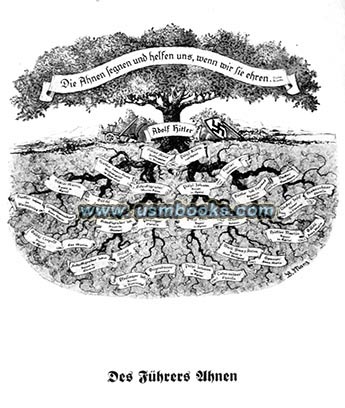 Offered on this USMBOOKS web page is a much rarer publication, Der Merker Schülerkalender des VDA 1936, a pocket size, heavily illustrated Nazi school calendar for VDA members for the year 1936.
This 4-½ x 6 inch, 228 page linen covered Schülerkalender or almanac-type student calendar starts with a full-page Hoffmann portrait of Reichsminister Dr. Frick on glossy paper (note he is wearing his Nazi Party badge on his lapel not on his tie) on the back of which is the introduction by Reichsminister of the Interior Wilhelm Frick.
The daily calendar portion marks important events in German history and there are illustrations and photos on glossy paper as well. The illustrations include the statue of General Steuben flanked by American flags, a German soldier memorial in the Vosges Mountains, the Bismarck Memorial in Hamburg and others. Among the photos is a full-page family tree of Führer Adolf Hitler, the Hindenburg crypt at Tannenberg, Reichsminister Rust in Königsberg, the Captain of the Kreuzer Karlsruhe with VDA members in Chile, the Kriegsmarine cruiser Emden at sea off South America, etc.

The almanac portion in the back has maps and covers race, model airplanes, the AO, settlements of ethnic Germans in South America, etc. This section also has advertising for cameras, pencils and pens, Hohner harmonicas, Emil Busch compasses, books, Wanderer bicycles, musical instruments, and more.

This 79 year old Der Merker Schülerkalender des VDA 1936 was never used. There are no entries in the calendar portion or on the pages with room for notes in the back. Even the space on page 4 where the owner of this 1936 VDA Merker Schülerkalender normally would enter name, address, birthday, weight, clothing sizes, etc. is empty. The binding is nice and tight as well.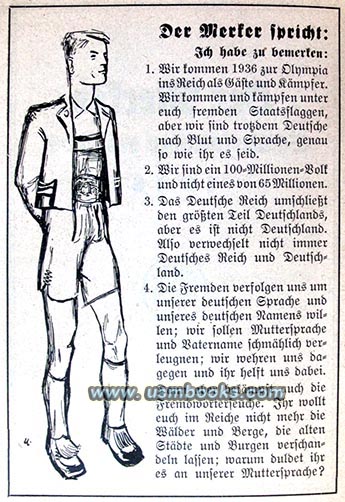 The patriotic foreword by the publisher, Verlag des Volksbundes für das Deutschtum im Ausland of Berlin, mentions that the year 1936 will be important because many VDA members will be going the Fatherland for the Olympic Games, as visitors or participants. They are reminded they are not really foreigners but members of the German Reich. This is followed by a quote from a March 1935 speech by Adolf Hitler about the eternal future of the German people and an extensive list with the names of important historical German figures, Nazi German martyrs.
This rare unused 1936 almanac-type student calendarbook is offered for
sale for $145.00 delivered by Media Mail in the continental USA.


USM book #739
• IF you prefer Priority Mail shipping with USPS Tracking add $6.75.
• IF you wish to purchase highly recommended, but optional insurance, add $3.45.
• We will be happy to ship abroad at additional cost. Please inquire.
RARE UNUSED VDA GERMAN YOUTH STUDENT CALENDAR FOR 1936 -
DER MERKER
UNUSED DER MERKER VDA POCKET CALENDAR FOR GERMAN STUDENTS LIVING OUTSIDE NAZI GERMANY