The images and the entire text used on this and all other USMBOOKS web pages are the copyrighted property of USM Inc. Those images and the text may be used by others ONLY AFTER completion of a formal international licensing agreement and payment of a licensing fee! It is therefore, illegal for anyone to take any of the material found on USMBOOKS.com and use it for their own purposes without our written permission, irrespective of any excuse they may feel they have for doing so.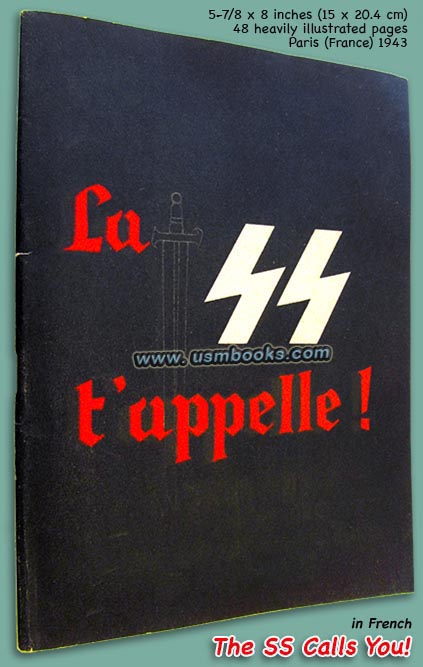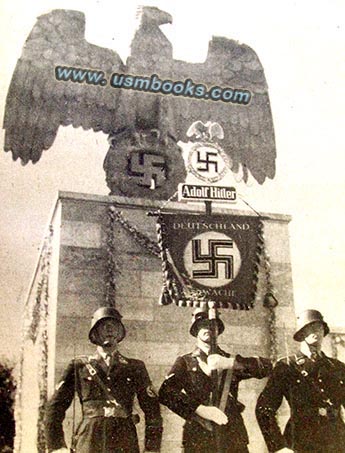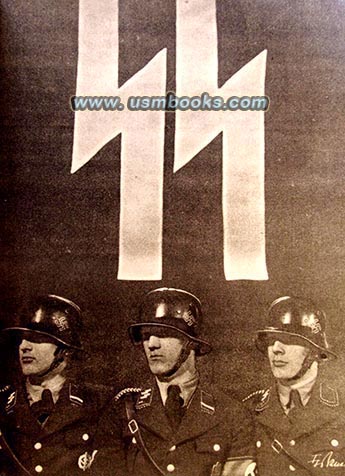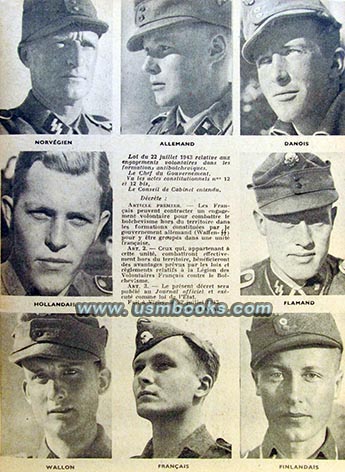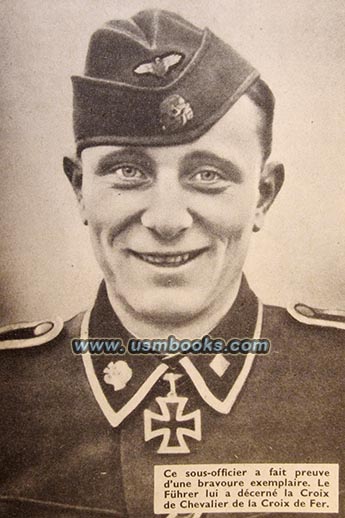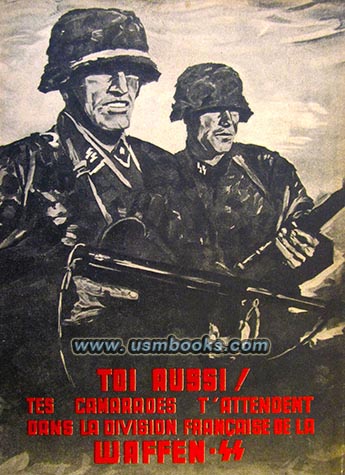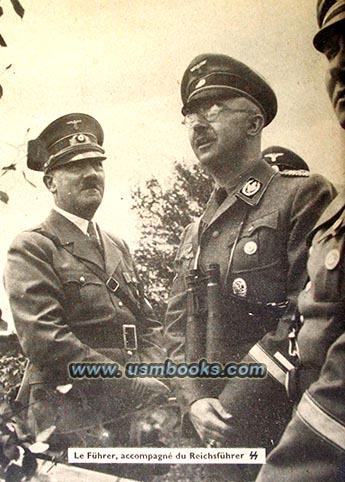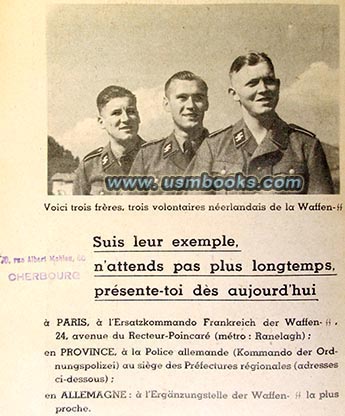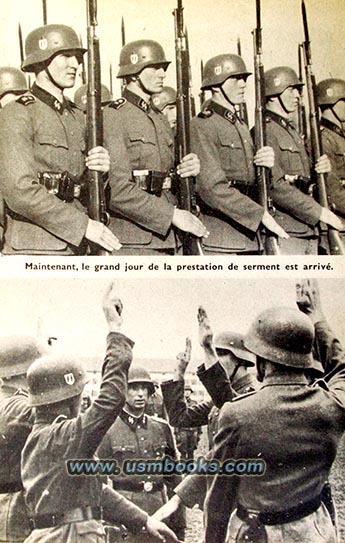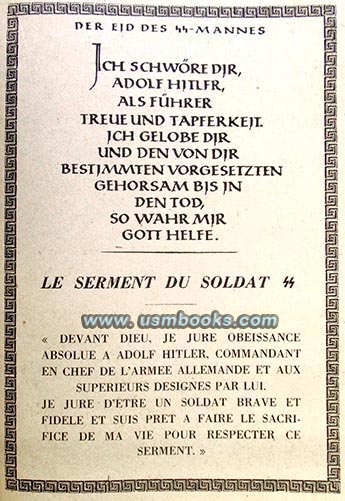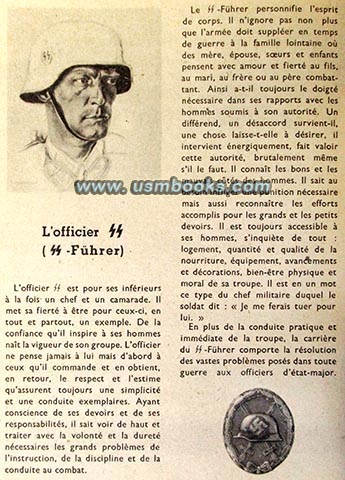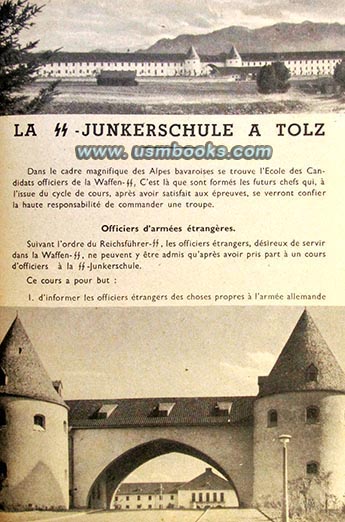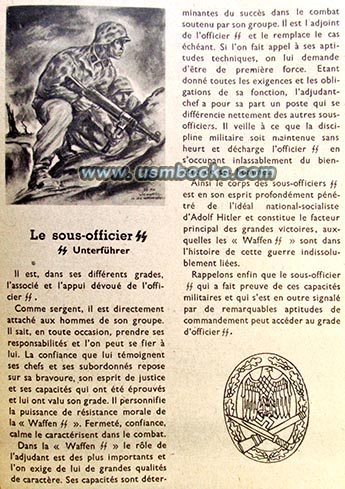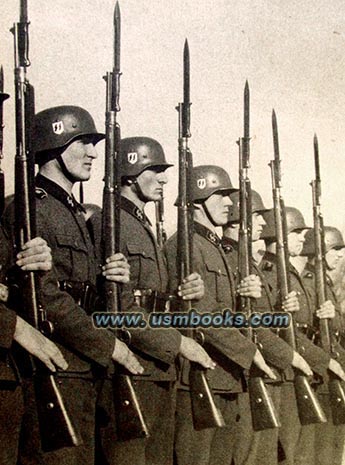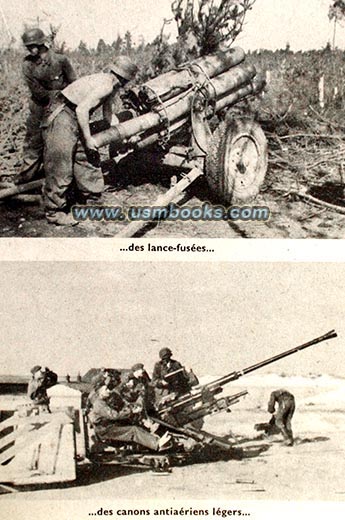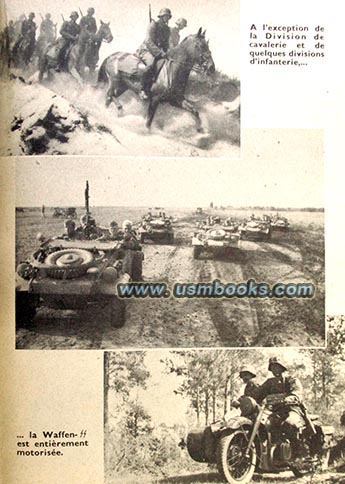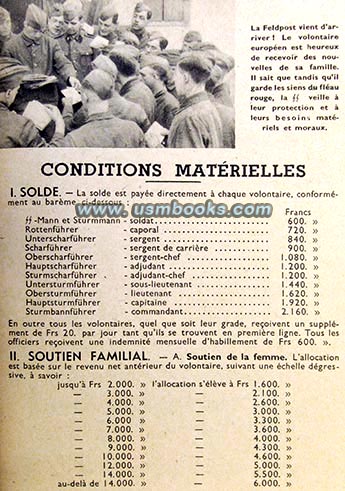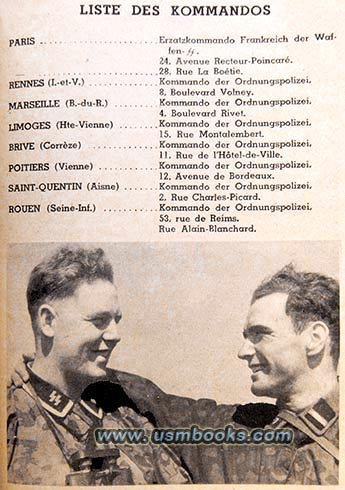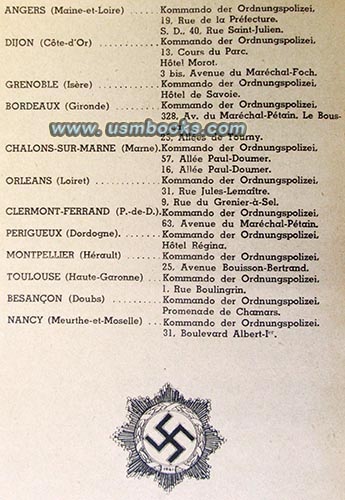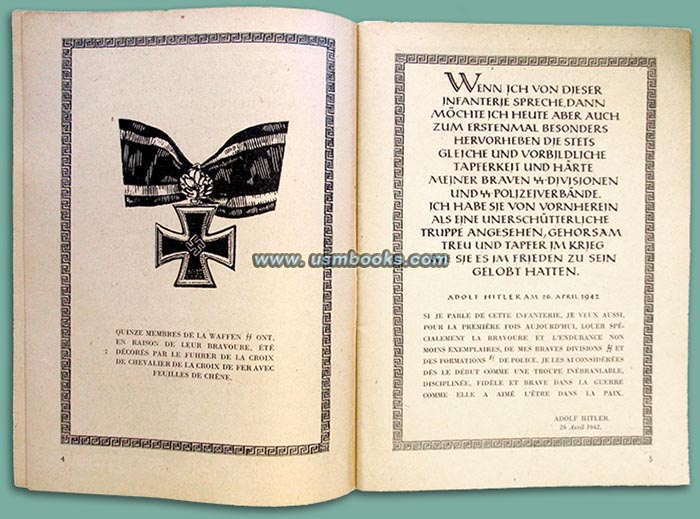 Most collectors of Third Reich books are familiar with the SS recruiting publication Dich ruft die SS! This is a very nice original FRENCH language example of the similar and very rare heavily illustrated soft cover book La SS t'appelle! (The SS Calls You) published late in 1943 in Paris.
Like the similar German version, La SS t'appelle! was intended to provide full information about the Waffen-SS to prospective French recruits.

Chapters cover the background of the French units in the Waffen-SS, the history and tasks of the Waffen-SS, the 22 July 1943 French law regarding volunteers in the Waffen-SS, the requirements for French Waffen-SS volunteers, SS Officers and non-commissioned officers in the SS, SS leadership, pay for single men and men with families of different ranks in the SS, pension payments, etc.
Photos in La SS t'appelle! show military training, education and medical examinations of future French recruits and Waffen-SS men, SS volunteers from Norway, Holland, Belgium, Denmark and Finland, SS men with tanks, machine guns and artillery, SS men on military motorcycles, as well as Reichsführer-SS Himmler surrounded by SS men and with Adolf Hitler, SS men taking the SS oath, the SS Junkerschule at Bad Tölz, medal award ceremonies of SS men, Hitler with his LSSAH, three brothers who volunteered for the Waffen-SS, etc.
There are Hitler quotes in German with French translations below them and even the SS oath to Hitler in German and French. There is a list of many SS offices all over France. The late 1943 application form from the Ersatzkommando-Frankreich der Waffen-SS Paris is still attached in the back of this rare SS publication. It has a stamp with an address in Cherbourg on it, most likely the SS office in that city where this book was distributed.
The front cover looks similar to the German edition of La SS t'appelle! The back cover however, has a different but equally striking image of a Waffen-SS recruitment poster saying that, "Your comrades are waiting for you in the French Division of the Waffen-SS."
This 100% original 5-7/8 x 8 inch, 48 page French SS publication was printed in Paris, France toward the end of 1943 and is fundamental to any real understanding of the foreign volunteers in the Waffen-SS in World War II. This example of La SS t'appelle! is complete and in very nice used condition. No offensive odor.
This original French Waffen-SS recruiting publication is **SOLD**


USM book # 155b
• IF you prefer faster and safer Priority Mail shipping with USPS Tracking add $6.95.
• IF you wish to purchase highly recommended, but optional insurance, add $5.85.
• We will be happy to ship abroad at additional cost. Please inquire.
RARE ORIGINAL ILLUSTRATED FRENCH LANGUAGE WAFFEN-SS
RECRUITING BOOK COMPLETE WITH ORIGINAL ENLISTMENT FORM
LA SS T'APPELLE!
(THE SS CALLS YOU)
RARE ORIGINAL 1943 ILLUSTRATED
FRENCH WAFFEN-SS RECRUITING BOOK COMPLETE WITH ENLISTMENT FORM
IN FRENCH