The images and text used on this and all other USM web pages are the copyrighted property
of USM Inc. Those images and the text may be used by others ONLY AFTER completion
of a formal international licensing agreement and payment of a licensing fee!
This USM Books website is Copyright © 2013 by USM, Inc., The text and images on it are fully protected by international copyright law. It is therefore, illegal for anyone to take any of the material found here and use it for their own purposes without our written permission, irrespective of any excuse they may feel they have for doing so.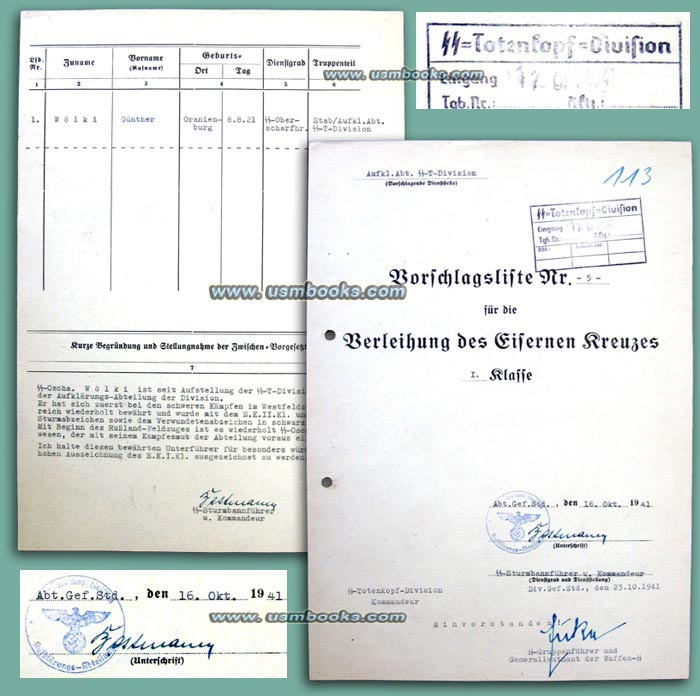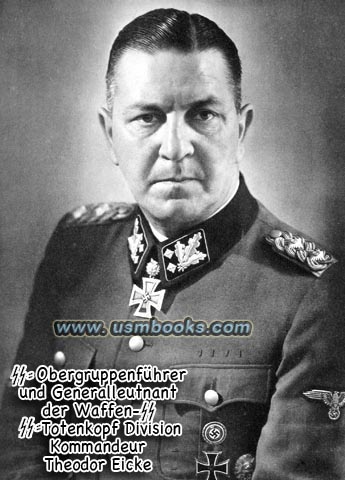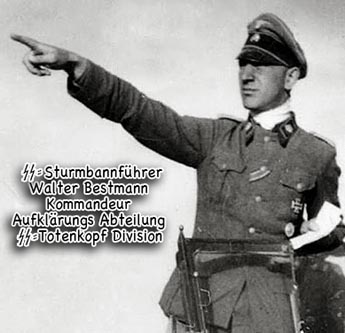 Two of the three of the people involved in this document can be found repeatedly in any simple search of the web. SS-Sturmbannführer Walter Bestmann and SS-Gruppenführer und Generalleutnant der Waffen-SS, SS-Totenkopf Division Commander Theodor Eicke both held positions of great trust within the SS and were well-known to each other.

The third person is the subject of the document, Günther Wölki born in Oranienburg north of Berlin on 8 August 1921. This document is the recommendation for the award of the Iron Cross 1st Class to SS-Oberscharführer Günther Wölki of Aufklärungs Abteilung SS-Totenkopf Division on 16 October 1941.
This original Vorschlagsliste Nr. 5 für die Verleihung des Eisernen Kreuzes I. Klasse is signed on the front and back by SS-Sturmbannführer Walter Bestmann and countersigned at the bottom of the front side by SS-Totenkopf Division Commander Theodor Eicke who agreed with the recommendation (Einverstanden!).

The A4 size (8-1/4 x 11-5/8 inch) recommendation was filed and stamped by the SS-Totenkopf Division archive on 17 October 1941.

The reason SS-Oscha. Wölki was recommended by SS-Sturmbannführer Bestmann for the E.K.1.Kl. (Iron Cross First Class) and the commander of the SS-Division Totenkopf of the Waffen-SS agreed, was his expemplary service during the Invasion of France, for which he was already awarded the Iron Cross 2nd Class and the Infantry Assault Badge, as well as a Black Wound Badge. At the start of invasion of Russia, it again was SS-Oscha. Wölki who was way ahead of others in his outfit when it came to courage and bravery, according to SS-Sturmbannführer Bestmann.

Very rare and in excellent condition. Exactly as shown.
This original Iron Cross 1st Class recommendation signed by Bestmann
and Eicke is **SOLD**.

• IF you prefer Priority Mail shipping with USPS Tracking add $5.75.
• IF you wish to purchase highly recommended, but optional insurance, add $12.95.
• We will be happy to ship abroad at additional cost. Please inquire.
ORIGINAL 1941 IRON CROSS 1ST CLASS AWARD RECOMMENDATION
SS TOTENKOPF DIVISION
SS TOTENKOPF DIVISION 1ST CLASS IRON CROSS AWARD
RECOMMENDATION SIGNED BY BOTH
SS-STURMBANNFÜHRER WALTER BESTMANN AND
SS-TOTENKOPF COMMANDER THEORDOR EICKE