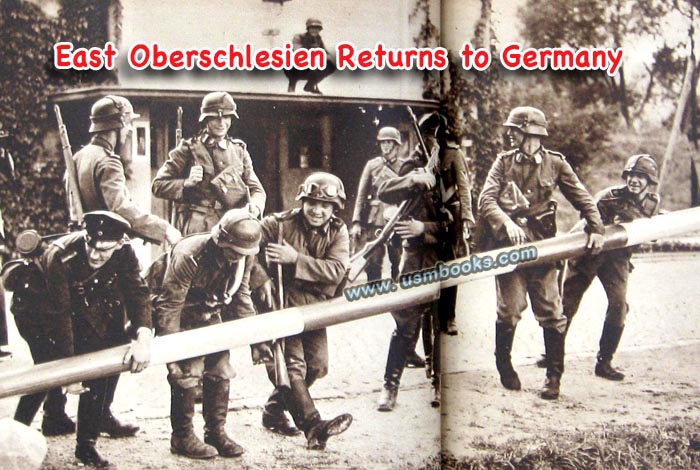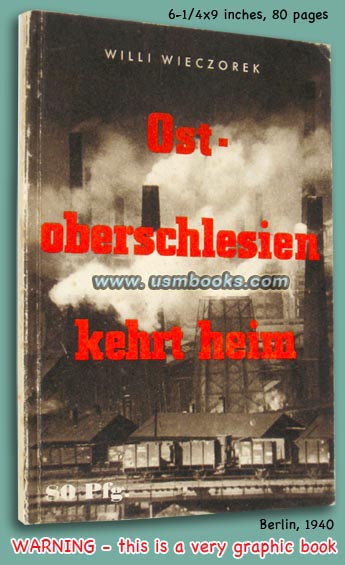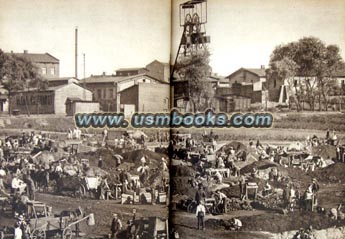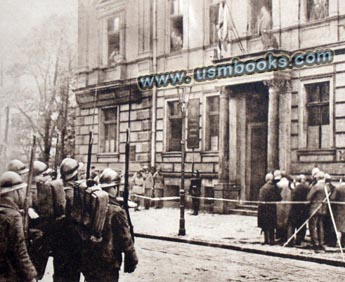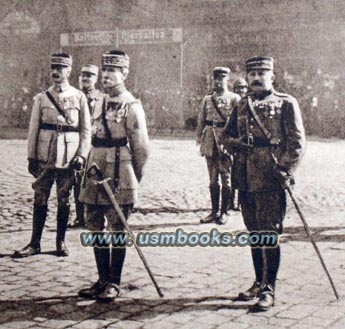 This is a very rare Third Reich book which we have never before encountered in our three decades in the Third Reich book and document business. Ostoberschlesien kehrt heim (East-Uper Silesia Returns Home) refers to the most eastern part of Upper Silesia and its return from Poland to Germany after the invasion and defeat of Poland in September 1939.
In the introduction author Willi Wieczorek explains how after World War I "greedy Allies" took Silesia and made it part of Poland, which was followed by the Silesian Uprising creating terror for the German inhabitants of the wealthy, industrial area which included cities such as Ratibor, Kattowice, Tarnowitz and Gleiwitz, as well as Auschwitz. This 6-¼ x 9 inch, 80 page soft cover photo book contains over 120 high-quality photos which show how the once prosperous German land was run down during the 20 or so years it was part of Poland, and how it flourished after it became German again in 1939.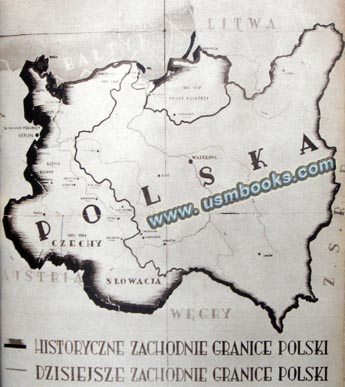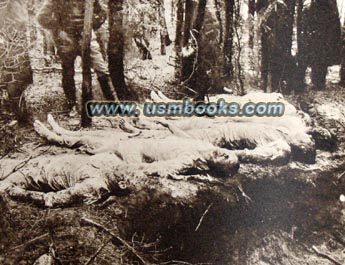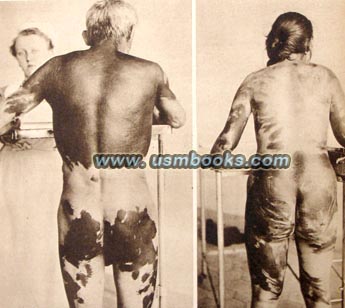 The photo pages contain images (beware - some rather gruesome) of the unruly early 1920s when the fate of Upper Silesia was being decided - Polish soldiers, looting Hindenburg's estate, murdered and tortured ethnic Germans, armed Polish women helping Polish soldiers, French occupation troops, etc. Then the arrival of the Wehrmacht, ethnic Germans greeting them, some battle damage and the burial of fallen German soldiers, decorated streets after the liberation, immediate help for poor and hungry ethnic Germans from German assistance organizations, the defacing of Polish business signs and the return of German language signs, Polish Jews being rounded up and put to work ("The First Work in their Life!" according to the book), the rebuilding of Oberschlesien, smoke stacks in busy German industrial complexes decorated with swastika flags, art from Oberschlesien, and more. The last photo is a double-page spread of Hitler and his Generals during the victory parade in Warsaw.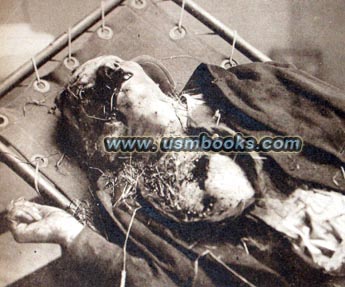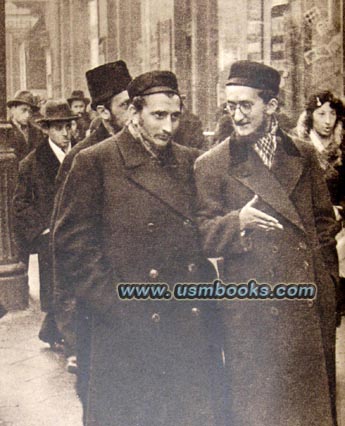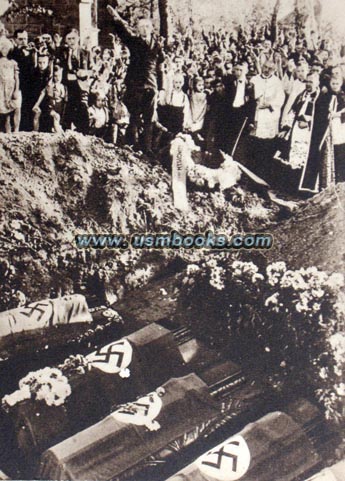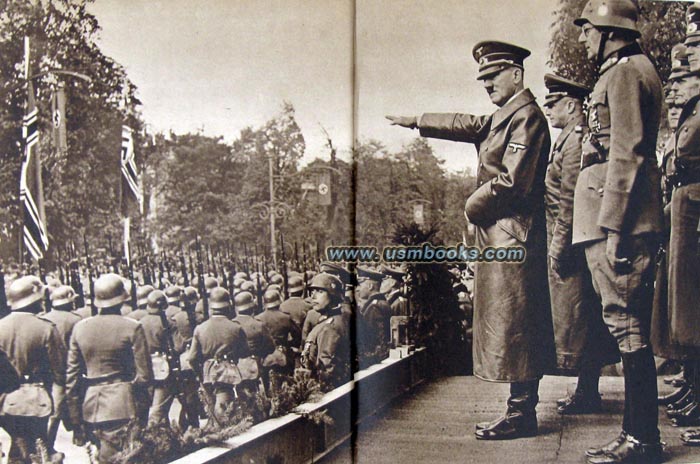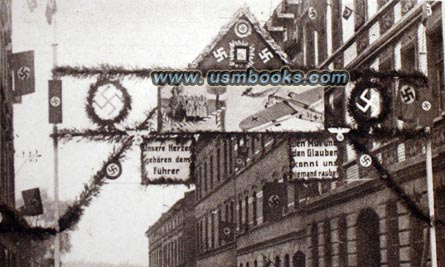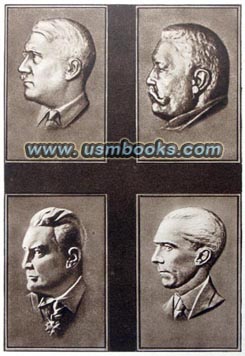 This rare Nazi photo book Ostoberschlesien kehrt heim was published by Verlag Scherl of Berlin. It is in very good, little used condition.


The images and the entire text used on this and all other USMBOOKS web pages are the copyrighted property of USM Inc. Those images and the text may be used by others ONLY AFTER completion of a formal international licensing agreement and payment of a licensing fee! It is therefore, illegal for anyone to take any of the material found on USMBOOKS.com and use it for their own purposes without our written permission, irrespective of any excuse they may feel they have for doing so.
This rare 1940 photo book about the Nazi liberation of Eastern Upper Silesia
is for sale for $185.00 delivered by Media Mail in the continental USA.


USM book #640
• IF you prefer Priority Mail shipping with USPS Tracking add $6.75.
• IF you wish to purchase highly recommended, but optional insurance, add $3.45.
• We will be happy to ship abroad at additional cost. Please inquire.
VERY RARE 1940 NAZI PHOTO BOOK ABOUT THE NAZI
LIBERATION OF UPPER SILESIA - QUITE GRUESOME
RARE THIRD REICH PHOTO BOOK ABOUT THE RETURN OF THE ETHNIC GERMAN INDUSTRIAL AREA OF OSTOBERSCHLESIEN
TO HITLER'S GREATER GERMAN REICH