The images and the entire text used on this and all other USMBOOKS web pages are the copyrighted property of USM Inc. Those images and the text may be used by others ONLY AFTER completion of a formal international licensing agreement and payment of a licensing fee! It is therefore, illegal for anyone to take any of the material found on USMBOOKS.com and use it for their own purposes without our written permission, irrespective of any excuse they may feel they have for doing so.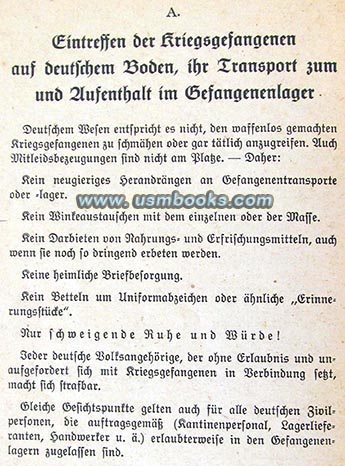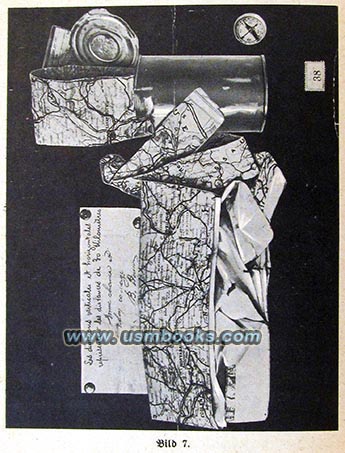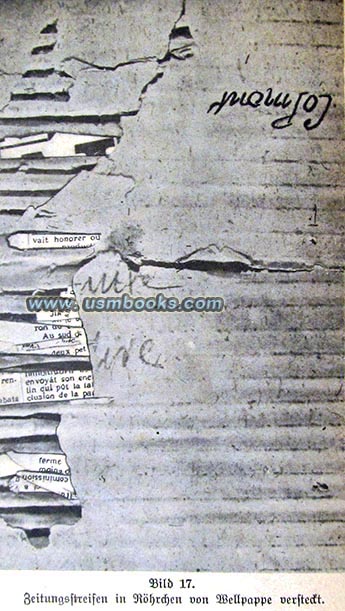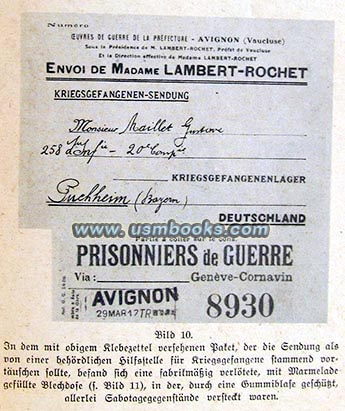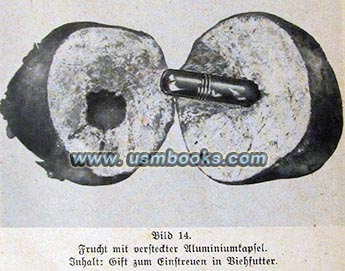 The 5-¼ x 7-¾ inch, well-illustrated 64 page softcover book is about foreign Prisoners of War in Germany during wartime and their hostile activities against Germany. It was published by the OKW to 'refresh' the memory of the German military establishment, to remind them of the sabotage and spying done by foreign POWs during World War I as a result of being treated too nicely by their German hosts.
There are chapters about agricultural and economic espionage, escape attempts, the relationship of the German civilian population towards POWs, anti-German propaganda in the foreign press during World War I, excerpts from French World War I POW manuals, etc.
Photos in this book show items used by POWs during escape attempts and sabotage missions such as ammunition hidden in fruit and cigarette cases, illegal film and maps, illegal messages hidden in medicine, hand-made weapons, etc.

Complete and in good used condition, no offensive odor.
Kriegsgefangene (Prisoner of War) is an unusual book published by the Oberkommando der Wehrmacht (OKW or High Command of the German Armed Forces) after war had been declared in 1939. It was Reichseigentum (State Property) and not for public consumption.
This 1939 Nazi OKW book on POWs is offered for sale
for $45.00 delivered by Media Mail in the continental USA.


USM book # 911
• IF you prefer faster and safer Priority Mail shipping with USPS Tracking add $6.75.
• IF you wish to purchase highly recommended, but optional insurance, add $3.35.
• We will be happy to ship abroad at additional cost. Please inquire.
WELL-ILLUSTRATED 1939 NAZI OKW BOOK ABOUT PRISONERS OF WAR
KRIEGSGEFANGENE
A HEAVILY ILLUSTRATED NAZI BOOK, A REFRESHER COURSE FOR MILITARY PERSONNEL ABOUT POWs