Each year from 1927 onward the Central Publishing House of the Nazi Party, Franz Eher Nachfolger of München (Munich), Germany published a Nationalsozialistisches Jahrbuch (National Socialist Yearbook). The almanac type yearbooks provided members of the NSDAP. with all sorts on information from Martyrs of the Movement to detailed data about Gaue of the country of Germany, to names, addresses and phone numbers of the leaders of various governmental and paramilitary sections of the government and Party all over Großdeutschland.
This rare 1942 Nazi Party Year Book is offered for sale for $345.00
delivered by Media Mail in the continental USA.


USM book # 613
•IF you prefer faster and safer Priority Mail shipping with USPS Tracking add $6.75.
• IF you wish to purchase optional insurance, add $5.95.
• We will be happy to ship abroad at additional cost. Please inquire.
1942 NATIONALSOZIALISTISCHES JAHRBUCH
(NATIONAL SOCIALIST YEARBOOK)
PUBLISHED ANNUALLY BY THE N.S.D.A.P. FOR ITS MEMBERS - A RARE,
WELL-ILLUSTRATED
FIRST EDITION EXAMPLE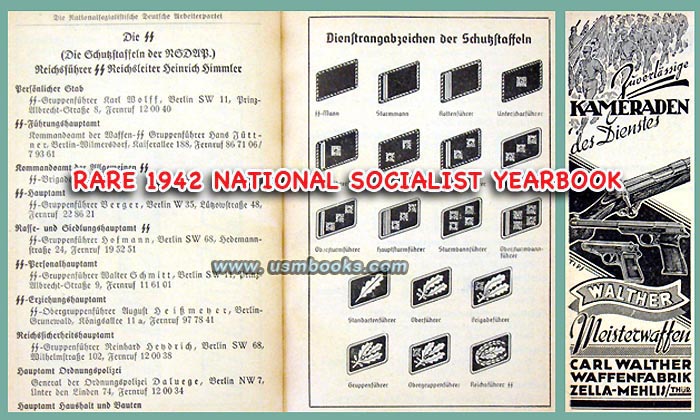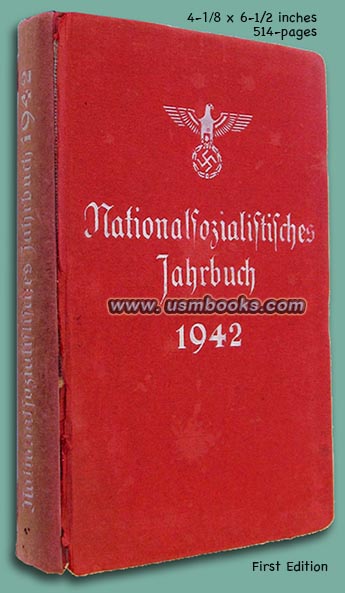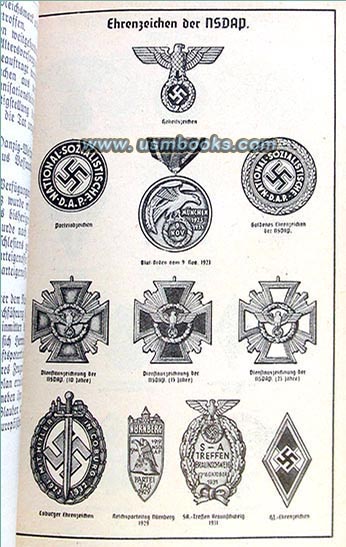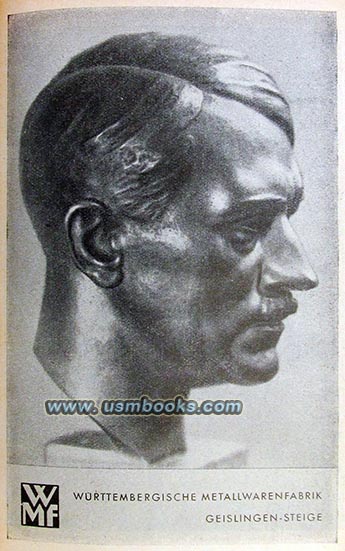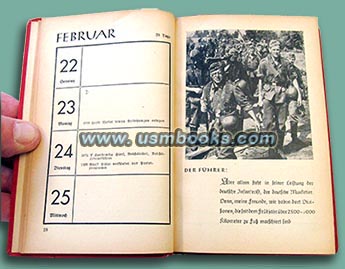 This is a very rare 4-1/8 x 6-1/2 inch, 514-page Nationalsozialistisches Jahrbuch for the year 1942, updated to include the latest Nazi martyrs, Nazi pins and badges, extracts from the Organisationsbuch der NSDAP, insignia of rank for the political leaders, the SS, Hitler Youth, DAF statistics, Soviet population, geographical and industrial statistics, and much more.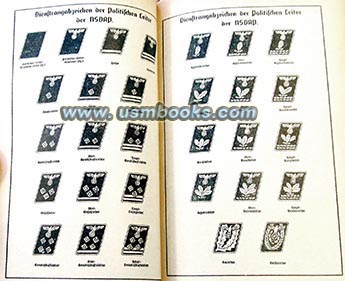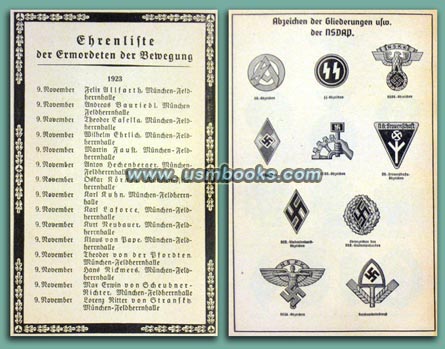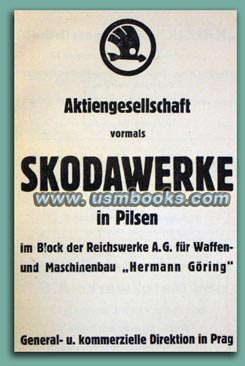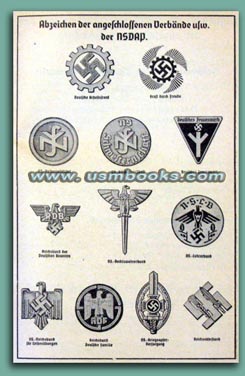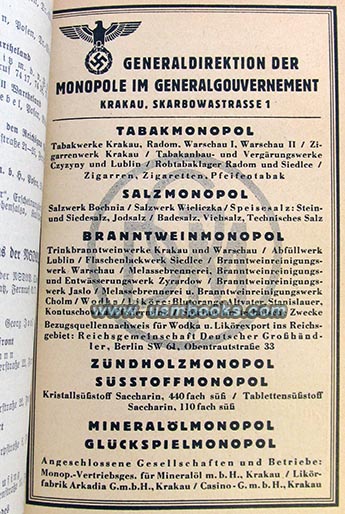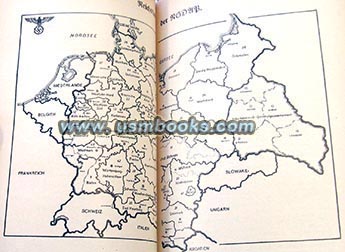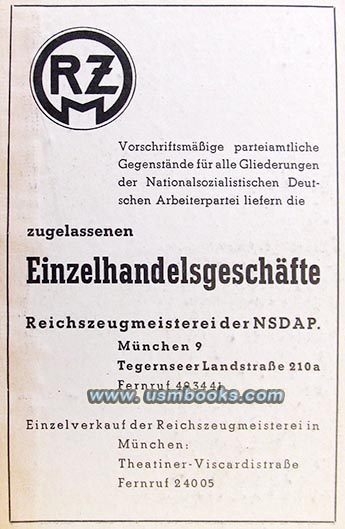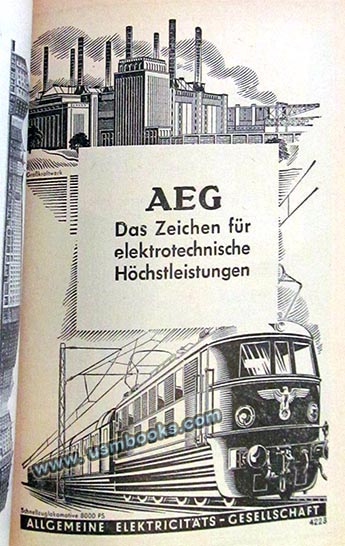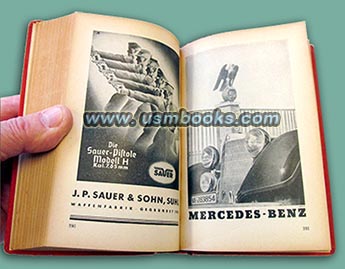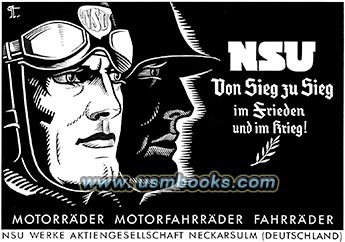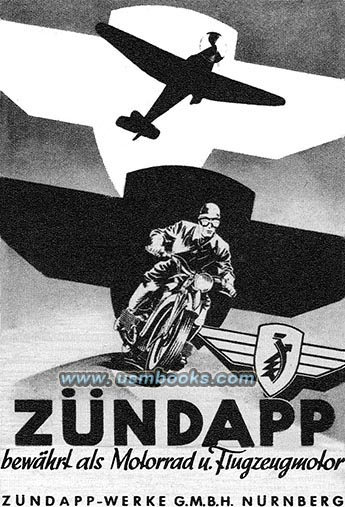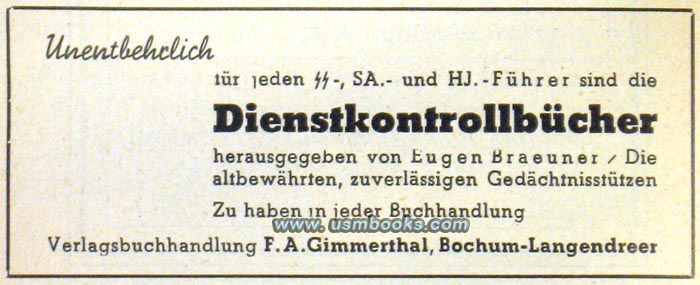 This mid-war edition also includes a photos of Adolf Hitler greeting wounded members of the Wehrmacht, the Wehrmacht in action at the front, a Wehrmacht motorcycle in front of burning buildings, DRK nurses at work, OT men repairing a bridge, women at work in factories, and others.
There are superb full-page ads from Gustloff-Werke, Siemens, famous German tableware manufacturer WMF (featuring a Hitler bust), RZM, AEG, RWS ammunition, German auto maker Mercedes-Benz (featuring the eagles on the gate of Hermann Goering's Air Ministry in Berlin) , Sauer & Son, Mauser and Walther guns, Wanderer-Werke typewriters, Sunlight (Sunlicht) soap, Agfa, Bombe bullets, Steyr, Zündapp, Hohner, Skoda, Bata, NSU motorcycles, Deutsche Reichspost, musical instrument makers, Nazi badge makers, Wehrmacht canteen and mess kit manufacturers, banks, and many hotels and guest houses all over Greater Germany, even the Sterneckerbrau in Munich mentioning the NSDAP Museum! Fully indexed.
In short, these annually updated books were more than any other, the source of basic NSDAP information for Nazi Party members. Today they are exceedingly rare but basic history!
Like all yearbooks, these went out-of-date and most were discarded when no longer current. Very few of the later ones survived. All volumes measure about 4-1/8 x 6-1/2 inches and are in a hard cover format and have a white Nazi eagle and swastika on the front red cover.

This example is complete and nice original used condition with wear to the red cover - see photo at the top of this USMBOOKS web page. The calendar and 'Notes' pages have no writing on them but the name of the original owner, a lady, is written inside the front cover with the date February 1942.
NATIONAL SOCIALIST YEARBOOK 1942 - WELL ILLUSTRATED


The images and the entire text used on this and all other USMBOOKS web pages are the copyrighted property of USM Inc. Those images and the text may be used by others ONLY AFTER completion of a formal international licensing agreement and payment of a licensing fee! It is therefore, illegal for anyone to take any of the material found on USMBOOKS.com and use it for their own purposes without our written permission, irrespective of any excuse they may feel they have for doing so.