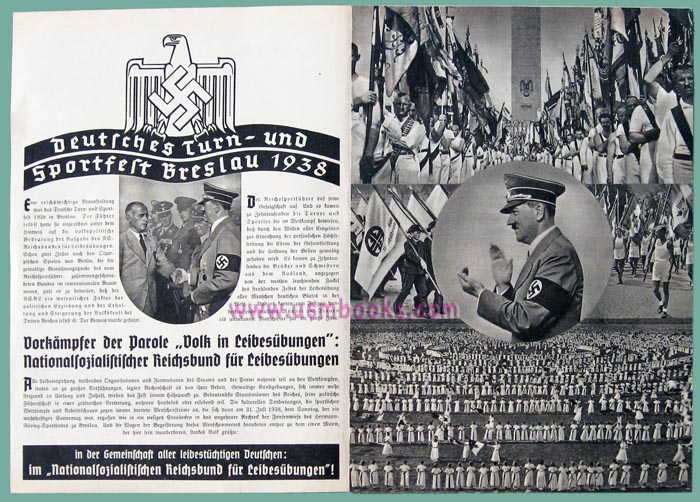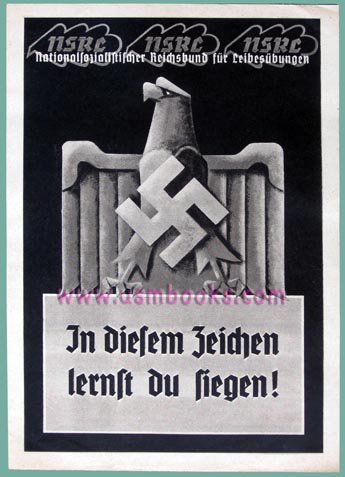 The rare promotional publication offered for sale on this USMBOOKS.com web page was printed by the Nationalsozialistische Reichsbund für Leibesübungen or NSRL (known as Deutscher Reichsbund für Leibesübungen or DRL before 1938). The NSRL was the governing body for sports during the Third Reich of Adolf Hitler, and when this brochure was printed the leader of the NSRL was Hans von Tschammer und Osten.

The bold proclamation under the striking Nazi eagle and swastika on the cover of this 8-page photo brochure (shown left) says that "this [NSRL] emblem teaches you victory!"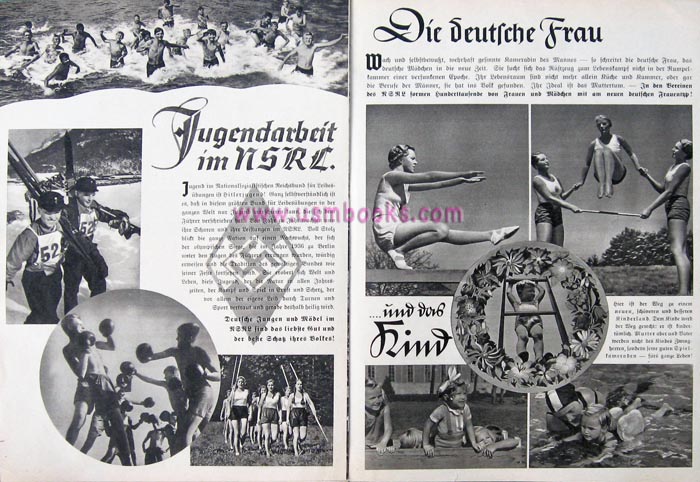 This NSRL promotional booklet has separate sections with information for men, women and children as well as Hitler Youth. All sections show healthy Aryan Germans of all ages, exercising in winter and summer.
The back cover starts with the headline What does the NSRL have to offer? and explains the organization and its goal: the Creation of the new German Human that the Führer describes as a Human with a Radiant Spirit in a Splendid Body!
This 8-1/4 x 11-3/4 inch NSRL promotional publication was designed by the Presse- und Propaganda-Abteilung der NSDAP in Berlin. Nazi propaganda like this was discarded 99% of the time at the end of the Third Reich. This very rare example survived and is in good used condition.
Inside the brochure are many photographs taken during the Deutsches Turn- und Sportfest Breslau 1938 (1938 German Gymnastic and Athletic Festival Breslau, since 1945 Wroclaw, Poland) that took place from 24 - 31 July 1938 in the Hermann Göring Sports Field and its vicinity in the city along the river Oder. It was a sensational Olympic Games type event with the finest gymnasts and athletes from all of Germany (and German athletes from abroad), never to be held again because of the threat of war in the later summer of 1939. Everybody that could be there was there, including the 23rd Chancellor of Germany and Nazi Party Führer, Adolf Hitler, Reichsführer-SS Heinrich Himmler, Dr. Joseph Goebbels, Gauleiter Wagner, Konrad Henlein, Reichssportführer Hans von Tschammer und Osten and many other high-ranking Nazi dignitaries.
This rare Nazi propaganda publication of the NSRL is **SOLD**.

• IF you prefer Priority Mail shipping with USPS Tracking add $5.75.
• IF you wish to purchase highly recommended, but optional insurance, add $2.95.
• We will be happy to ship abroad at additional cost. Please inquire.
THIRD REICH NSRL PROMOTIONAL BROCHURE
RARE NAZI PROPAGANDA FROM THE NSRL OR NATIONALSOZIALISTISCHE REICHSBUND FÜR LEIBESÜBUNGEN


The images and the entire text used on this and all other USMBOOKS web pages are the copyrighted property of USM Inc. Those images and the text may be used by others ONLY AFTER completion of a formal international licensing agreement and payment of a licensing fee! It is therefore, illegal for anyone to take any of the material found on USMBOOKS.com and use it for their own purposes without our written permission, irrespective of any excuse they may feel they have for doing so.