"Dates and History of the Nazi Party" is **SOLD**.


USM book # 382
•IF you prefer faster and safer Priority Mail shipping with USPS Tracking add $6.75.
• IF you wish to purchase optional insurance, add $2.95.
• We will be happy to ship abroad at additional cost. Please inquire.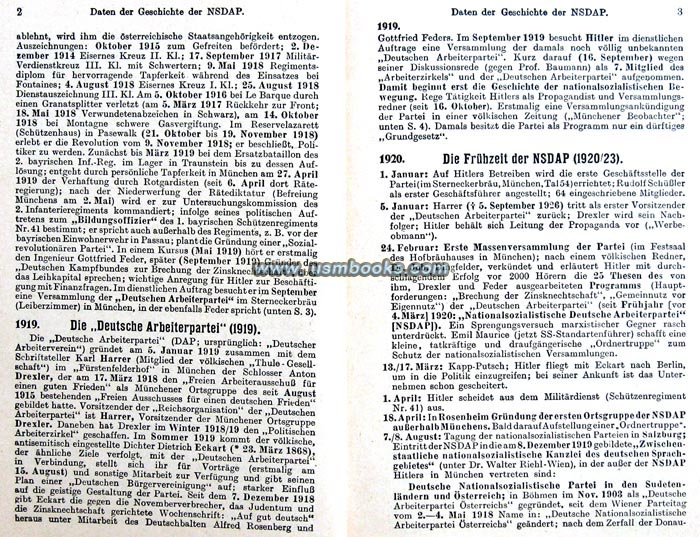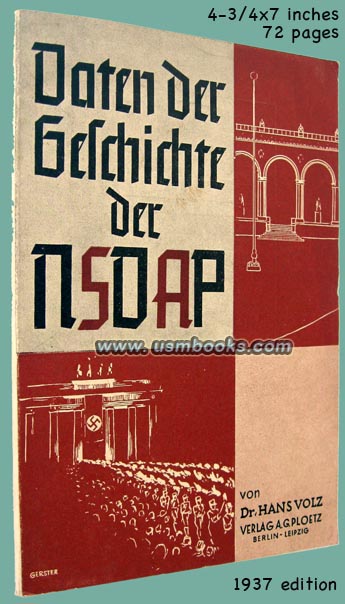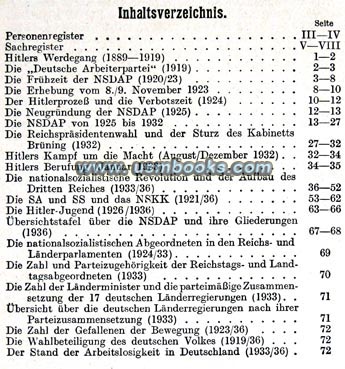 Daten und Geschichte der NSDAP (Dates and History of the Nazi Party) is a 4-3/4 x 7 inch, 72 page soft cover book by SA-Sturmführer Dr. Hans Volz as published by A.G. Ploetz Verlag of Berlin and Leipzig. The cover shows the Feldherrnhalle in Munich and Brandenburg Gate in Berlin, decorated with a huge Nazi banner and with Nazi troops marching through it.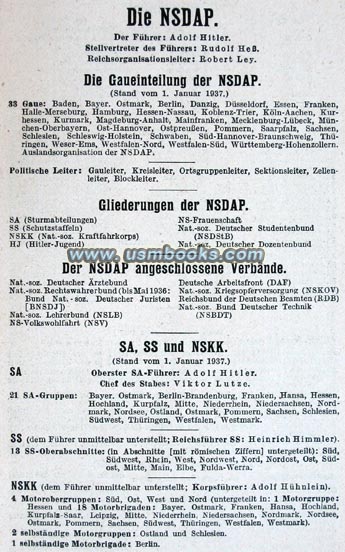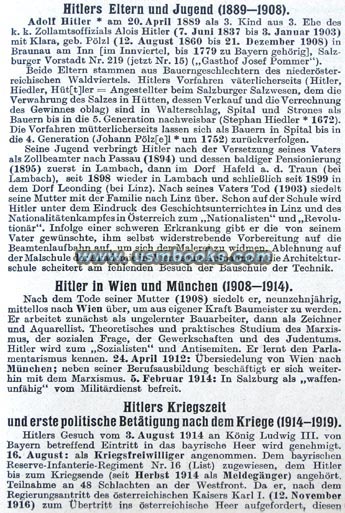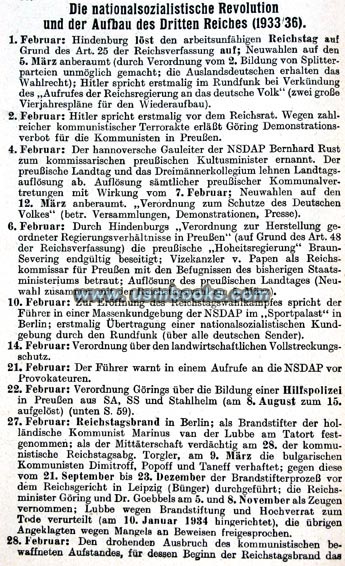 Daten and Geschichte der NSDAP starts out with the story of Adolf Hitler's youth, his parents Alois and Klara, his early years in Vienna and Munich and his service in the army during World War I. This is followed with chapters on Hitler's start in politics, the Deutsche Arbeiterpartei in 1919, the Nationalsozialistische Deutsche Arbeiterpartei from 1923 until the failed Putsch in November 1923, Hitler's subsequent trial and time in Landsberg prison. This is followed by the renewal of the NSDAP in 1925, the rise of the Party in local and national elections (Nazi Revolution) all the way through Hitler becoming Reichschancellor in January 1933, and the start of Greater Germany.

There are also sections on the history of the SA, SS and NSKK from 1921 onward as well as the history and important dates of the Hitlerjugend (HJ or Hitler Youth) from 1926 onward. There are charts of Nazi paramilitary organizations and their ranks, as well as political groups with their leaders.

This 1937 Nazi book contains very important and historic information, and is complete and in very good condition.
1937 NAZI BOOK HITLER & NSDAP HISTORY
1937 THIRD REICH BOOK ON IMPORTANT DATES AND HISTORY OF THE NAZI PARTY AND HITLER


The images and the entire text used on this and all other USMBOOKS web pages are the copyrighted property of USM Inc. Those images and the text may be used by others ONLY AFTER completion of a formal international licensing agreement and payment of a licensing fee! It is therefore, illegal for anyone to take any of the material found on USMBOOKS.com and use it for their own purposes without our written permission, irrespective of any excuse they may feel they have for doing so.