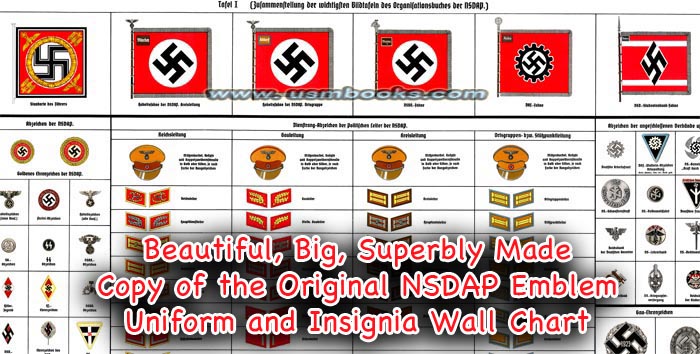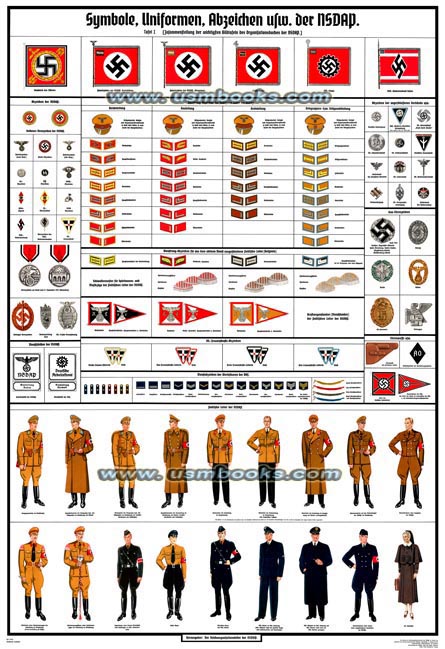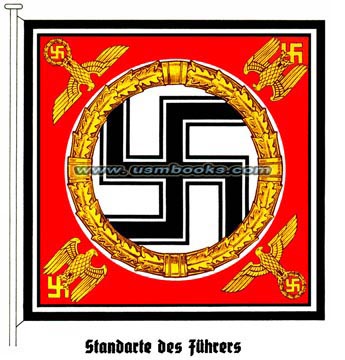 Originals of this huge 36 inch long full-color wall chart called Symbole, Uniformen, Abzeichen usw. der NSDAP (Symbols, Uniforms, Insignia, etc. of the NSDAP) are exceedingly rare and are almost never found either complete or in usable condition. We saw one on the internet offered for $1000.00 which had one of the upper corners completely torn off.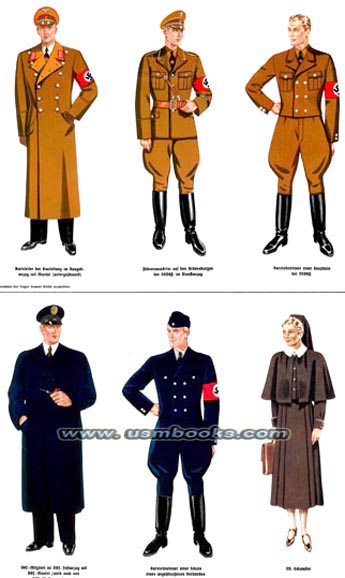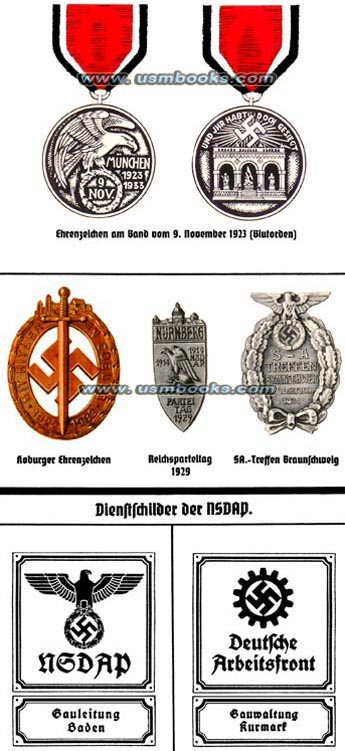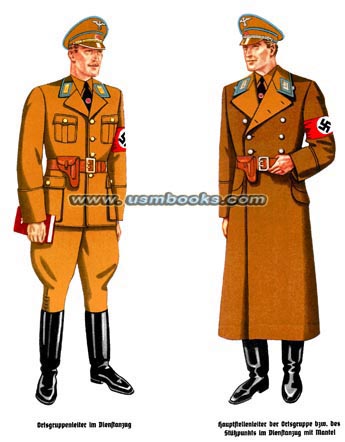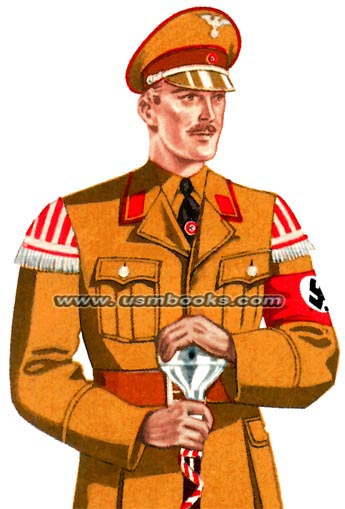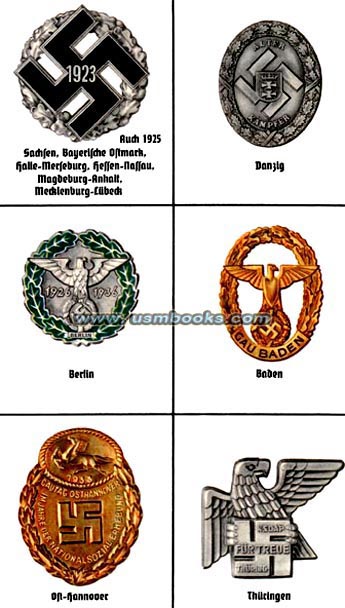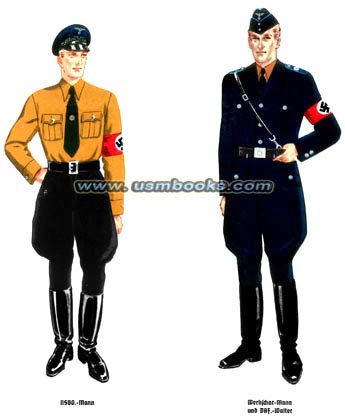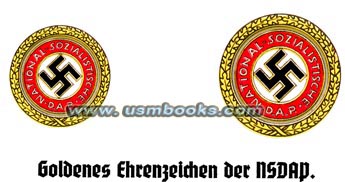 Our chart was produced by a qualified technician using the best electronic equipment available to remaster an extremely valuable original. It is so well-done that small nuances in the shading of the uniforms are actually superior to the same images on the original NSDAP Bildtafel or chart. It is one of the most colorful and decorative wall charts originally produced in Germany during the Third Reich of Adolf Hitler. It was the handiwork of the same genius who created the Organisationsbuch der NSDAP (Nazi Party Organization Book) and much of the organization of the Nazi Party itself - Dr. Robert Ley.
Across the top are six fringed Nazi flags. There are followed down the left side by Golden Party Badges, eagles and swastikas, emblems of the Hitler Youth, SS, NSKK, etc. Those are followed by the Blood Order medal, Honor and Reichs Party Day badges and service shields of the Nazi Party. In the center are visor caps and collar tabs followed by fender pennants, shoulder boards, lanyards, etc. Along the right hand side are more emblems of Nazi paramilitary organizations, important historical Nazi badges, holster, etc. At the bottom of the chart are two rows containing 18 figures in Nazi uniforms. They include uniforms for musicians, Werkscharr men, DAF members, Nazi sisters or nurses, Führeranwärter of the Ordensburgen, Amtsleiter, Stellenleiter, Hauptstellenleiter, etc. The uniforms are complete in the smallest details and are beautifully completed in full-color.


The images and the entire text used on this and all other USMBOOKS web pages are the copyrighted property of USM Inc. Those images and the text may be used by others ONLY AFTER completion of a formal international licensing agreement and payment of a licensing fee! It is therefore, illegal for anyone to take any of the material found on USMBOOKS.com and use it for their own purposes without our written permission, irrespective of any excuse they may feel they have for doing so.
We make this poster available on special order only, in one size only.
The size is approximately 24 x 36 inches in a nice grade of sturdy art
paper at a cost of $49.95 + postage (see below).

• Add $10.00 for Priority Mail with USPS Tracking in the continental USA.
• The poster may be upgraded by having it laminated at the time it is made
for an additional charge of $20.00.
• Because each poster is hand-made by a trained technician, please allow 2 weeks for shipment.
• We will be happy to ship abroad at the additional cost of $21.95.
WALL CHART OF NAZI UNIFORMS, SYMBOLS, FLAGS AND INSIGNIA
OF THE NSDAP
A SUPERB REPRODUCTION
OF AN ORIGINAL
FULL-COLOR
36 INCH NSDAP WALL CHART
SHOWING
BADGES AND INSIGNIA, FLAGS, VISOR CAPS, UNIFORMS
AND SIGNS OF
THE NAZI PARTY