The images and text used on this and all other USM web pages are the copyrighted property
of USM Inc. Those images and the text may be used by others ONLY AFTER completion
of a formal international licensing agreement and payment of a licensing fee!
This great 1939 Nazi photo book on Munich is **SOLD**.


USM book #238
• IF you prefer Priority Mail shipping with USPS Tracking add $5.95.
• IF you wish to purchase highly recommended, but optional insurance, add $3.35.
• We will be happy to ship abroad at additional cost. Please inquire.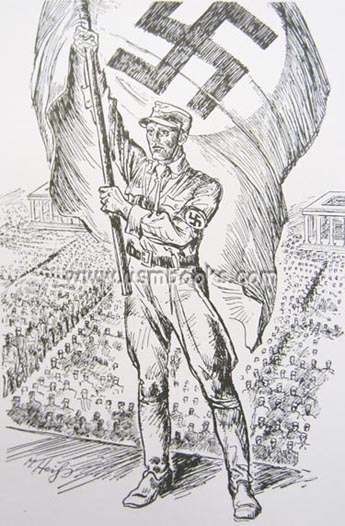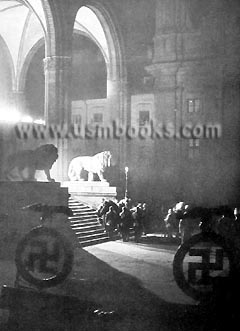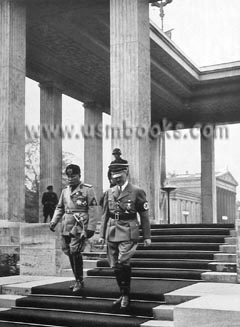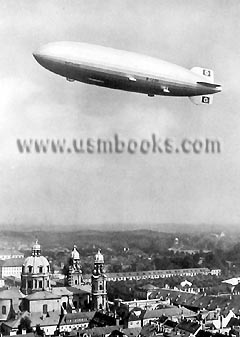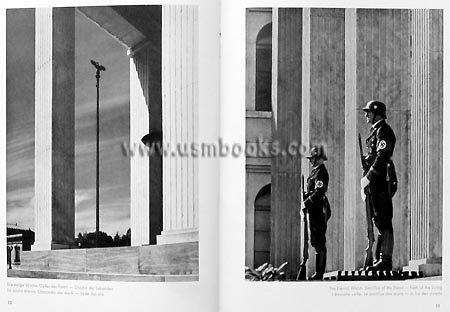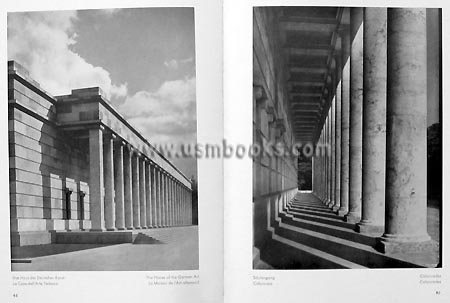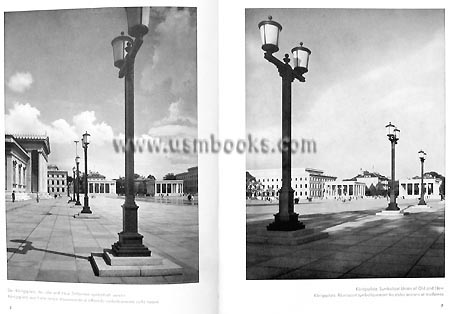 This is an excellent example of the rare 8-1/4 x 11-1/2 inch, 134 page, very heavily illustrated hardcover book München Vom Wesen einer deutschen Stadt (Munich - Soul of a German City), the brainchild of Munich Mayor and Reichsleiter Karl Fiehler as published by Verlags und Vertriebs GmbH in München, Germany in 1939.
Written and illustrated by a hand-picked group of eleven Nazis, this book begins with a full-page tipped-in art print of the Professor Richard Klein bust of German Führer, Adolf Hitler. It recaps the history of the city and its importance to the NSDAP and the Third Reich. Excellent full-page photos provide a virtual tour not only of the major National Socialist sites like the House of German Art, Feldherrnhalle and Führerbau in München, but also of other general and architectural sites in and around Munich as well.
Very well done pen & ink illustrations compliment the big photographs (photo captions are in German, English, French and Italian) and a very well-written German text. A must for serious students of Hitler and the Nazis or those interested in the history of Bavaria and München, die Hauptstadt der Bewegung.

This fine example of the 1939 Nazi photo book München Vom Wesen einer deutschen Stadt is complete and in very good condition.
NAZI PHOTO BOOK OF MUNICH 1939
THE BEST NAZI PHOTO
BOOK ABOUT MUNICH,
THE CAPITAL OF THE
NAZI MOVEMENT
WITH CAPTIONS IN
FOUR LANGUAGES
This USMBOOKS web page is Copyright © 2014 by USM, Inc., and the text and images on it are fully protected by international copyright law. It is therefore, illegal for anyone to take any of the material found here and use it for their own purposes without our written permission, irrespective of any excuse they may feel they have for doing so.