The images and the entire text used on this and all other USMBOOKS web pages are the copyrighted property of USM Inc. Those images and the text may be used by others ONLY AFTER completion of a formal international licensing agreement and payment of a licensing fee! It is therefore, illegal for anyone to take any of the material found on USMBOOKS.com and use it for their own purposes without our written permission, irrespective of any excuse they may feel they have for doing so.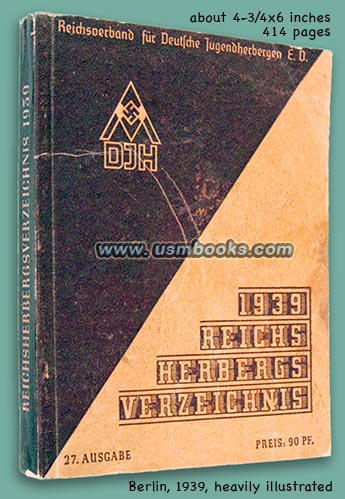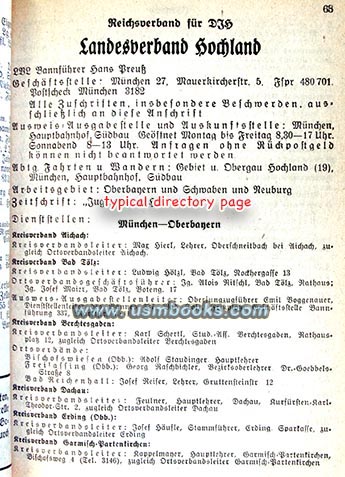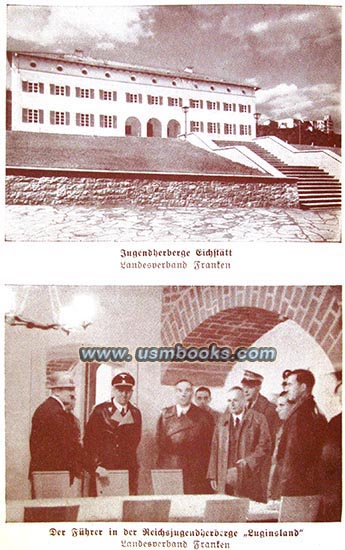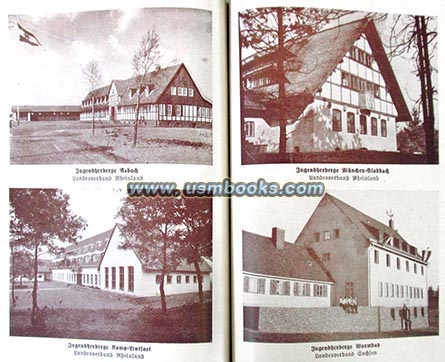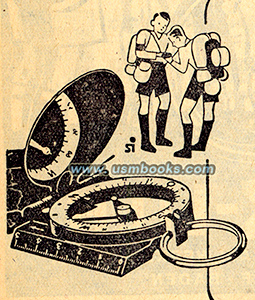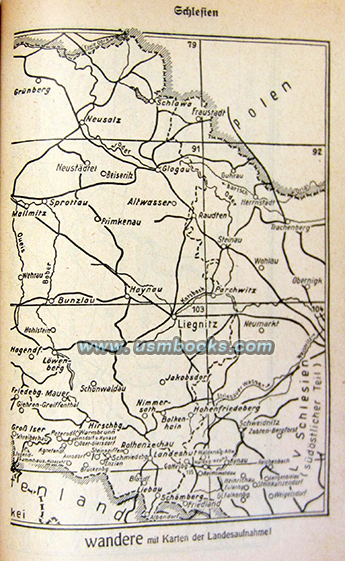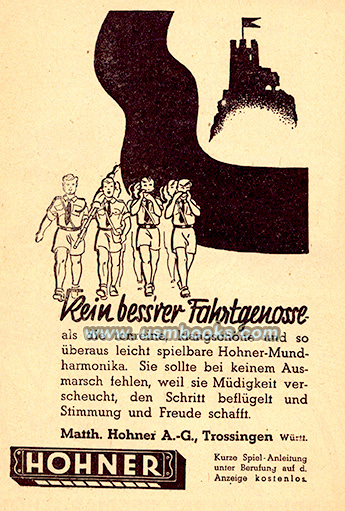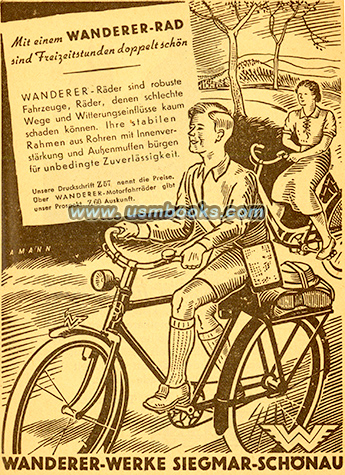 The foreword mentions that during the year 1938 Germany became Greater Germany and that "Adolf Hitler's historic deeds" had an effect on the network of Deutsche Jugendherbergen (DJH) or German Youth Hostels as well. Additional German Gaue resulted in more travel destinations in the German Reich and additions to the number of German Youth Hostels. This edition of the Reichs-Herbergsverzeichnis also contains a preface by Hitler Youth Leader Baldur von Schirach.

The book contains a very detailed list of DJH facilities all over Adolf Hitler's Grossdeutschland and elsewhere. The listings (the one for Quedlinsburg is shown below) mention the number of rooms, bathrooms, if the accommodations are for both young men and girls, if there is food service, prices, etc.
There are maps and photos of existing youth hostels and architectural models of future facilities. The organization, use, rules of DJH are explained, tips for train travel, how to treat sore feet after hiking, and there is even a list of words in three languages (German, English, French) that are practical to know for visitors to youth hostels in the German Reich.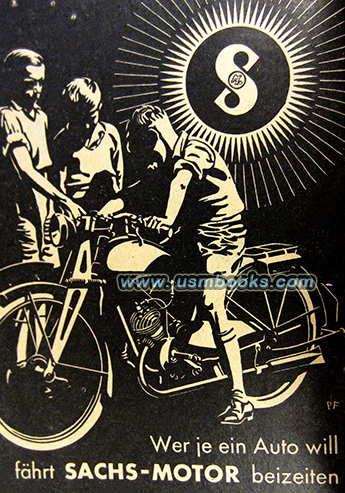 This is the official Third Reich directory of youth hostels in Nazi Germany for the year 1939. The 1939 Reichs-Herbergsverzeichnis was published by the Reichsverband für deutsche Jugendherbergen e.V., measures 4-¾ x 6 inches and has 414 illustrated pages.
Throughout this 1939 directory of youth hostels in Nazi Germany is wonderful illustrated advertising for NSU and Wanderer bicycles, Rodenstock and Busch compasses, Hohner harmonicas, Junghans watches, Zeiss Ikon cameras, Petrix bicycle lights and dynamos, Klepper-Werke rubber boats, maps, tents, hiking shoes, etc.
There is also a section of 20 pages about youth hostels in other countries from Belgium to the Vereinigte Staaten or United States!

The 1939 Reichs-Herbergsverzeichnis is fully indexed by region. There are pages for notes and tables to mark personal hiking gear.
Very good used condition, complete with the original tear-out 76 year old DJH accommodation reservation card inside the back cover!
This extensive 1939 Nazi Youth Hostel Directory is offered for
sale for $95.00 delivered by Media Mail in the continental USA.


USM book #741
• IF you prefer faster and safer Priority Mail shipping with USPS Tracking add $6.50.
• IF you wish to purchase highly recommended, but optional insurance, add $3.45.
• We will be happy to ship abroad at additional cost. Please inquire.
OFFICIAL DJH 1939 YOUTH HOSTEL DIRECTORY FOR NAZI GERMANY
ORIGINAL NAZI DJH
REICHS-HERBERGS VERZEICHNIS,
ILLUSTRATED + VERY DETAILED 1939 EDITION