The images and the entire text used on this and all other USMBOOKS web pages are the copyrighted property of USM Inc. Those images and the text may be used by others ONLY AFTER completion of a formal international licensing agreement and payment of a licensing fee! It is therefore, illegal for anyone to take any of the material found on USMBOOKS.com and use it for their own purposes without our written permission, irrespective of any excuse they may feel they have for doing so.
Motorwelt, the official illustrated magazine of Der deutsche Automobil-Club (DDAC of The German Automobile Club) published an extensive article about the first national meeting of the DDAC, held in the city of Freiburg in May 1937 (1. DDAC Reichstreffen). Local Nazi Ortsgruppen followed suit and organized rallies and meetings on a smaller scale.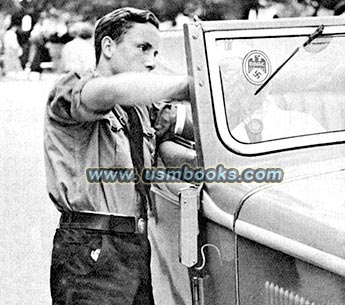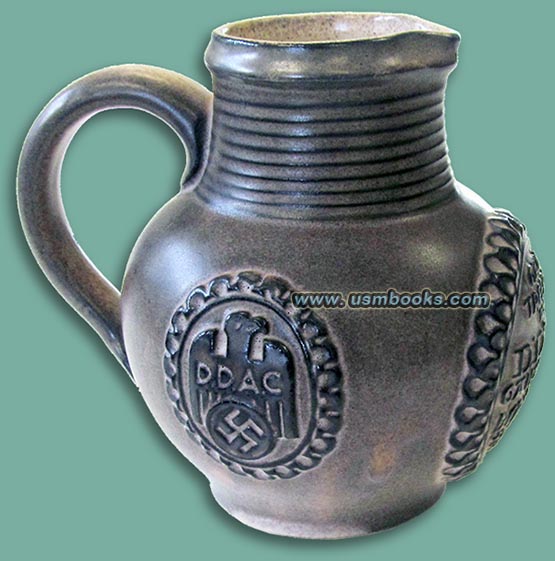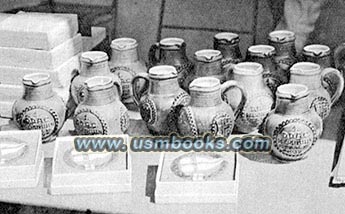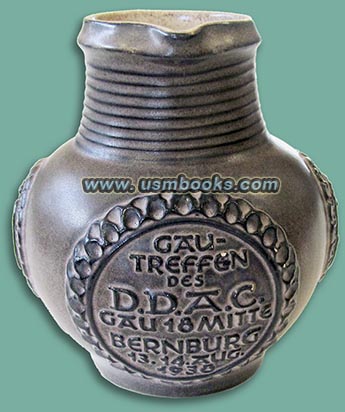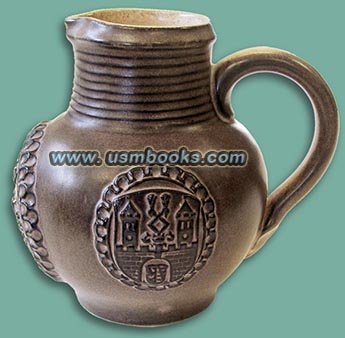 The original stoneware Weinkrug or wine pitcher we offer on this USMBOOKS web page was awarded to a participant in a DDAC car or motorcycle race or rally on 13 and 14 August 1938 sponsored by NSDAP Gau 18 Mitte at Bernburg. Bernburg is a small town about 30 miles south of Magdeburg on the Saale River in Saxony. During the Third Reich it was the home base of several Infantry Regiments and replacement and Luftwaffe units. Nearby was the Junkers Ju88 factory. Between 1940 and 1943, the regional psychiatric facility at Bernburg was used for the National Socialist euthanasia program (NS-Tötungsanstalt Bernburg).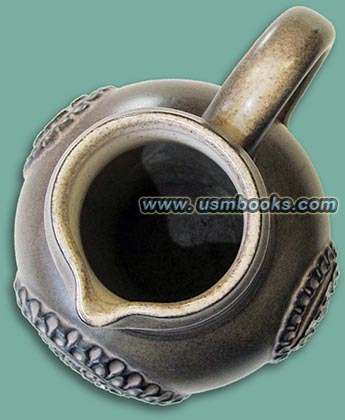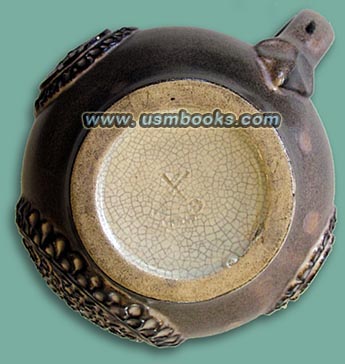 The beautifully crafted brown stoneware wine pitcher is about 5 inches tall. One side has the 2-inch tall DDAC logo with eagle and swastika, the other side the coat of arms of Bernburg featuring its renaissance castle. The DDAC rally information is on the side below the spout. On the bottom, under the glaze, is the crossed sword logo of the maker.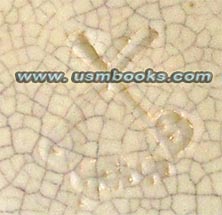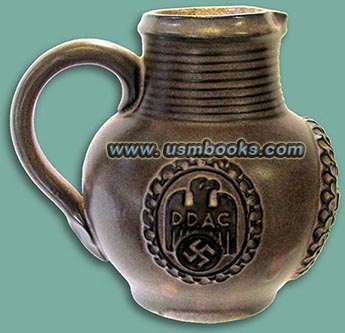 This 79 year old DDAC souvenir is in wonderful condition - no cracks, no crazing on the inside or outside.
Condition EXACTLY as shown with a tiny spot on the brown glazing missing from the E in the word GAUTREFFEN and the C in D.D.A.C.
This superb original 1938 DDAC Gautreffen Bernburg wine pitcher
is **SOLD**

• Add $12.60 for Priority Mail shipping with USPS Tracking
OR
$9.95 for Standard Post.
• IF you wish to purchase highly recommended, but optional insurance, add $4.75.
• For shipments outside the USA, add $26.95 for 1st Class Air Mail.
SUPERB ORIGINAL DDAC WEINKRUG OR PITCHER 1938 BERNBURG RALLY
DDAC GAU 18 MITTE BERNBURG STONEWARE WINE PITCHER WITH THE NAZI DDAC EAGLE & SWASTIKA LOGO