The images and the entire text used on this and all other USMBOOKS web pages are the copyrighted property of USM Inc. Those images and the text may be used by others ONLY AFTER completion of a formal international licensing agreement and payment of a licensing fee! It is therefore, illegal for anyone to take any of the material found on USMBOOKS.com and use it for their own purposes without our written permission, irrespective of any excuse they may feel they have for doing so.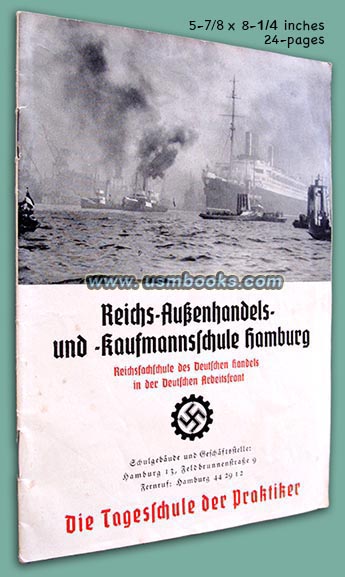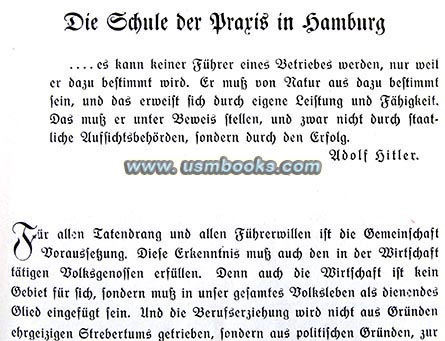 According to the introduction, the vocational school type program offered by the DAF would provide the foundation for a successful career in trade in Nazi Germany and abroad. Following an apropos quote from Adolf Hitler, the booklet explains that discipline and energy would be required of the students, and while the cost of the classes might seem high, the results would pay off. In the past many business leaders helped students with their tuition as they were aware the school would turn out graduates that were qualified salesmen and leaders.
This original 5-7/8 x 8-1/4 inch, 24-page Third Reich publication explains the classes of a national program designed by the Deutsche Arbeitsfront (DAF or German Labor Front) to provide practical education for future businessmen specializing in foreign trade and marketing (import - export) in Hamburg. The educational program was under the auspices of the DAF and the Gauleiter of Hamburg, Reichsstatthalter Karl Kaufmann.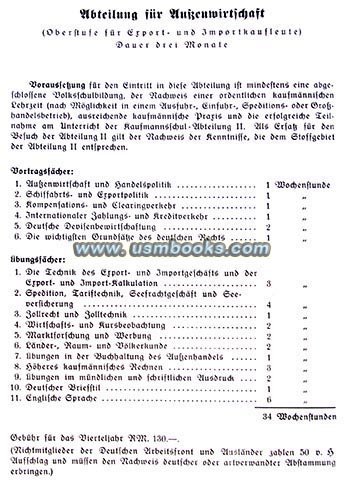 The school used the many large businesses in Hamburg as examples for study and on-the-job training. The huge international harbor of Hamburg (population 1.7 million in 1939!) was the best example, and many of the teachers once worked in these large Hamburg businesses and were using actual experience for the classes.

Three-month courses offered were trade, transportation and insurance, bookkeeping, foundation of German law, typing, shorthand, public speaking, German tax rules, banking, planning & budgeting, English and Spanish (writing and speaking).

The last four pages contain details regarding the school building, school hours, traveling to and housing in Hamburg, evening school and graduation.

This rare DAF educational publication still has its original perforated sign-up form in the back! The form has standard questions about age, previous schooling, previous work experience but also about membership in the NSDAP, Nazi paramilitary organizations, Army, etc.

Undated, rare and in very nice condition. Where would you find another one?
This Nazi DAF technical school booklet with sign-up form is for sale
for $45.00 delivered by Media Mail in the continental USA.


USM book #830
• IF you prefer faster and safer Priority Mail shipping with USPS Tracking add $6.50.
• IF you wish to purchase highly recommended, but optional insurance, add $3.50.
• We will be happy to ship abroad at additional cost. Please inquire.
ORIGINAL NAZI DAF INTERNATIONAL TRADE
TECHNICAL COLLEGE BOOKLET - HAMBURG
A THIRD REICH INFORMATIONAL BOOKLET FOR THE HAMBURG INTERNATIONAL TRADE SCHOOL OF THE
DEUTSCHE ARBEITSFRONT
- WITH ORIGINAL PERFORATED
SIGN-UP FORM