The images and the entire text used on this and all other USMBOOKS web pages are the copyrighted property of USM Inc. Those images and the text may be used by others ONLY AFTER completion of a formal international licensing agreement and payment of a licensing fee! It is therefore, illegal for anyone to take any of the material found on USMBOOKS.com and use it for their own purposes without our written permission, irrespective of any excuse they may feel they have for doing so.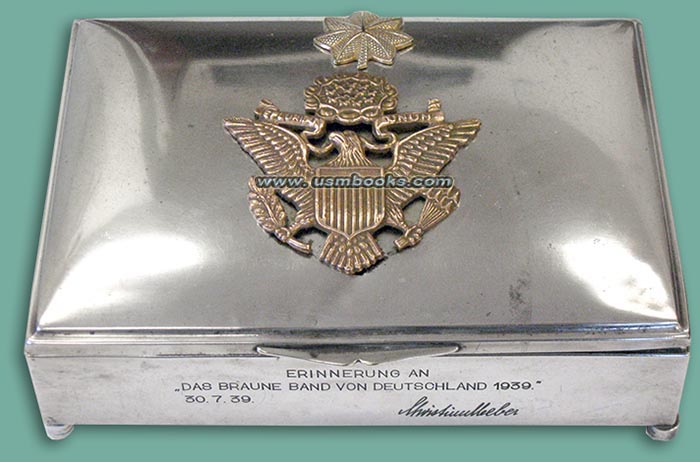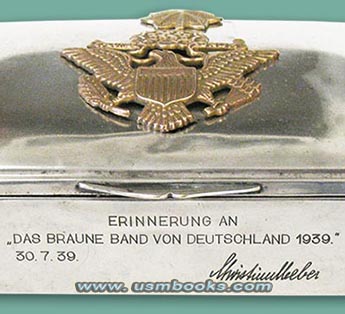 This is the real thing, a genuine silver metal Nazi desk cigarette or cigar box bearing the engraved inscription Erinnerung an "Das Braune Band von Deutschland 1939." 30.7.39 followed by an engraved facsimile signature of Christian Weber, the SS-General who oversaw the Brown Ribbon horse racing facilities and events in Munich, the Capital of the Nazi Movement. Weber was one of only five early Nazis that Hitler allowed to call him Du, the very familiar version of the much more common and far more formal Sie for "you" that most Germans prefer.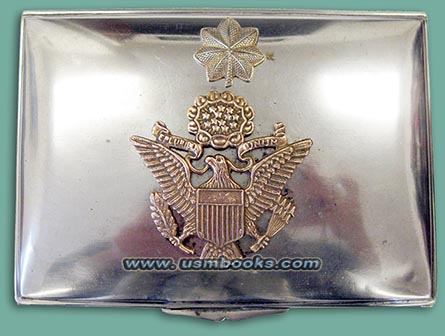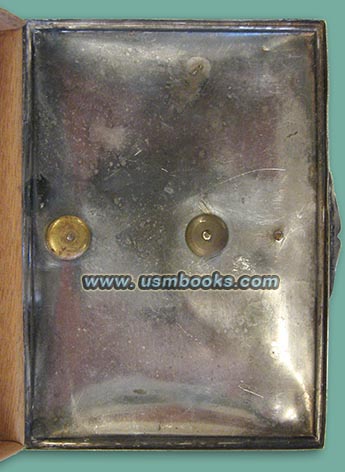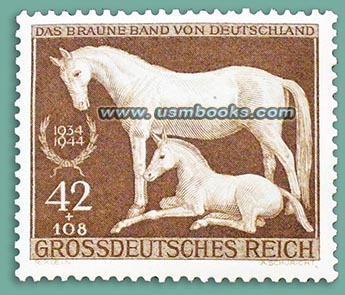 The metal foot of the box on the front left corner is missing and replaced with a foot made of other material. The rest of the box is complete. We think the box has been made more historically interesting by the fact of its capture and alteration by an American Officer, since the message on the front and the construction of the box have not been altered.
Many Third Reich collectors are familiar with the Braune Band postage stamps designed by Professor Richard Klein in 1936, but few have seen a rare Braune Band souvenir cigarette case such as the one we offer for sale on this USMBOOKS web page.
This mahogany lined, silver metal (not the metal "silver") Third Reich box was captured as a souvenir by an American Officer in Europe at the end of World War II and he had it modified by attaching an American eagle and a Major's insignia to the lid. Fortunately, the front of the box bearing the Brown Ribbon information and the facsimile of Weber's signature, is not defaced in any way.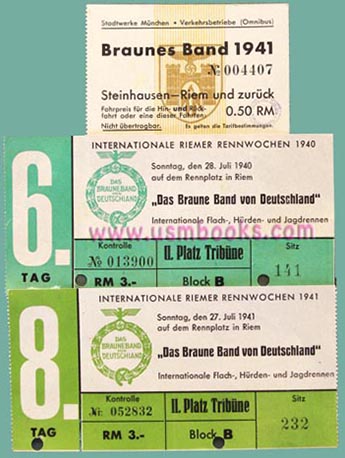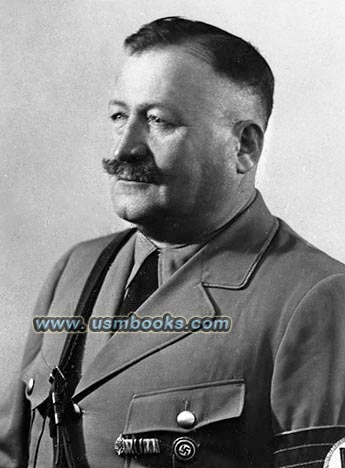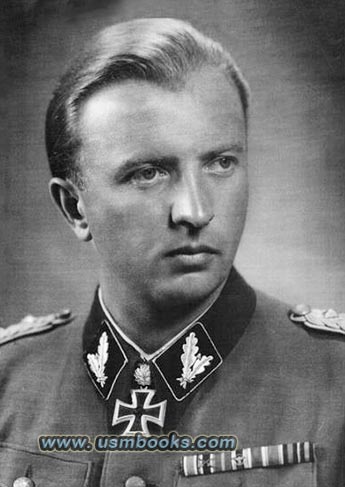 Das Braune Band von Deutschland was a famous international horse racing event that took place in July in the years 1934 - 1944 at the Galopprennbahn (horse racetrack) Riem east of Munich. From 1934 through 1936, the races consisted of 2400 meters for three year old and older horses and in 1937 jumping events were added (Braune Band des Springsports). The prize money for winners was extremely high. From 1936 onward the winner received RM 100,000, the highest prize money for equestrian events in all of Europe.
Responsible for the organization of the Nazi Brown Ribbon horse races was the Reichsorganisation "Das Braune Band von Deutschland" headed by SS-General Christian Weber, whose facsimile signature is on this rare Third Reich cigarette case. The Board of Trustees of the Reichsorganisation "Das Braune Band von Deutschland" included many high-ranking Nazis: Max Amann, Werner von Blomberg, Philipp Bouhler, Walter Buch, Otto Dietrich, Karl Fiehler, Wilhelm Ohnesorge and even Franz Xaver Schwarz.

Christian Weber was a very early Munich National Socialist and political associate of Adolf Hitler. As mentioned above, he was allowed to address Hitler with Du instead of Sie (only four others were allowed to do so: Ernst Röhm, Julius Streicher, Hermann Esser und Dietrich Eckart). Weber took part in the SA purge during the Night of the Long Knives and Hitler rewarded him for his involvement by promoting him to the rank of SS-Oberführer. In July 1936 Reichsführer-SS Heinrich Himmler promoted Weber to SS-Brigadeführer.
Christian Weber was also a close friend of accomplished rider SS General Hermann Fegelein and his father, retired Oberstleutnant Hans Fegelein, who owned an equestrian school and horse breeding facility at Munich-Riem. In 1937 Reichsführer-SS Himmler created the Haupt-Reitschule München (SS Main Riding School) at the Fegelein stud farm at Munich-Riem. SS-Brigadeführer Weber (by then also the Inspector of SS-Riding Schools) supported the school with more than 100,000 Reichsmarks annually. In July 1938 SS-Standartenführer Fegelein won the Braunes Band von Deutschland. During World War II, Hermann Fegelein saw action in the Soviet Union and on the West Front leading SS cavalry. He was awarded the Knight's Cross of the Iron Cross in March 1942 and on 3 June 1944 SS-Gruppenführer und Generalleutnant Fegelein married Eva Braun's sister Gretl, becoming the future brother-in-law of Adolf Hitler.
(tickets and stamp shown for reference only)
This unusual Third Reich Braune Band souvenir is **SOLD**.

• IF you prefer Priority Mail shipping with USPS Tracking add $5.95.
• IF you wish to purchase highly recommended, but optional insurance, add $5.45.
• We will be happy to ship abroad at additional cost. Please inquire.
MAHOGANY LINED SILVER CASE SOUVENIR OF DAS BRAUNE BAND VON DEUTSCHLAND 1939 WITH SIGNATURE OF SS GENERAL CHRISTIAN WEBER
A 4-¼ x 6 INCH SILVER CIGARETTE BOX FROM THE 1939 BROWN RIBBON OF GERMANY HORSE RACES BEARING THE SIGNATURE OF SS-GENERAL CHRISTIAN WEBER AS MODIFIED BY AN AMERICAN MAJOR WHO BROUGHT IT TO AMERICA AS A SOUVENIR