The images and text used on this and all other USM web pages are the copyrighted property
of USM Inc. Those images and the text may be used by others ONLY AFTER completion
of a formal international licensing agreement and payment of a licensing fee!
This Special Edition of BIZ published for Hitler's 50th birthday is
**SOLD**

• IF you prefer Priority Mail shipping with USPS delivery confirmation add $7.95.
• IF you wish to purchase highly recommended, but optional insurance, add $3.05.
• We will be happy to ship abroad at additional cost. Please inquire.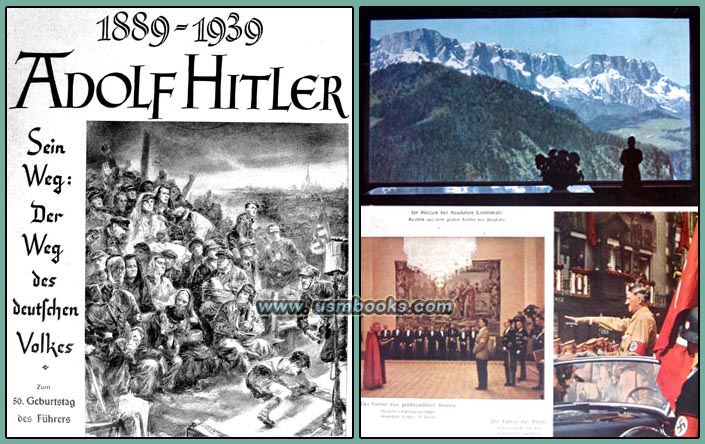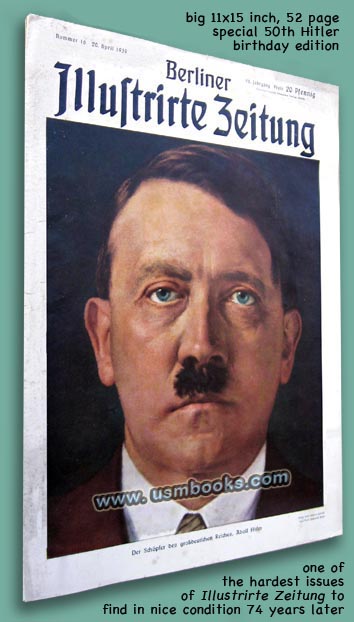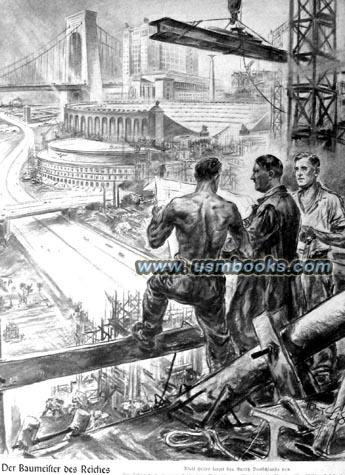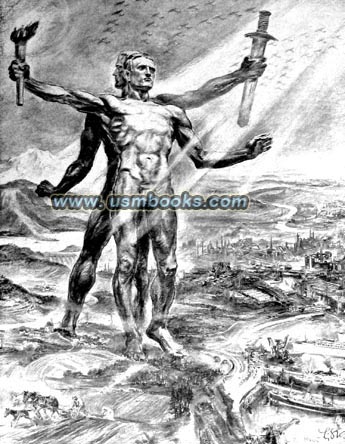 Berliner Illustrirte Zeitung was a very popular tabloid newspaper published every Thursday from 1892 to 1945. It was one of the first news publication in Germany that attracted readers with eye catching photographs and could be purchased without a subscription at newsstands, in hotels and shops.

A rare color portrait of Adolf Hitler by Professor Heinrich Knirr is the cover illustration on this special 50th birthday edition of Berliner Illustrirte Zeitung dated 20 April 1939. The very heavily illustrated 11 x 15 inch, 52 page Sonderheft or Special Edition refers to Hitler as the "Creator of the Greater German Reich" and the Baumeister des Reiches (Master Builder of the German State).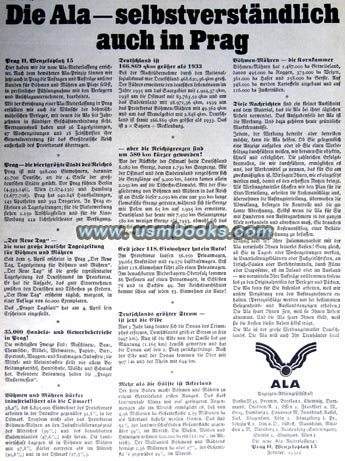 There is also an interesting ad about the expansion of the Nazi owned advertising agency ALA (Anzeigen-Aktiengesellschaft) in Bohemia and Moravia, about Albania, a Kdf Theater for factory workers, the suspicious death of King Ghazi I of Iraq, motorboats of the future and photos of Hitler, Himmler, Goering, Hess, Julius Schaub, and other Nazi Party members.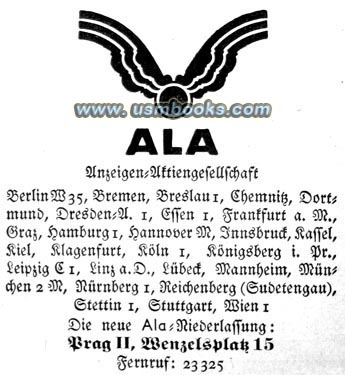 There is advertising for products like Shell Oil, AEG, Siemens, Atikah and Reemtsma cigarettes, 4711 Cologne, toothpaste, shaving cream, bras and face power for ladies, shoes, and several short stories, crossword puzzles and cartoons.

Color covers on the BIZ were very uncommon. This rare 74 year old Third Reich tabloid is complete and in very good used condition.
SPECIAL NAZI BERLIN PHOTO MAGAZINE - HITLERs 50th BIRTHDAY
BERLINER ILLUSTRIRTE ZEITUNG 1939 HITLER 50TH BIRTHDAY HEAVILY ILLUSTRATED SPECIAL EDITION
This USMBOOKS web page is Copyright © 2014 by USM, Inc., and the text and images on it are fully protected by international copyright law. It is therefore, illegal for anyone to take any of the material found here and use it for their own purposes without our written permission, irrespective of any excuse they may feel they have for doing so.