The images and text used on this and all other USM web pages are the copyrighted property
of USM Inc. Those images and the text may be used by others ONLY AFTER completion
of a formal international licensing agreement and payment of a licensing fee!
This November 1937 Bayer (aspirin) company employee magazine is **SOLD**.

We will be happy to ship abroad at additional cost. Please inquire.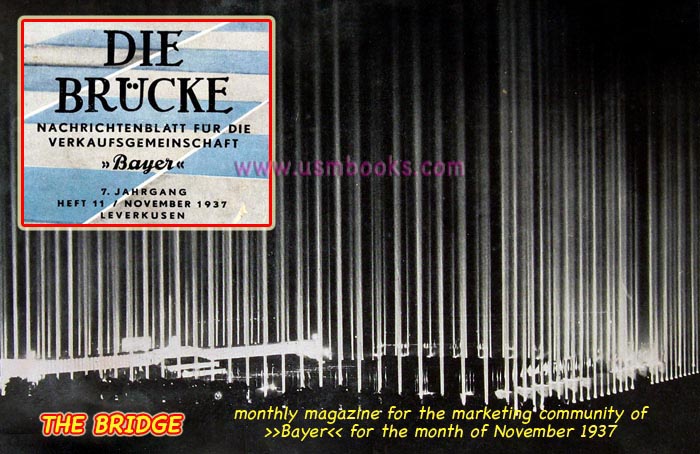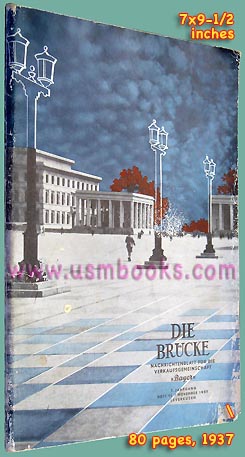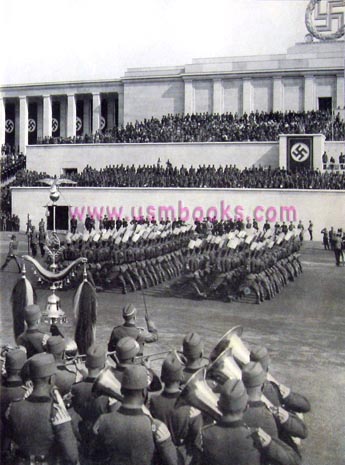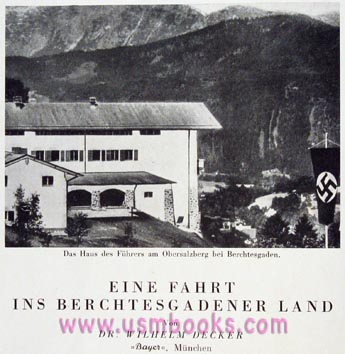 The big 7-1/4 x 9-1/2 inch, 80 page magazine Die Brücke (The Bridge) for November 1937 was published by well-known German industrial company and IG Farben subsidiary Bayer (makers of world famous Bayer aspirin) as a bridge between the company and its employees.


We don't know how typical this issue of the magazine was because we have never seen another example. Parent company IG Farben was broken up by the Allies because of "war crimes" (the company ran
Auschwitz Concentration Camp
) and naturally any material that reflected in a negative or Nazi manner on the company was quickly discarded
.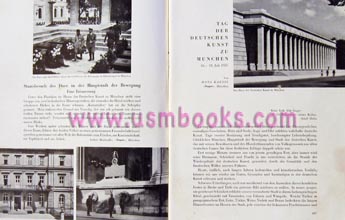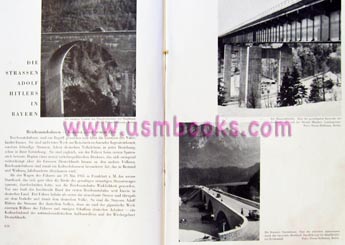 This magazine has a picture on the cover of the Königsplatz in central Munich with the Führerbau or Hitler's Administrative Office in the background and the two Ehrentempel that were the final resting places of the martyrs of the Nazi Putsch.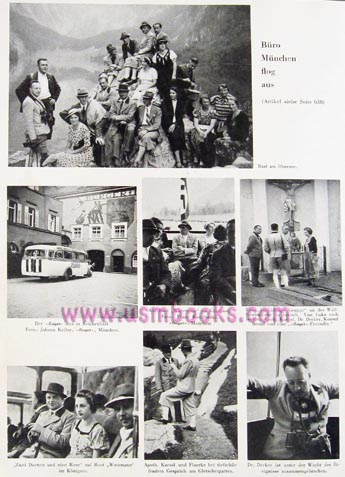 Inside there are photos of Hitler and Benito
Mussolini
visiting the coffins in the
Ehrentempel
, the
Braunes Haus
, the Nazi monument at the
Feldherrnhalle
, the House of German Art, Nürnberg and
Reichsparteitag der Arbeit,
the
Reichsautobahn
in Bavaria, an article about a trip through
Berchtesgaden
and its surrounding area (Berchtesgadener Land) and an excellent article about Bayer as a company involved in the Spanish Civil War theater
.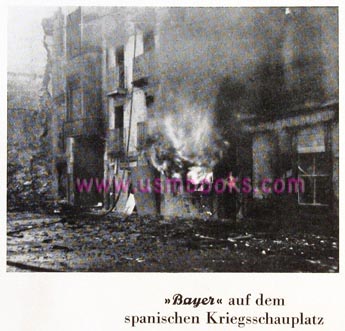 There is also employee news from around the world, as well as pictures of an outing to the Königsee near Berchtesgaden by the Munich office of Bayer (shown above).

A rare magazine in good used condition. The spine has been restapled.
NAZI ERA MAGAZINE OF THE COMPANY BAYER
A RARE EXAMPLE OF THE BAYER COMPANY MAGAZINE
DIE BRÜCKE (THE BRIDGE)
This USMBOOKS web page is Copyright © 2014 by USM, Inc., and the text and images on it are fully protected by international copyright law. It is therefore, illegal for anyone to take any of the material found here and use it for their own purposes without our written permission, irrespective of any excuse they may feel they have for doing so.