The images and the entire text used on this and all other USMBOOKS web pages are the copyrighted property of USM Inc. Those images and the text may be used by others ONLY AFTER completion of a formal international licensing agreement and payment of a licensing fee! It is therefore, illegal for anyone to take any of the material found on USMBOOKS.com and use it for their own purposes without our written permission, irrespective of any excuse they may feel they have for doing so.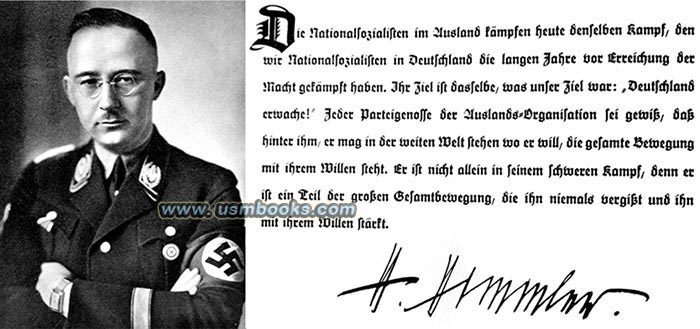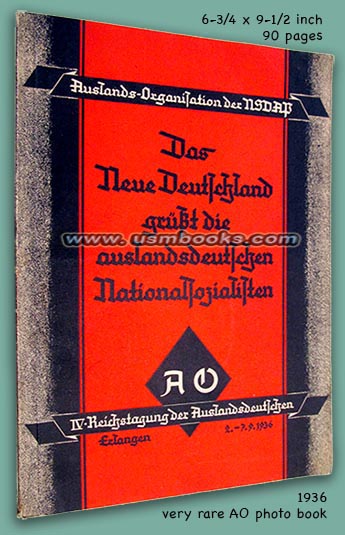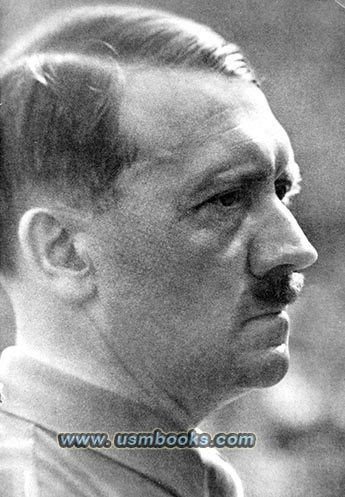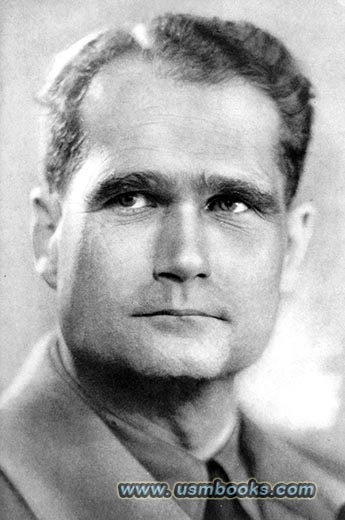 As most collectors are aware, during the Third Reich the country of Germany was divided into 42 Gaue or administrative districts, each headed by a Gauleiter. Many don't know that there was a 43rd Gau - GERMANS LIVING ABROAD - under the watchful eye of the Auslands-Organisations der NSDAP or AO and its Gauleiter Ernst Wilhelm Bohle. The organization was created by Hitler to spread the Nazi gospel to and through foreign Germans and ethnic Germans living anywhere in the world outside Grossdeutschland, as well as Nazi Party members working at sea who spent more than 6 months per year away from Germany. Its headquarters was in the city of Stuttgart which was officially called die Stadt der Auslanddeutschen or "City of Germans from Abroad" during the Third Reich.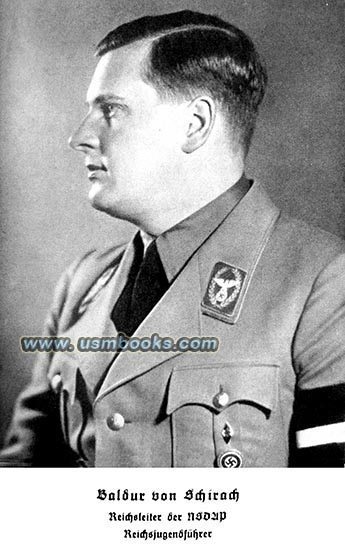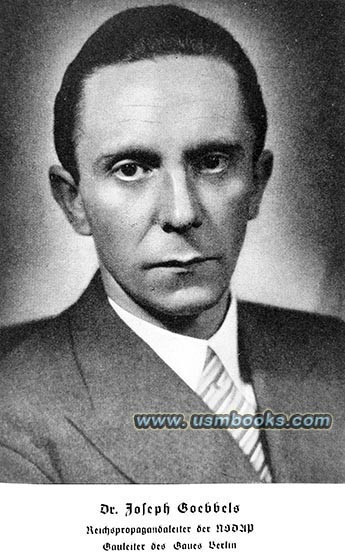 In 1936 the official Nazi AO Conference was held in the city of Erlangen and this 6-¾ x 9-½ inch, 90-page softcover publication was produced to welcome the Auslandsdeutschen to the September 1936 gathering of the AO in Erlangen, and introduce them to the "who's who" of Nazi Germany. Each page of Das neue Deutschland grüßt die Auslandsdeutschen Nationalsozialisten (The New Germany Greets Foreign German National Socialists) has a good size portrait photo of a Nazi dignitary on it, their name and title as well as a greeting, introduction or welcoming word to the visiting foreign Volksgenossen.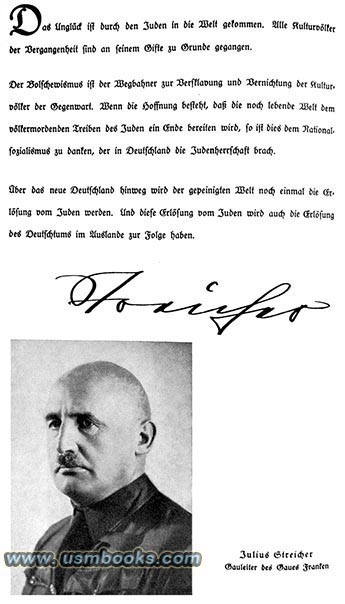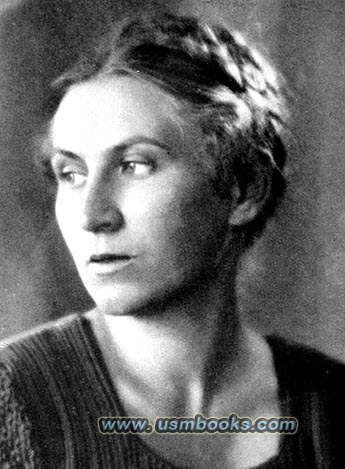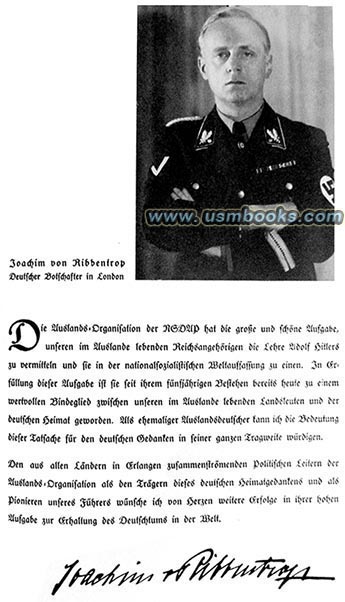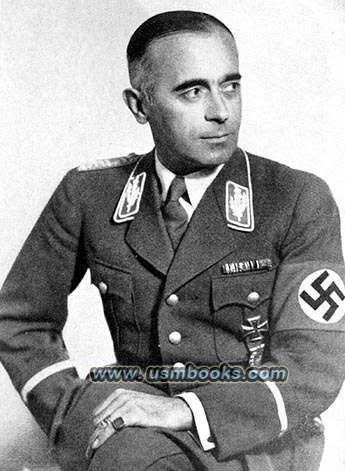 Every year a large AO Conference or Reichstagung was organized in Nazi Germany for Auslandsdeutschen just before Reichs Party Days in Nürnberg. After the AO festivities many of the foreign faithful went on to the Reichsparteitag in Nuremberg to see Hitler and witness the greatest annual National Socialist celebration staged each year in Germany.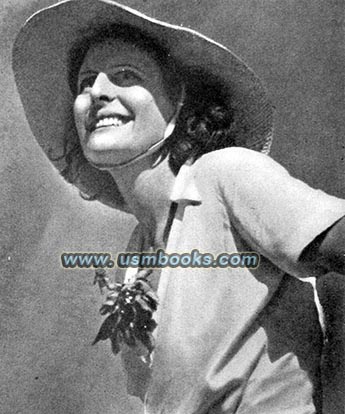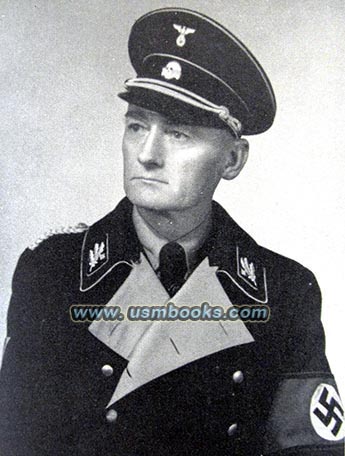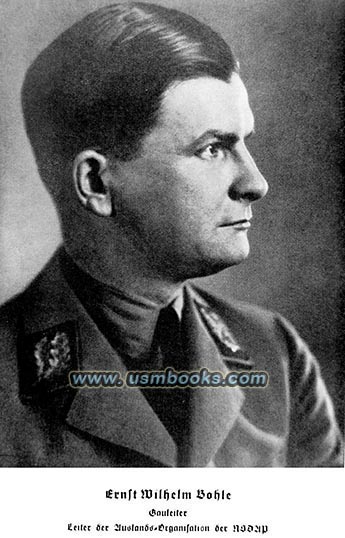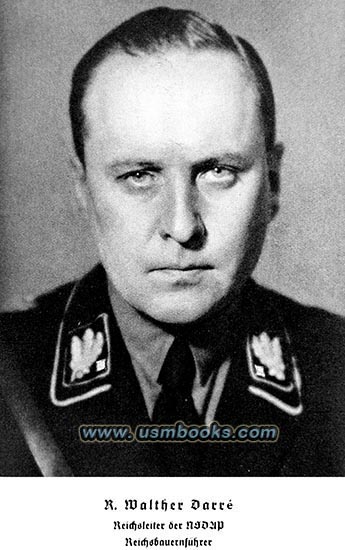 The book starts with a full-page portrait of Adolf Hitler followed by an entry by Deputy Führer Rudolf Hess (in which he calls himself a former Auslanddeutscher as he was born in Cairo) greeting all the Volksgenossen who do not have "the luck to live inside the borders of Nazi Germany but still share the beliefs of Adolf Hitler". The introduction by Gauleiter Bohle looks back on the 12 months since the 1935 AO Reichstagung and remembers the death of the AO Leader of Switzerland, Wilhelm Gustloff, who was assassinated in the Swiss city of Davos in February 1936.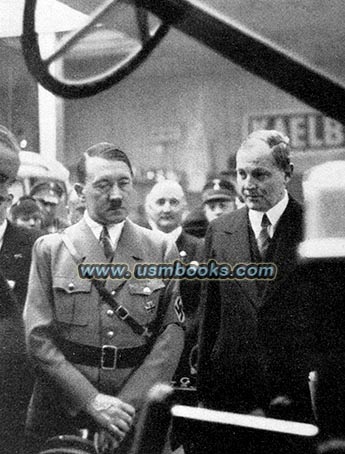 Entries accompanied by photos that follow are by Generaloberst Hermann Göring, Reichsleiter Dr. Wilhelm Frick, Dr. Joseph Goebbels, Generalfeldmarschall Werner von Blomberg, Reichleiter R. Walther Darré, Gauleiter Bernard Rust, Dr. Hans Frank, Reichspressechef der NSDAP Max Amann, Reichsführer-SS Heinrich Himmler, Reichsleiter Dr. Robert Ley, Stabchef der SA Viktor Lutze, ReichsleiterAlfred Rosenberg, Reichsjugendführer Baldur von Schirach, Gauleiter Joseph Bürckel, General der Polizei Kurt Daluege, Reichsleiter Walter Buch, Generaldirektor der deutschen Reichsbahn Dr. Julius Dorpmüller, Reichsarbeitsführer Konstantin Hierl, NSKK leader Adolf Hühnlein, Dr. Gustav Krupp von Bohlen und Halbach, Zeppelin Captain Lehmann, Joachim von Ribbentrop (who was the German Ambassador in London at the time), Leni Riefenstahl, Reichsfrauenführerin Getrud Scholtz-Klink, Frankenführer Julius Streicher (who wrote an anti-Jewish rant - one of the few entries that does not mention the AO), Reichssportführer Hans von Tschammer und Osten, Generalinspektor Dr. Fritz Todt, Munich Gauleiter Adolf Wagner, and even Hitler's friend and Generaldirektor of Daimler-Benz Jakob Werlin, as well as additional ambassadors, professors and business leaders.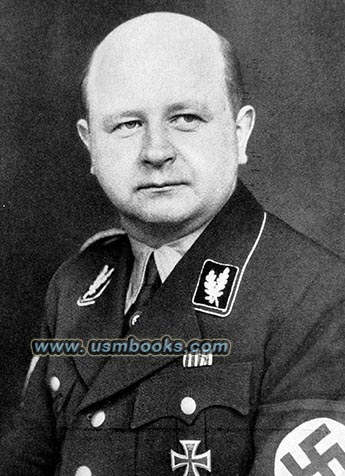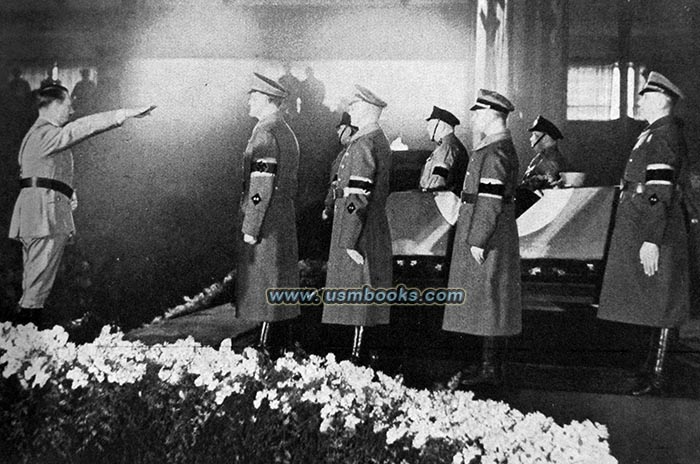 This is a very rare 81 year old softcover Nazi book in nice used condition. Virtually all of the publications of the Auslands-Organisation der NSDAP are rare today because it was considered a particularly dangerous entity by the Allied de-Nazification teams that attempted to purge defeated Germany of Nazi influences in 1945.
Listed in a large non-circulating university library and an online books catalog,
but the only example for sale is on the USMBOOKS website!
This ultra-rare 1936 IV Reichstagung der Auslandsdeutschen Erlangen book
is **SOLD**


USM book # 893
• IF you prefer faster and safer Priority Mail shipping with USPS Tracking add $6.75.
• IF you wish to purchase highly recommended, but optional insurance, add $5.85.
• We will be happy to ship abroad at additional cost. Please inquire.
VERY RARE NAZI AUSLANDS-ORGANISATIONS CONFERENCE
ILLUSTRATED "WHO'S WHO" MEMORIAL BOOK 1936
AO REICHSTAGUNG SEPTEMBER 1936 BOOK
"THE NEW GERMANY WELCOMES FOREIGN GERMAN NATIONAL SOCIALISTS"